Case contribution: Dr Radhiana Hassan
Clinical:
A 52 years old lady
Underlying HPT, osteoarthritis and hyperlipidaemia
Presented with left breast lump for one month
Not painful, No nipple discharge, no fever
No family history of breast cancer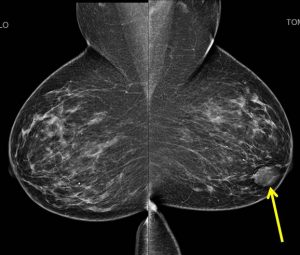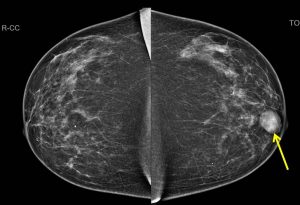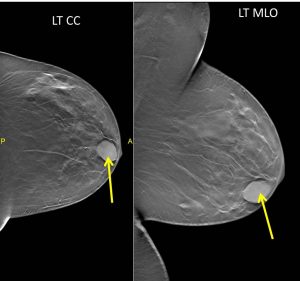 Mammogram findings:
A well-defined opacity is seen at the left retroareolar region (yellow arrows).
No associated calcification seen.
No architectural distortion or overlying skin thickening seen.
Multiple scattered benign-type calcifications are also seen in both breasts.
The skin and nipples are normal bilaterally. No axillary lymphadenopathy.
Tomosynthesis shows this lesion as well-circumscribed mass.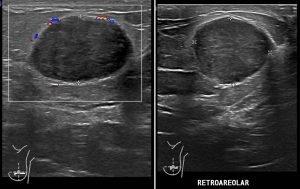 Ultrasound findings:
A solid mass with well-defined heterogenous hypoechoeic lesion is seen at left retroareolar region.
It measures about 1.8 cm (AP) x 2.6 cm (W) x 1.7 cm (CC).
Mild posterior enhancement is observed.
No intra-lesional vascularity.
No calcification or obvious cystic component noted.
No ductal dilatation in both breasts.
No significant axillary lymph nodes enlargement is observed.
FNAC of the lesion was done:
Macroscopy: colourless fluid with blood stained aspirates, minimal volume
Microscopy: moderate cellularity. Smears show cohesive sheets and clusters of bimodal population of ductal cells intermingle myoepithelial cells in a lightly blood stained background. The ductal cells are uniform, having smooth nuclear outline and fine chromatin pattern. Numerous bare nuclei are seen in the background. However some discohesive clusters and cells are identified. No nuclear pleomorphism noted. There is no fibromyxoid stromal fragment present.
Impression: Proliferative epithelial lesion with atypia (C3)
Suggest: Strongly advise for excision
Intra-operative findings:
Wide local excision done
Left breast lump measuring 3×3 cm, mobile, firm, not fixed to underlying tissue
HPE findings:
Macroscopy: wide local excision specimen, size of specimen 65x160x40 mm. No nipple retraction, no peau de orange. Size of lesion 27x30x26 mm. Solid, firm, whitish cut surface with no necrosis or hemorrhage seen. Well circumscribed edge.
Microscopy: sections from the tumour shows a well circumscribed tumour with focal permeative margin composed of proliferated breast stroma, acini and ducts forming leaf-like projections lined by reactive breast ducts epithelium. In areas, the ducts are compressed by cellular stroma with fibro-myxoid substance. The stromal cells display mild to moderate pleomorphic, hyperchromatic nuclei with some shows prominent nucleoli. Mitotic figures are seen (5-6/10hpf). No areas of necrosis are noted. There is no stromal overgrowth or malignant heterologous element. The inferior margin 3 mm, other margin are more than 6 mm.
Impression: Phyllodes tumour; borderline.
Diagnosis: Borderline phyllodes tumour of the breast
Discussion:
Phyllodes tumor of the breast is an uncommon, yet clinically significant, fibroepithelial neoplasm accounting for 1% of all breast neoplasms
Phyllodes tumors are biphasic, composed of both epithelial and stromal components
Phyllodes tumors are subclassified histologically by the World Health Organization as benign, borderline, or malignant, according to the degree of stromal over-growth, cellular atypia, and rate of mitoses
Recurrence ranging from 5% to 30% in benign phyllodes tumors and up to 65% in borderline and malignant subtypes
On mammogram, it is typically seen as non-specific large rounded oval or lobulated, generally well circumscribed, lesions with smooth margins. A radiolucent halo may be present. Calcification (typically coarse and plaque like) may be seen in a very small proportion
On ultrasound, features are non-specific and can mimic that of a fibroadenoma. The most common finding is an inhomogeneous, solid-appearing lesion. Mass containing cystic spaces and demonstrating posterior acoustic enhancement strongly suggests the diagnosis of phyllodes tumor.  Vascularization is usually present in the solid components
References:
Phyllodes tumour of the breast: Ultrasound-Pathology correlation, available at https://www.ajronline.org/doi/full/10.2214/AJR.17.18554
Phyllodes tumour at https://radiopaedia.org/articles/phyllodes-tumour