Case contribution: Dr Radhiana Hassan
Clinical:
A 58 years old lady
Autoimmune hemolytic anemia (AIHA) under follow up
NO DM, no HPT
Left PUJ stone, laser endopyelorotomy, laser lithotripsy and stenting done one month ago
Discharged well
Presented with left lumbar pain and fever for 2 days
Hb: 6.4, TWBC 20.0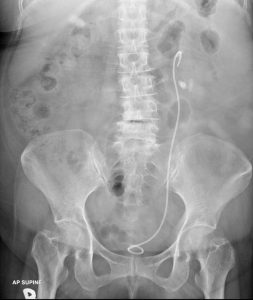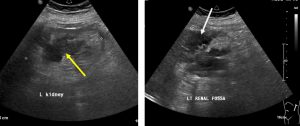 Ultrasound findings:
A hypoechoic lesion in the left renal cortex (yellow arrow)
Irregular outline with internal echoes
A collection is seen outside the left renal (white arrow)
No other significant finding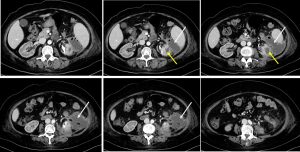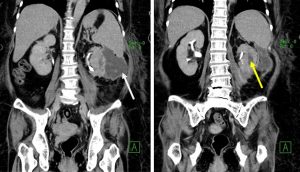 CT scan findings:
The left kidney is shrunken with bipolar length (BPL) of 7.4cm.
Multiple calculi are seen in the upper and lower pole of the left kidney.
There are multi-loculated peripherally enhancing lesions within the left renal cortex. The largest loculation is seen within the midpole, peripherally, measuring about 1.6cm x 2.4cm x 3.8cm (APxWxCC).
A larger peripherally enhancing collection is seen within the splenorenal region measuring about 7.0cm x 7.9cm x 8.3cm (APxWxCC). Multiple small air pockets noted.
 This collection is seen connected to the left renal collection at the anterolateral aspect of the left kidney.
Double – J stent is seen in situ.
Diagnosis: Left renal abscesses with perinephric collection
Discussion:
Renal abscess is usually a sequalae of pyelonephritis
On ultrasound, it appears as a well-defined hypoechoic area within the cortex or in the corticomedullary parenchyma. It demonstrates internal echoes within and an associated diffusely hypoechoic kidney due to acute pyelonephritis may be seen.
Perinephric collection may also be seen.
On CT scan it appears as a well-defined mass of low attenuation with a thick, irregular wall or pseudo capsule. Gas within a low attenuation/cystic mass strongly suggests abscess formation.
Associated fascial and septal thickening is seen with obliteration of perinephric fat.