Case contribution: Dr Radhiana Hassan
Clinical:
A 47 years old lady
Para 2+1, last child birth 25 years ago
Presented with heavy menses and dizziness
On admission noted to be slightly anaemic (HB=11.5 gm/dL)
Had underlying hypertension and IHD on treatment and follow up
PAP smear negative, first pipelle sampling inaduate tissue, second pipelle sampling shows atypical hyperplasia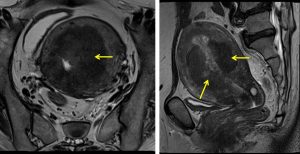 MRI findings:
There is an endometrial mass, extending from the near the uterine fundus until the distal body region – just proximal to the cervix (yellow arrows).
The mass appears hypointense on T1 and T2, and appears hypointense relative to the rest of the enhancing uterus on post contrast image.
The endometrial cavity can be seen slightly displaced to the right.
The mass is can be seen invading into the myometrium until its outer half.
A Nabothian cyst is seen at the upper cervical region measuring 0.9 x 1.1 x 1.3cm (AP x W x CC).
 The urinary bladder is normal with clear margin seen between the uterus and the urinary bladder.
No enlarged node detected in the pelvic region.
Hysteroscopy findings:
Abnormal suspicious growth at left cornu, obscured left ostium.
Right ostium is visualized
Anterior and posterior endometrial walls seen with fluffy tissues and hypervascular
Endometrial tissue directed biopsy and curretage done
HPE findings:
Macroscopy: specimen labelled as uterus, cervix, bilateral ovaries and fallopian tubes. Grossly the outer surface of uterus are smooth. Cut section shows multiple polypoidal tumour occupying almost the entire endometrial cavity and extending more than half of myometrium measuring 90x15x50 mm. The tumour has greyish surface with no area of hemorrhage or necrosis seen. The tumour is located 35 mm from the cervix. The cervical tissues are free from tumour infiltration.
Microscopy: endometioid carcinoma, grade 1. Myometrial invasion 34 mm with myometrial thickness 40 mm. No lymphovascular invasion.
Impression: Endometrioid carcinoma Grade 1, TNM staging pT1b No Mx, FIGO 1B
Diagnosis: Endometrial endometrioid carcinoma.
Discussion:
Endometrial cancer is the most common gynaecological malignancy.
The peak incidence is 6th decade but 12% occurs in premenopausal women as in this case
Endometrioid carcinoma of the endometrium is the most common histological subtype of endometrial carcinoma.
It accounts for about 85-90% of cases
It is a slow progressive tumour with good prognosis
On ultrasound it usually appears as thickening of the endometrium, sometimes as polypoidal mass.
In post menopausal women >5mm is thickened (> 8mm if on HRT or tamoxifen)
CT scan usually is used for distant metastasis
On MRI, it is hypo to isointense on T1 to normal endometrium, hyperintense on T2 and shows less enhancement than normal endometrium on post contrast image
FIGO staging:

stage 1:tumor confined to the uterus

Stage 1a: invasion of less than half of myometrium
Stage 1b: invasion of the outer half of myometrium

Stage 2: tumour extends to the cervical stroma
Stage 3: tumour extends beyond the uterus

Stage 3a: tumour invades the serosa or adnexa
Stage 3b: tumour invades the vagina or parametrium
Stage 3c: pelvic/paraortic lymph node involvement

Stage 4: bladder/rectal invasion or distant metastasis

Stage 4a: tumour extends into adjacent bladder or bowel
Stage 4b: distant metastasis