Case contribution: Dr Radhiana Hassan
Clinical:
A 70 years old lady
Underlying DM, HPT and CCF
Presented with neck swelling
Progressive increase in size in 2 weeks
Associated with pain and fever
Also had hoarseness of voice and dysphagia
Clinical examination shows diffuse anterior neck swelling left more than right side, firm, non-tender, mobile with deglutition
Left arytenoid and vocal cord palsy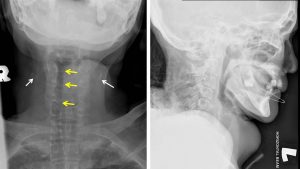 Radiographic findings:
A soft tissue lesion seen at anterior neck region
It causes displacement of the trachea to the right side (yellow arrows)
No significant narrowing of the trachea is seen
A few foci of calcification seen overlying right and left region (white arrows)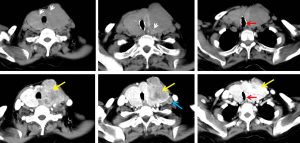 CT scan findings:
There is thyroid gland enlargement with a large lobulated heterogeneously enhancing solid mass seen occupying the left thyroid gland (yellow arrows). It measures about 4.6 x 5.3 x 7.0 cm (AP x W x CC).
Central hypodensity is seen within, likely represents area of central necrosis.
The mass is seen protruding anteriorly and abuts the distal left sternocleidomastoid muscle.
It is seen causing lateral displacement of the trachea with short segment partial narrowing of the lumen (red arrows). The stenotic segment is measures about 2.3 cm in length, from the level of lower C7 until upper T2 vertebra. The upper and distal airways are patent.
Multiple smaller iso-, hypo- and hyperdense lesions are seen within isthmus and right thyroid lobe.
A few calcifications are seen at both thyroid lobes.
Enlarged enhancing left cervical lymph nodes with central necrosis are seen (blue arrow).
FNAC findings:
Macroscopy: aspirated material from left thyroid lobe and left lymph node.
Microscopy: hypercellular smears comprising of highly pleomorphic cells predominantly arranged as singly dispersed cells in bloody background. The cells are epithelioid in morphology, displaying irregular nuclear outline, coarse chromatin and prominent nucleoli. Tumour giant cells and bizarre mitotic figures is identified. Scattered foamy macrophages are also seen.
Interpretation: Anaplastic thyroid carcinoma
Diagnosis: Anaplastic thyroid carcinoma
Discussion:
Anaplastic thyroid carcinoma is a highly aggressive and rapidly fatal tumour that carries worst prognosis of all the subtypes of thyroid cancer
About 10% of all thyroid malignancies are anaplastic
It usually present in elderly women over 60 years of age. It commonly occur in patients with long-standing goiter
The cancers typically compress and invade the aerodigestive tract and vessels.
Lymphatic metastasis occurs in the majority of patient and are necrotic in approximately one half of cases
Nuclear imaging shows no uptake
Progress of patient:
Defaulted follow up due to RMO (restricted movement order) COVID19
Presented again one month later after a fall and complaint of left hip pain
Pelvis radiograph shows pathological fracture of left pubic rami
Also had left lower limb DVT, hospital-acquired pneumonia