Case contribution: Dr Radhiana Hassan
Clinical:
A 52 years old man
Underlying DM and HPT
Presented with painless hematuria for one week and acute urinary retention one episode
No loss of appetite or loss of weight
No symptoms of anaemia
Per abdomen soft, non-tender, no mass palpable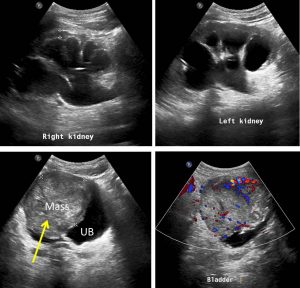 Ultrasound findings:
There is moderate to gross hydronephrosis bilaterally.
There is large heterogeneous well demarcated soft tissue mass measuring 7.0 x 5.9 cm size is seen hanging within the cavity of urinary bladder (yellow arrow), attached at right and anterior wall of it. On Doppler there is colour flow seen within mass and its attached margins.
No apparent stone seen in it.  Prostate is not enlarged.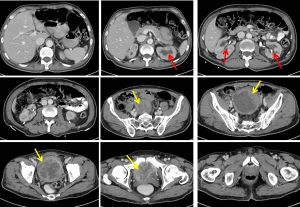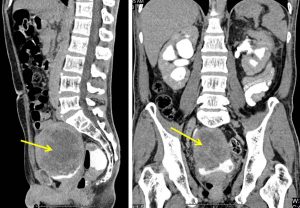 CT scan findings:
Urinary bladder is enlarged, with a huge fungating heterogeneously enhancing soft tissue mass arising from the urinary bladder dome. It measures about 7.8 x 8.1 x 9.5 cm (AP x W x CC).
A large area of central hypodensity is seen; likely represent area of central necrosis.
Peripheral coarse calcifications are seen at the inferior aspect of the mass.
The superior and posterior part of the bladder mass is seen closely abuts the adjacent small bowel loops and rectum with no clear fat margin in between. It is however well separated with prostate and seminal vesicles.
Prostate appears homogenous and not enlarged. Intraprostatic calcification is noted.
HPE findings:
Macroscopy: specimen labeled as TURBT (bladder wall)
Microscopy: sections show fragments of necrotic and hemorrhagic tumour tissue, composed of dysplastic squamous epithelial cells arranged as sheets and irregular clusters infiltrating the stroma. The tumour cells are pleomorphic, polygonal in shape, having vesicular to hyperchromatic nuclei and prominent nucleoli. Mitosis is brisk including the abnormal mitotic figure. The cytoplasm is keratinized. Keratin pearl is present. No urothelial lining is seen in this biopsy. There is no muscle included to assess muscular invasion.
Interpretation: TURBT, Squamous cell carcinoma, well differentiation
Diagnosis: Squamous cell carcinoma of urinary bladder
Discussion:
SCC of the urinary bladder is rare, seen in only about 1-3% of all bladder cancers
SCC of the bladder is most commonly seen in the setting of chronic irritation such as that seen from bladder stones. Other risk factors include exposure to parasite Schistosoma haematobium, recurrent UTI, radiation exposure, chronic indwelling catheter and neurogenic bladder
These tumours tend to be solitary and large at the time of presentation with muscular wall invasion in high percentage of patients
There are limited data available regarding how to treat patients with advanced SCC of the bladder. Treatment of clinically localized disease is usually surgical since these tumors may be resistant to chemotherapy and radiation, similar to squamous cell carcinomas of other sites.
Prognosis for patients with SCC of the bladder is poor, and most die from their disease within 1–3 years of diagnosis. The reported 5-year survival rate is 33–48%
Progress of patient:
Planned for chemotherapy but refused by patient
He was referred to palliative care