Case contribution: Dr Radhiana Hassan
Clinical:
A 38 years old lady, no known medical illness
Complaint of right gluteal pain for 1 year
Pain partially relieves with analgesics
No history of fever, no loss of appetite however had lost 20 kg over the last one year
Ambulating using stick due to pain, otherwise daily activities are not affected
Bladder and bowel control are normal
Clinically antalgic gait, no deformity at the back, no mass or swelling seen, fullness noted at right gluteal region, non-tender
Restricted hip motion due to pain, tender at proximal aspect of right thigh and lower sacral region
Slight reduction in lower limb power due to pain, sensation intact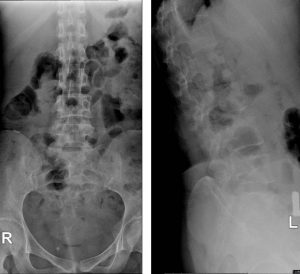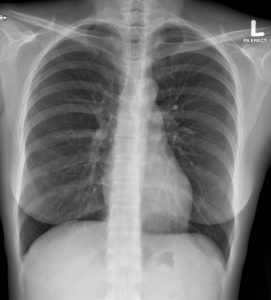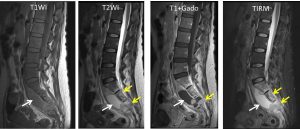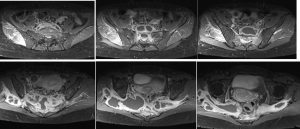 MRI findings:
A large paravertebral collection with rim enhancement is visualized from the level of L4 vertebra extending to the pre-sacral space (white arrows).
This collection is seen to insinuate in between S2 and S4 vertebra causing destruction of the S3 vertebra and obliterating the exiting nerve roots bilaterally.
This collection is further seen to extend into the sacral foramen bilaterally and laterally along the planes of both piriformis and gluteus muscles, larger on the right side.
There is patchy abnormal signal within the rest of the sacral bones (yellow arrows).
Both psoas muscles are intact.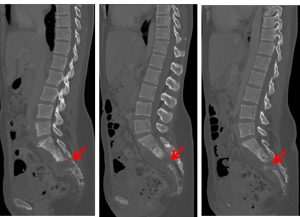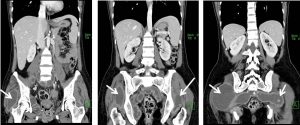 CT scan findings:
A large paravertebral collection with new abscess formation seen at right psoas and right iliacus muscles are seen. It is also seen insinuating in the fat plane between the left psoas and iliacus muscle. The intramuscular collection within the right obturator internus, both piriformis and gluteus medius muscle appears to be larger than the previous study (which is worse on the right side).
Lytic destruction of S2 to S4 vertebra (red arrows). Mixed lytic and sclerotic foci in sacral vertebra.
Progress of patient:
Mantoux test and sputum AFB negative for TB
Started on antiTB after MRI findings
CT scan done 2 months later showed large paravertebral and presacral collection
US guided insertion of pigtail done, a total of 400 cc collection drained over 14 days
AFB smear and stain positive for TB
Follow up after one year shows good response to treatment.
Diagnosis: Tuberculous spondylitis.
Discussion:
The spine is involved in less than 1% of all TB cases.
Spinal TB is also known as Pottt's disease
No pulmonary lesion in 50% of cases.
The thoracolumbar junction is the most common site but any part of the spine can be affected.
Vertebral body (82%) involvement with predilection for anterior part adjacent to endplates is more common than posterior element (18%)
Disc spaces maintained longer than in pyogenic spondylitis
Collapsed of vertebral body (vertebral plana and gibbus formation)
Paraspinal infection with large abscess formation. Abscess may extend into groin or thigh