Case contribution: Dr Radhiana Hassan
Clinical:
A 20 years old man, involved in MVA (motorbike versus car)
On arrival to ED, BP=150/54mmHg, PR=105 bpm and GCS=10/15
CBD gross hematuria.
CT scan brain shows right extradural hemorrhage at temporal region with fracture at greater wing of right sphenoid (images not shown)
Drop of hemoglobin during admission; Hb: 14 to 11.3 g.dL
Blocked CBD, unable to pass urine and unable to reinsert new CBD.
SPC done under ultrasound guidance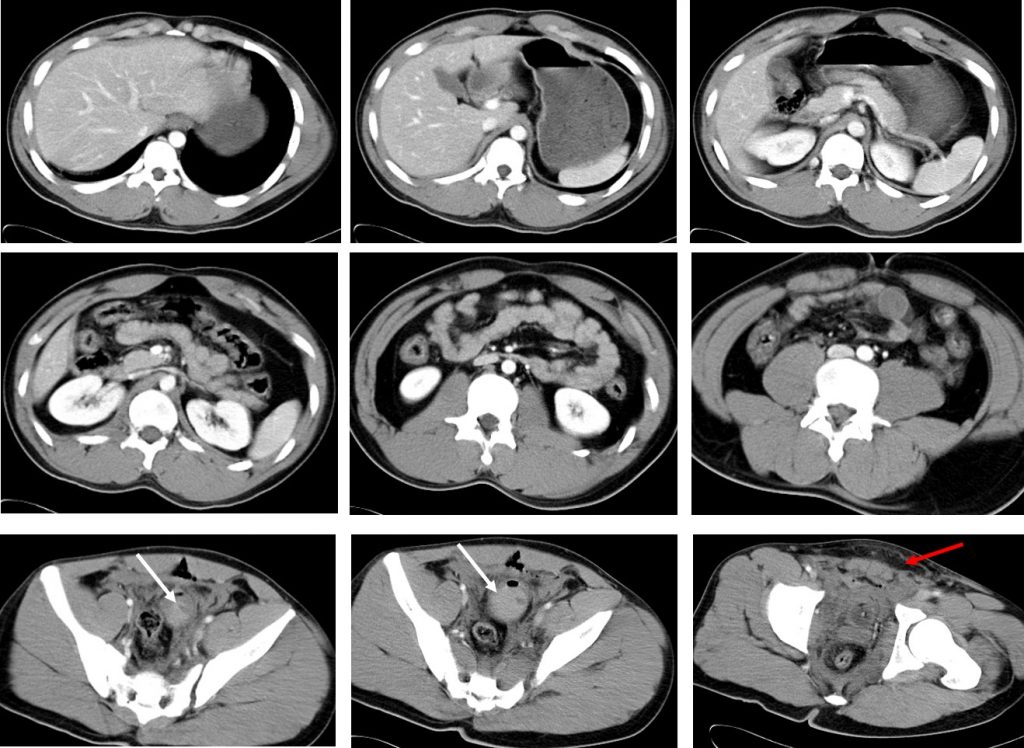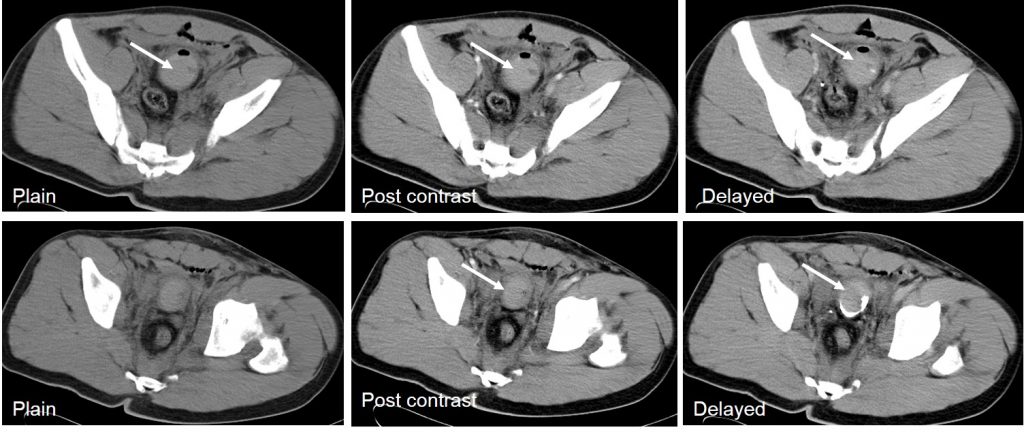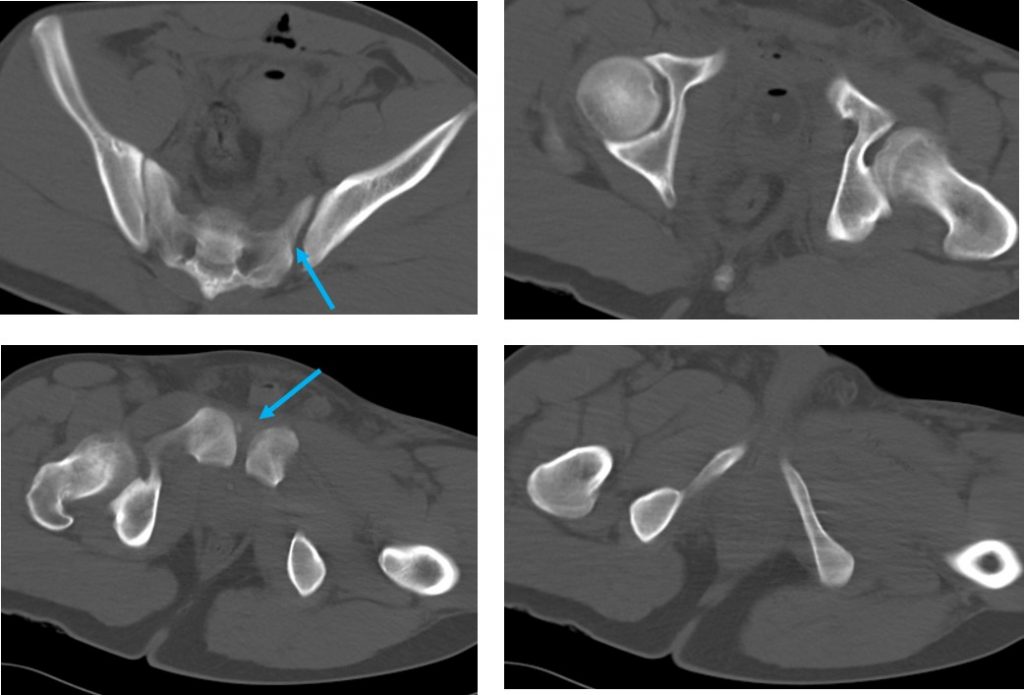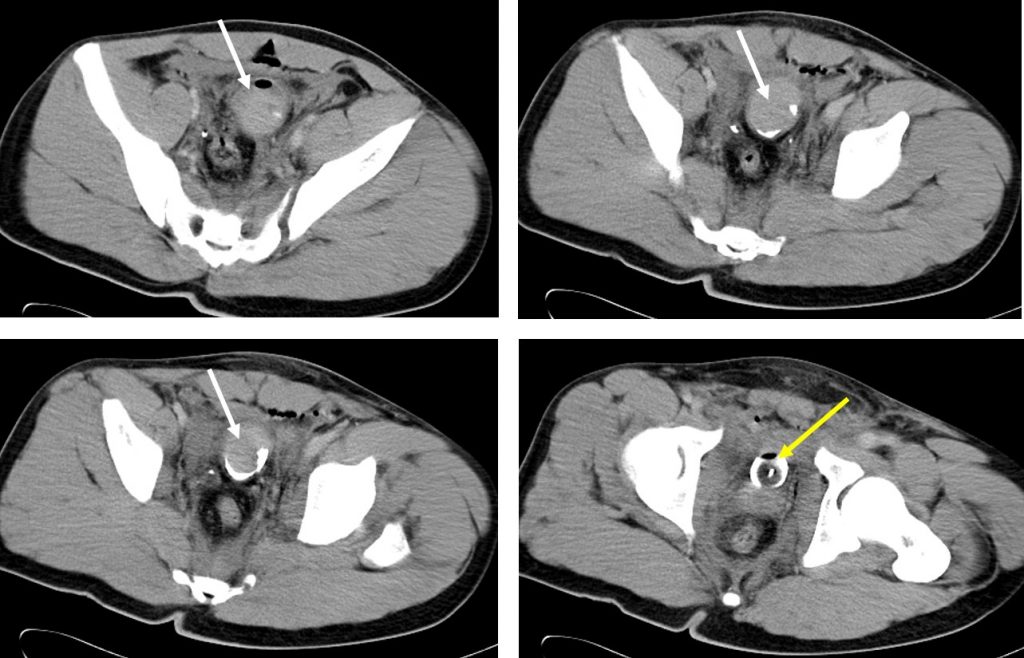 CT scan findings:
No organ injury seen. No hemoperitoneum
Blood clots are seen in the urinary bladder  (white arrows)
Air and CBD balloon within the bladder (yellow arrow)
Soft tissue streakiness at perineum (red arrows)
Diasthesis of left sacroiliac joint and symphysis pubis (blue arrow)

Flouroscopy examination:
Symphysis pubis diasthesis as noted on previous CT scan (blue arrow)
Contrast infused via SPC
Urinary bladder is well distended, normal outline
No extravasation of contrast seen
Patient unable to pass urine
Ascending urethrogram was planned but abandoned due to failure to cannulate the urethra
Cystoscopy examination done in OT
Membranous urethral stricture almost 70% circumferentially
SPC out of urinary bladder with encrusted tip of the catheter.
SPC removal and urethral dilatation done
Diagnosis: Posterior urethral injury 
Discussion:
Injuries to the posterior urethra are most often related to motor vehicle accident and pelvic fractures (72%). Injury to the posterior urethra exclusively occurs in pelvic fractures with disruption of the pelvic ring.
During deceleration impact injury, the severe shearing forces needed to fracture the pelvis are transmitted to the attachment of the perineal membrane and puboprostatic ligaments
The highest risk of urethral injury is in straddle fractures with a concomitant diastasis of the sacroiliac joint. Displaced fractures of the inferomedial pubic bone and pubic symphysis diastasis, together with their degree of displacement, are independent predictors of urethral injury.
Most posterior injuries occur at the bulbomembranous junction, distal to the external urethral spinchter.
Posterior urethral injuries can result in significant delayed morbidity. Strictures, incontinence and erectile dysfunction (ED) are well-recognized associated problems that interfere with the quality of life.