Case contribution: Dr Radhiana Hassan
Clinical:
A 47 years old man with underlying lung carcinoma
Non-operable non-small cell ca Stage III on immunotherapy
Presented with headache since past one month
No fever, no history of trauma
No vomiting, no blurred vision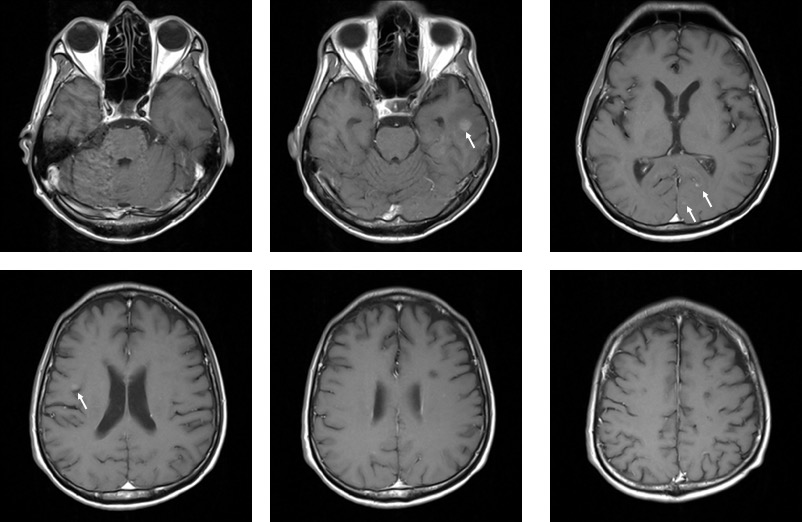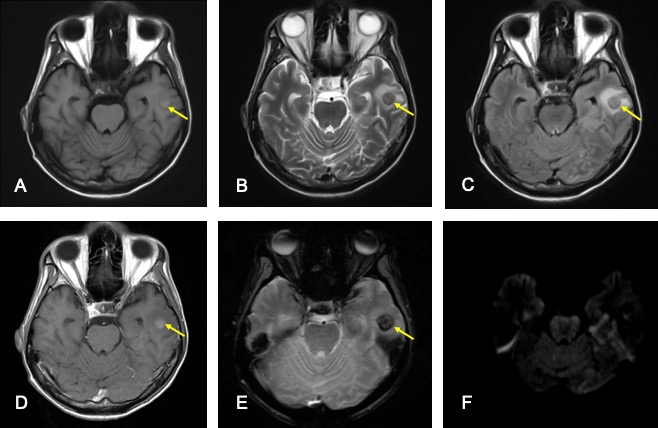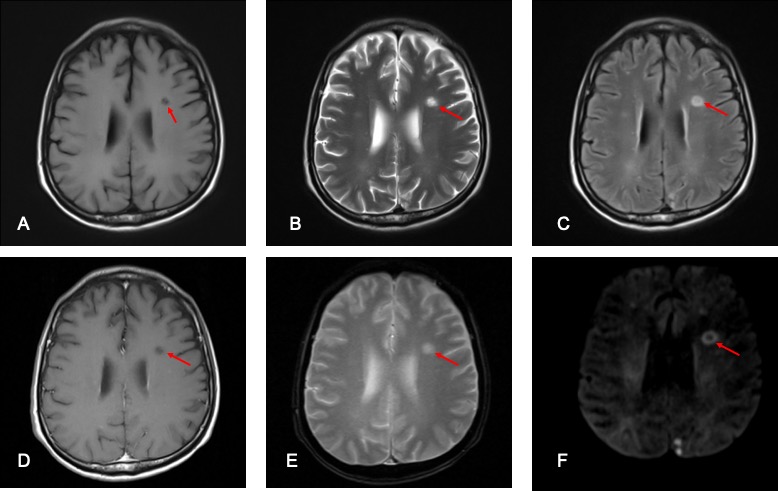 MRI findings:
There are multiple lesions within the brain parenchyma
Some the lesions are hypo on T1, hyper on T1 with homogenous enhancement post contrast (white arrows)
Some of the lesions are hypo on T1, hyper on T2 and not enhanced post contrast.
A lesion at left temporal region (yellow arrow) shows blooming artifact on hemo sequence suggestive of hemorrhagic component
Another lesion at left frontal lobe shows restricted diffusion of its wall (red arrow) and no obvious enhancement on post contrast image.
Diagnosis: Cerebral metastasis from lung cancer (presumed diagnosis, no biopsy done)
Discussion:
Brain is one of the common sites of distant metastasis as well as initial recurrence in patients with lung cancer with an incidence of 20% at diagnosis and up to more than 50% at autopsy.
Non-small cell lung cancer does not have a set of clinical pattern of metastasis and it may exist in neurologically asymptomatic patients.
No single feature is pathognomonic. Due to great variation in imaging appearance, diagnosis may be a diagnostic challenge.
80% of metastasis localize to cerebral hemisphere, 15% localized to cerebellum and 3% localized to the basal ganglia.
Although multiplicity favours metastasis, about 50% of metastasis are solitary at diagnosis. Grey white matter junction and watershed areas are common location of cerebral metastasis.
In this case the lesions show mixed feature, some are solid enhancing nodules, a hemorrhagic lesion and another lesion shows restricted diffusion at wall of lesion.
Metastasis that haemorrhage include melanoma, renal cell carcinoma, choriocarcinoma, thyroid cancer, lung and breast cancers.