Case contribution: Dr Radhiana Hassan
Clinical:
A 33 years old male
History of traumatic pancreatitis, treated and resolved
Presented with acute epigastric pain about 11 months later
Not relieved with painkiller, associated with vomiting
No fever, no URTI symproms
No altered bowel habit
Serum amylase is normal, LFT deranged
Abdominal radiograph findings:
No obvious mass lesion is seen
Normal bowel loops, no bowel dilatation
Psoas shadows are seen bilaterally
Bones and soft tissues are unremarkable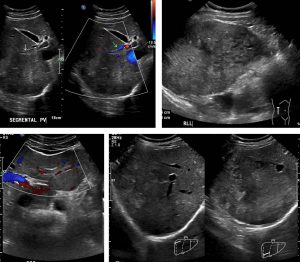 Ultrasound findings:
There are heterogenous lesions predominantly located at the peripheral aspect of the right lobe. The main bulk of the lesion appears vague with ill-defined border, but some parts of the lesion are echogenic and more well-defined.
The branch of the portal vein supplying this part of the liver appears to contain echogenic thrombus, with vascularity observed at the periphery of the vein on Doppler interrogation.
Vascularity is still seen within the affected segments of the liver.
Another much smaller ill-defined hypoechoic lesion is also seen in segment III of the liver, also located peripherally.
The main portal vein (1.0cm) also appears unremarkable.
The pancreatic duct is dilated measuring 0.5cm. The pancreatic parenchyma itself appears unremarkable with no focal pancreatic lesion seen.
Spleen is homogenous and normal in size.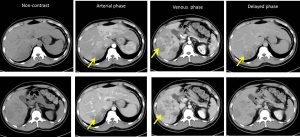 CT scan findings:
Liver is enlarged; with its craniocaudal length measures about 15.8cm.  Liver margin is however smooth.
Liver parenchyma appears heterogeneously enhanced with multiple lesions within which were not seen on previous CT done about 11 months ago.
There are multiple ill-defined hypodense areas seen in both liver lobes (mainly at right lobe of liver). Its mean HU is about 37 on plain, with mild enhancement on both arterial and portovenous phase (mean HU about 60).
The largest is at segment VI measures about 7.7 x 9.0 x 9.3cm (AP x W x CC) and VIII of liver, measures about 4.5 x 8.4 x 7.1cm (AP x W x CC).
Long segment filling defect is seen within the posterior branch of right portal vein and left portal vein suggestive of portal vein thrombosis. These areas showed early enhancement on the arterial phase, suggestive of compensatory supply from the hepatic arteries, in view of the portal vein thrombosis.
No apparent filling defect seen within other branches of portal vein or IVC.
Main portal vein is not dilated, measures about 1.2cm.
HPE findings:
Macroscopy: liver specimen consists of multiple pieces of greyish tissue submitted in one block
Microscopy: sections show fragments of fibrocollagenous tissues with sheets of malignant cells infiltration. The malignant cells display moderate pleomorphic nuclei, hyperchromatic to vesicular nuclei with some shows prominent nucleoli. Mitosis are easily seen including abnormal form. In areas, necrosis are present. There are small fragments of benign skin tissue and muscular tissue included
Immunohistochemical studies show the malignant cells are CK7, CK20 and alpha fetoprotein positive. Hep Par1 and TTF1 are negatives.
Interpretation: Germ cell tumour
Diagnosis: Primary germ cell tumour of the liver
Discussion:
Most germ cell tumours develop in gonads
However, the germ cells can be misplaced during embryogenesis, thus these tumours can arise in numerous extragodanal sites including the hepatobiliary system.
Germ cell tumour of the liver is extremely rare