Case contribution: Dr Radhiana Binti Hassan
Clinical:
A 12 years old male
Presented with left knee swelling for 3 years
Slow growing, associated with on and off pain
No fever
Clinical examination shows left knee swelling over posteromedial aspect, hard, non-mobile and non-tender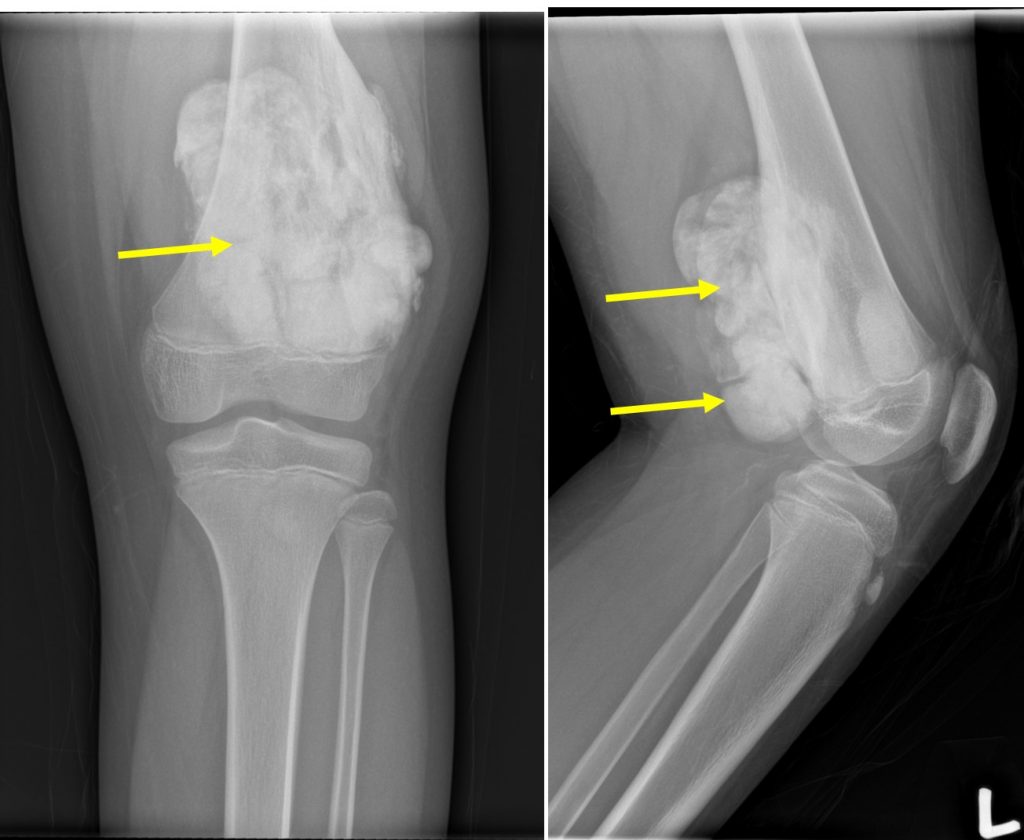 X-ray of right knee in AP and lateral views:
A large mass at posterolateral aspect of left knee
Dense opacities of the mass adjacent to distal metaphysis of femur
It give appearance of cauli-flower and grows away from the femur
Dense thickening of adjacent cortex is seen
No aggressive periosteal reaction of the femur
Thin lucent line is seen between the lesion and posterior cortex of femur
No extension to epiphysis, no obvious medullary changes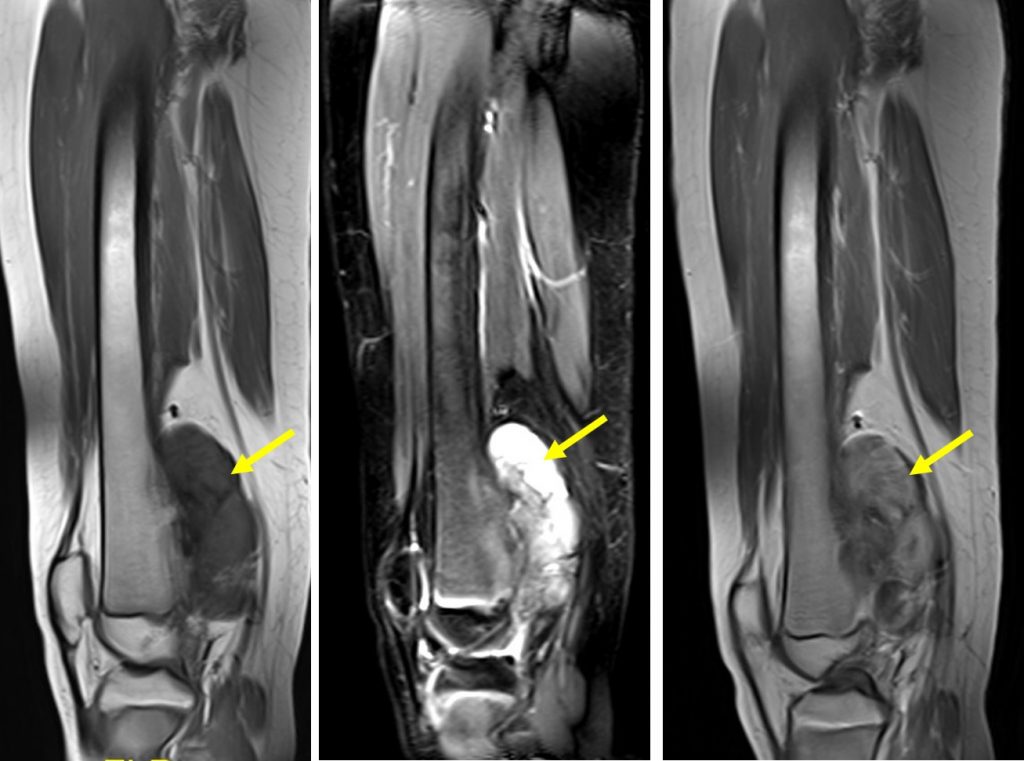 MR findings:
Lobulated masses protruding from the posteromedial aspect of the metadiaphyseal region of the left distal femur
Most parts of this masses show thin dark rim in keeping with cortical bone and is consistent with the lobulated bony masses seen on the plain radiographs.
It shows heterogenous signal on both T1 and T2 weighted, and is not fat suppressed.
Heterogenous enhancement is seen post IV gadolinium.
Cortical disruption with scalloping of the posteromedial aspect of the distal femur is seen and 2 well defined rounded cystic lesions which probably contained thick proteinaceous content are seen adjacent to this cortical disruption.
No abnormal marrow signal is seen in the left femur.
The adjacent growth plate and knee joint are intact.
The surrounding muscles are displaced but no abnormal signal intensity is detected within these muscles.
HPE findings:
Macroscopy: specimen labelled as bone from distal left femur consists of multiple pieces of bony tissue.
Microscopy: serial and deeper sections shows fibrous and osseous component in varying proportion. The fibrous component composed of principally of bland fibroblastic cells. No mitosis noted. The osseous component is comprised of irregular, trabeculae of woven bone with occasional osteoblasts see. No osteoid production present in this biopsy. No necrosis identified.
Interpretation: Deeper and serial microscopic examination revealed a lesion consisting of fibrous and osseous component. In view of clinical features and radiological findings, low grade osteosarcoma cannot be excluded.
Diagnosis: Parosteal osteosarcoma
Discussion:
It is the most common type of juxtacortical or surface osteosarcoma
It comprises 5% of all osteosarcomas
Usually presents in early adulthood and middle age
There is slight female preponderance
Usually located at metaphysis 80-90%, most common at posterior aspect ofdistal femur (60%) followed by either tibia and then proximal humerus
Diagnosis is based on a combination of typical histological and radiographic features
Diagnostic criteria
Imaging features of a bone tumour
Parosteal location with origin on the cortical surface of the bone
Histology of low grade spindle cell tumour with woven bone formation.
Radiograph
Large lobulated exophytic, cauliflower like mass with central dense ossification adjacent to the bone
Tumour periphery less dense than center
Homogenous ossific mass extending away from cortex
String sign-a thin radiolucent line separating the tumour from the cortex, seen in 30% of cases
Tumour stalk-grows within the tumour in late stages and obliterates the radiolucent cleavafe plane
Cortical thinning without aggressive periosteal reaction is often seen
Tumour extension into medullary cavity is frequently seen