Case contribution: Dr Radhiana Hassan
Clinical:
An 8 years old girl
 Presented with suprapubic distension (noted by mother)
No abdominal pain
No urinary tract symptoms
No altered bowel habit
Clinical examination shows abdominal mass about 10×12 cm
Abdominal ultrasound shows uniloculated complex cystic mass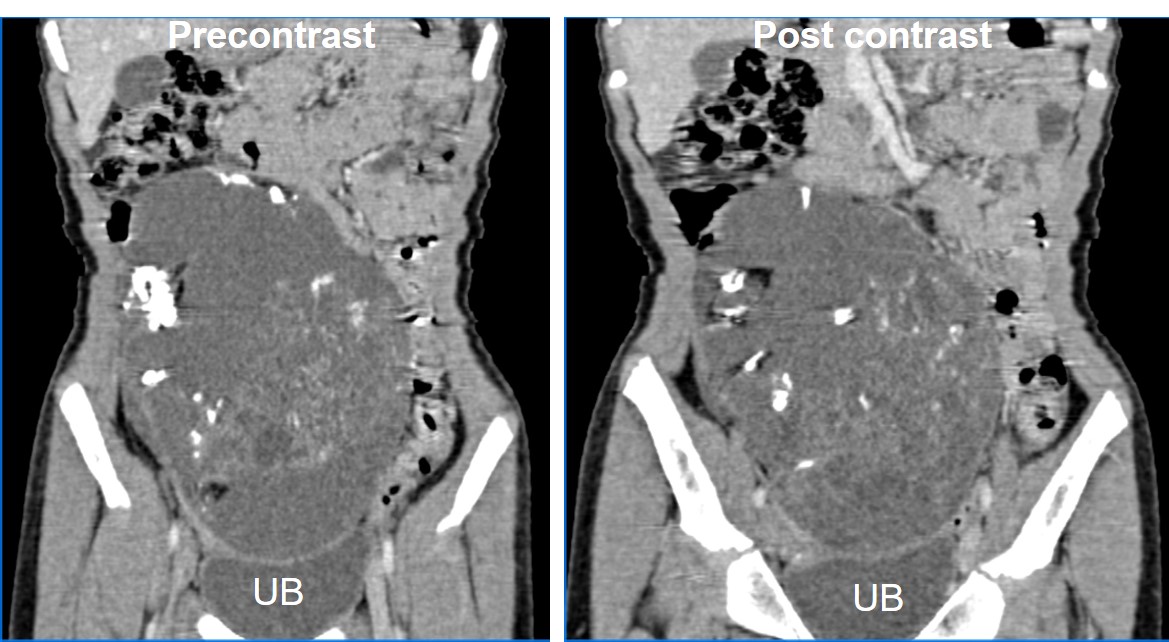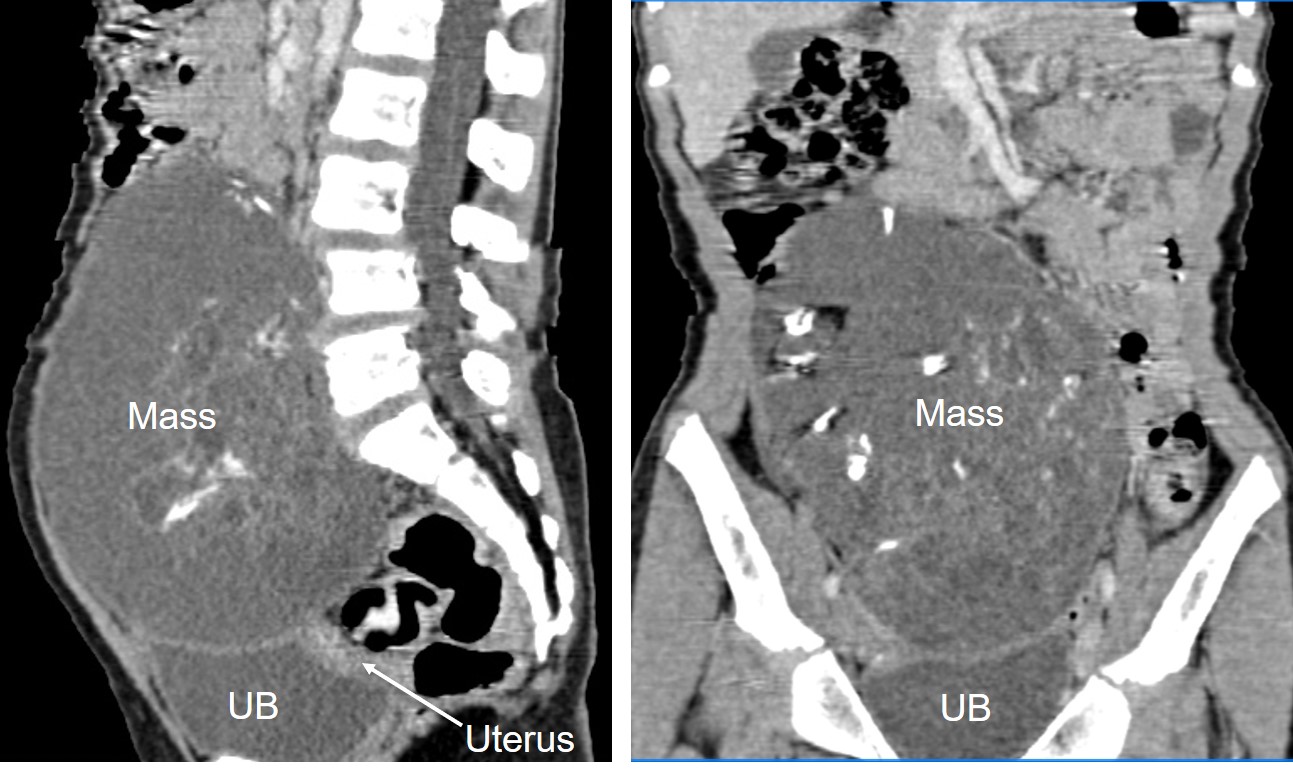 CT findings:
A large mass measuring about 11×9 cm appears to arise from the pelvic cavity extending into abdominal cavity
It is a complex cyst with septae and solid component as well as calcification within it
The solid component showed contrast enhancement
The mass is abutting and indenting the dome of the urinary bladder, otherwise clear plane of demarcation is seen
Ureters are not dilated. The surrounding bowel loops are displaced peripherally.
No paraortic or paracaval node enlargement
Intraoperative findings:
Huge right ovarian tumour with intact capsule
No tumour deposit, freely mobile
Cut open reveals hair, cartilage, bone and solid mass
Right fallopian tube normal, left ovary normal
Uterus is small (infantile)
About 8 peritoneal seedling over the rectum, 1-3 mm
Omentum shows no deposit
Small amount of peritoneal fluid-send for cytology
Right low paraortic LN enlarged, discrete 10×5 mm
Histopathological result:
Macroscopy: specimen labelled as right ovarian tumour consist of an ovarian tissue which has been cut open. The specimen weighs 350 gms and measures 120x105x80 mm. The tumour is unilocular cyst with a large, irregular solid component almost filling up the cyst. The wall is 1 mm to 5 mm in thickness. The largest solid nodule is 70x60x55 mm and has hemorrhagic surface with some ulcer slough. Multiple small cystic spaces 1 mm to 15 mm are seen throughout the solid area. Bony areas are felt in the smaller nodular areas. The attached right fallopian tube is unremarkable measuring 45 mm long and 2 mm to 5 mm diameter.
Microscopy: Section of an ovarian cyst wall largely covered by keratinizing squamous epithelium with some areas of respiratory epithelium. Dermal appendages, mature adipose tissue, smooth muscle bundles, nerves lymphatic, mature cerebral tissue, bone with haemopoietic cells, cartilage and mucinous glands are seen in the solid areas and nodules. Small focus of immature cartilage is seen. The fallopian tube shows no evidence of malignancy. One focus of mature cerebral tissue is seen at peritoneal seedling (pelvic spread). Omentum and nodes are negative for metastasis.
Diagnosis: Immature right ovarian teratoma with peritoneal seedling.
Discussion:
Immature ovarian teratoma is uncommon ovarian germ cell tumours representing less than 1% of ovarian teratomas.
Like mature cystic teratoma, immature teratomas are composed of tissues derived from the three germ cell layers
The difference with mature teratomas:

they demonstrate malignant behavior,
affect a younger age group (usually the first second decades of life)
lesions are typically larger (14-25 cma) than mature teratoma (average 7 cm) and
are much less common

Usually does not produce beta-HCG. Serum AFP elevation in 50%.
They may be solid or have predominant solid component with cystic elements.
The cystic areas are usually filled with serous or mucinous fluid or may be filled with fatty sebaceous material. The tumors frequently demonstrate perforation of the capsule, which is not always well defined.
Tumor grading is based on the amount of immature tissue present.
The US appearances of immature teratoma are nonspecific. Typically, the tumors are heterogeneous, partially solid lesions. Scattered calcifications are usually present. Small foci of fat within the solid component may be difficult to recognize.
At CT and MR imaging, these tumors have a characteristic appearance. A large, irregular solid component containing coarse calcifications and small foci of fat is seen. Hemorrhage is often present.
Immature teratoma may metastasize to the peritoneum, liver or lung. Metastasis to the brain has also been reported.
Surgical treatment is usually curative for stage I lesions.
Progress of patient:
Debulking surgery, right oophorectomy and right lymphadenectomy done
Patient was referred to oncologist and had follow up at other hospital