Clinical:
A 47 years old lady
Para 3, last child birth 14 years ago
Underlying DM, HPT and hypercholesterolaemia on treatment
Complaint of abdominal distension for 2 months
No LOA, no LOW, no altered bowel habit, no fever, no abdominal pain, normal menses
Clinical examination show grossly distended abdomen, palpable mass with no clear margin
Ultrasound done show huge multiloculated mass, bilateral ovaries seen are normal, no fluid at POD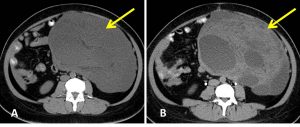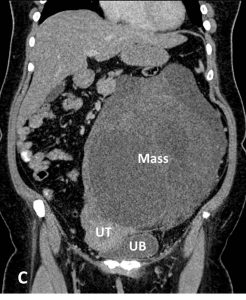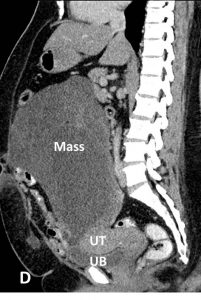 CT findings:
A large lobulated mass is seen occupying the left abdomen and left pelvic cavity.
The wall of the mass is indiscernible.
It measures about 16.6 x 20.1 x 24.4cm.
It is predominantly cystic with presence of septae and enhancing solid component seen within. Low attenuation areas are also seen interspersed within solid component which may represent areas of fatty component. However no obvious calcification is seen within the mass.
Clear plane of demarcation are seen between the mass and the surrounding structures. The mass is seen displacing the bowels and the uterus away towards the right side. It is also indenting the dome of urinary bladder. Otherwise the uterus and urinary bladder are normal.
Multiple shotty para-aortic and bilateral inguinal nodes noted. No ascites.
The liver, gallbladder, pancreas, spleen, kidneys and adrenals are normal.
No bowel dilatation or bowel wall thickening.
Intra-operative findings:
Upon entering the peritoneal cavity, noted dense adhesion between perineum, omentum and small and large bowels. Adhesiolysis done.
Large inclusion cyst 20×18 cm, thin wall, attached to bowel, ruptured during adhesiolysis, attached to the left ovary.
Both ovaries are normal in size. Uterus 12 weeks, adhered to omentum, peritoneum and left cyst. Cervix normal. No ascites. Liver surface normal.
HPE findings:
Macroscopy: Uterus, bilateral ovaries, fallopian tubes are normal looking. A huge tumour attached to the left ovary. However it can be separated easily from the mass. The tumour is ovoid in shape and measures 230x200x70 mm. Cut section shows solid pale yellow in colour. No cystic component is identified. There is area of hemorrhage and myxoid changed nnoted on the cut surface. There is also focal omental covering seen on the outer surface.
Microscopy: Sections show a partially encapsulated tumour composed of lipogenic and non lipogenic component. The lipogenic area is composed of lobules of atypical adipocytes of varying sizes interspersed by bizarre and atypical stromal cells. Lipoblast-like cells are seen occasionally. The non lipogenic area is composed of hypocellular area of loosely arranged atypical spindle cells with elongated curvilinear blood vessels in the background. In the hypercellular area, there is sheets of ovoid tumour cells, having hyperchromatic nuclei and coarse chromatin pattern. Mitotic activity is increase including the abnormal ones. Adjacent area of hemorrhage and necrosis is present. There is no heterologous differentiation seen.
Impression: Dedifferentiated liposarcoma.
Diagnosis: Abdominal liposarcoma
Discussion:
Liposarcomas are malignant tumors of fatty tissue.  They are the second most common type of soft tissue sarcoma.
Liposarcomas are typically found in adults, typically between the ages of 40 and 60, and are rare in children.
They are usually seen in the extremities (75%), most commonly the thigh, and are less commonly seen in the retroperitoneum, groin or elsewhere.
Liposarcomas CT patterns are based on the amount and distribution of fat in the tumor:

solid: attenuation over +20 HU
mixed: areas of less than -20 HU and areas of over +20 HU
pseudocystic: homogeneous density between –20 and +20 HU

CT findings favoring a liposarcoma over a lipoma include:

inhomogeneous attenuation, with evidence of significant amounts of soft-tissue within the fatty mass
poor definition of adjacent structures
evidence of infiltration or invasion of mediastinal structures
calcification
Progress of patient:
Operation was performed by O&G team since preoperative diagnosis of ovarian mass
TAHBSO performed
Case referred to surgical team after HPE findings
Patient was referred to oncology team
Completed radiotherapy 28 cycles
Repeat CT  one year after operation showed no tumour recurrence