Clinical:
A 64 years old lady
History of breast carcinoma (T2N0M0) with left mastectomy done 10 years ago, completed treatment
Presented with feeling unwell, dizzy and fell at home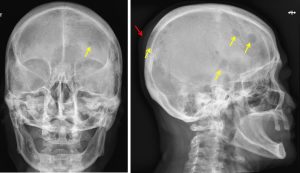 Radiographic findings:
There are multiple lytic lesions in the skull (yellow arrows)
The lesions are well-defined with no sclerotic margin
No internal mineralization
Associated soft tissue mass at occipital region (red arrow)
No similar lesion involving the mandible
No periosteal reaction
Radiologic diagnosis: Multiple lytic lesion in the skull
Discussion:
There are multiple causes of osteolytic skull vault changes
Pneumonic for differential diagnosis: BAMMAH (Brown tumour, AVM, Myeloma, Metastasis, Amyloidosis, Histiocytosis)
Metastatic lytic lesions in adult are commonly from the breast, prostate, lung, kidney and leukaemia.
The main differential diagnosis is multiple myeloma which usually shows diffuse involvement of the skull vault and skull base by multiple punch out lesions and may involve mandible (rarely seen in metastasis).
Progress of patient:
CT scan thorax done shows multiple lung and liver metastasis
Patient died 2 months after that.