Clinical: 
A 50-year old lady
She has underlying end stage renal failure and hypertension
Admitted for dengue fever, complaint of headache
CT brain on admission was normal
Clinically there was no bleeding tendency
Platelet: 18, INR= 3.3, APTT >300.
Three days later had a fall in bathroom preceded by worsening headache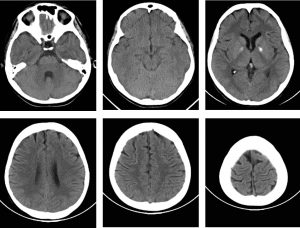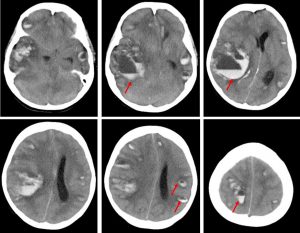 CT scan findings:
There are multifocal intraparenchymal haemorrhages in both cerebral hemispheres
The largest are on the right side causing peripheral oedema and midline shift towards the left. There is also mass effect upon the ipsilateral lateral ventricle.
Many of these hemorrhages demonstrate fluid-blood levels which may be associated with bleeding from a coagulation disorder or anticoagulation.
Radiologic diagnosis: Acute intraparenchymal haemorrhages with blood fluid levels
Discussion:
Fluid-fluid level also described as blood-fluid level or sedimentation level in intracranial haemorrhage can be seen on CT or MRI.
This is associated with patients who have coagulopathy or who are receiving anticoagulation therapy. These can prevent the formation or lysis of a blood clot, resulting in this appearance.
On noncontrast head CT, fluid levels within the hematoma are associated with  an increased risk of expansion.
It may rarely be seen in patients with normal coagulation parameters, probably reflecting the fact that the PT/INR does not capture all patients with coagulopathy.
Higher intensity anticoagulation with increasing PT/INR is associated with a higher likelihood of blood-fluid levels, but many patients with fluid levels may only have mild to moderate PT/INR elevation.
As the coagulopathy is reversed, the bleeding stabilizes, fluid levels disappear, and the hematoma is eventually resorbed.