Clinical:
A 7 years old girl
Presented with vomiting, headache and diplopia
No claimed no underlying medical problem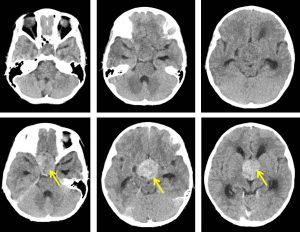 CT scan findings:
A lobulated solid enhancing mass extending from the sellar to the suprasellar region is seen. It measures about 3.6 cm (AP) x 3.2 cm (W) x 3.9 cm (CC) in size.
No calcification within the mass.
The pituitary fossa is widened but there is no destruction or erosion of the pituitary floor.
No filling defect is seen within the cavernous sinuses and its lateral concavity is preserved.
The pituitary infundibulum and optic chiasms are not seen.
The lateral ventricles are dilated while the 3rd ventricle is dilated to a lesser degree. The 4th ventricle is slightly prominent. There is no transependymal spread of CSF to indicate acute obstruction.
No intracranial bleed. No shift of midline structures.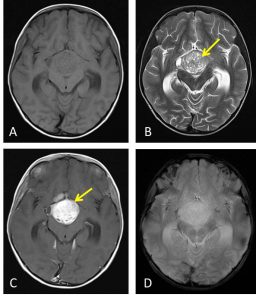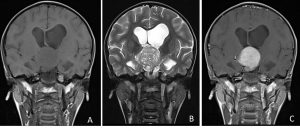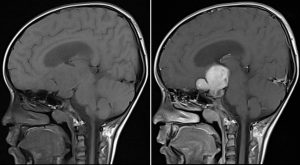 MRI findings:
There is a well defined lobulated heterogeneous mass occupying the sellar and suprasellar region. It measures about 3.8 x 3.3 x 3.8cm.
Mixed solid and cystic component are seen within.
No blooming artefacts seen within the mass on hemo sequences to suggest haemorrhage.
The mass is vividly enhances post gadolinium. The infundibulum, pituitary gland and the optic chiasm is not visualised and are obscured by the mass.
The mass is causing the pituitary fossa expansion.
The cavernous sinuses appear normal bilaterally.
The lateral and 3rd ventricles are dilated. The fourth ventricle is not dilated.
Grey and white matter differentiation is preserved. No midline shift. Basal cisterns and sulci are not effaced.
Progress of patient:
Known case of right optic chiasm glioma (pilocystic astrocytoma WHO Grade 1)
Craniotomy via subfrontal approach and tumour debulking done 2 years ago
Planned for another surgery after one year
However defaulted treatment
Patient was referred back to the hospital for further management
Diagnosis: Optic pathway glioma (pilocytic astrocytoma)
Discussion:
Optic pathway gliomas are relatively uncommon tumours.
It typically present in children, accounting for 10-15% of supratentorial tumors in this age group.
No sex predominance.
The tumors are often low-grade and indolent
MR imaging is optimal for showing the relationship of the mass to the hypothalamus, optic chiasm, and infundibulum as well as the intraorbital and intercanalicular components of the mass. Large tumors are typically heterogeneous with cystic and solid components. Optic nerve is variably enlarged.