Case contribution: Dr Norzaini Rose Mohd Zain
Clinical:
A 76 year-old male has multiple medical disorders, which include diabetes mellitus, hypertension and hyperlipidaemia.
He began to experience cognitive impairment 3-4 years ago, not associated with hallucination or delusion.
He did not have depressive mood but he is concerned about the cognitive impairment. No mania.
The progression of his cognitive impairment seemed gradual instead of step-wise.
Cognitive assessment showed significant memory impairment with sparing of other domains.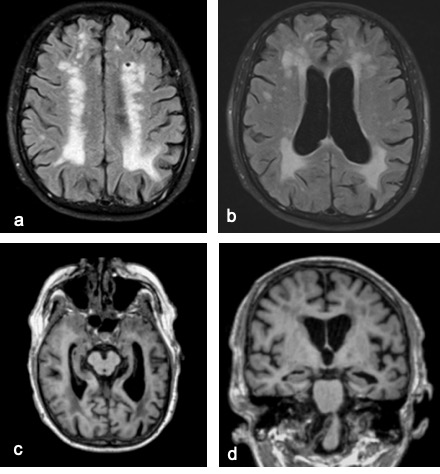 MRI findings:
MRI shows confluent white matter change most likely represents severe small vessel ischemia involving the corona radiata, centrum semi ovale and periventricular white matter (Figure a & b).
This results in generalized volume loss.
In addition there is also atrophy of both hippocampii, worse on the left side.
Based on medial temporal atrophy scale, the medial temporal atrophy is grade 3 on the right and grade 4 on the left, which is more than expected for age (c & d).
Diagnosis: Mixed Dementia – Vascular Dementia and Alzheimer's disease
Discussion:
Traditionally, demented patients are diagnosed with a specific label, on the basis of clinical criteria and ancillary investigations.
MRI is an essential part of the diagnostic work-up, and can provide positive evidence for the presence of neurodegenerative (e.g. atrophy) and cerebrovascular disease (e.g. infarcts, white matter hyperintensities, microbleeds).
The majority of patients receive a diagnosis of Alzheimer's disease (AD).
The second most frequently diagnosed type of dementia in the elderly is vascular dementia (VaD).
Whereas neuropathologically, senile plaques and neurofibrillary tangles are presumed to underlie AD; cerebrovascular pathology, by definition, causes VaD.
Many dementias are characterised by grey matter (GM) abnormalities; these are usually, but not exclusively, atrophy.
AD is the most prevalent and the prototypic cortical GM dementia. AD typically shows striking and selective volume loss in the temporal lobes, especially the hippocampii.
Vascular Dementia (VaD) is sometimes also called multi-infarct dementia, vascular cognitive disorder, vascular cognitive impairment, subcortical ischemic vascular dementia and post-stroke dementia. All are broadly encompassing terms for cognitive dysfunction associated with, and presumed to be caused by vascular brain damage.
VaD is usually an acquired disease caused by cumulative burden of cerebrovascular lesions. While any vessel – small and large – can be affected, the majority of cases are microvascular angiopathies, as demonstrated in this case.
It is increasingly recognised that these two types of neuropathological damage are often concomitantly observed, and their effects may not be easily disentangled. In other words, these two types of the two disorders may overlap and often co-exist and known as Mixed Dementia comprising of VaD and AD.
This patient demonstrates evidence of severe small vessels ischemia that suggests vascular contribution to the cognitive impairment. In addition, there is also finding on MR imaging that suggests AD element as demonstrated by the significant loss in the hippocampal volume. Hence, mixed dementia is the likely cause of cognitive impairment in this particular case.