Case contribution: Dr. Raja Rizal Azman 
Clinical:
A 41-year old  man with a history of  diabetes and hypertension
Presents with a one week history of worsening right sided upper and lower limb weakness and a single episode of facial twitching.
Examination revealed a right sided upper and lower limb weakness with increased tone and brisk reflexes.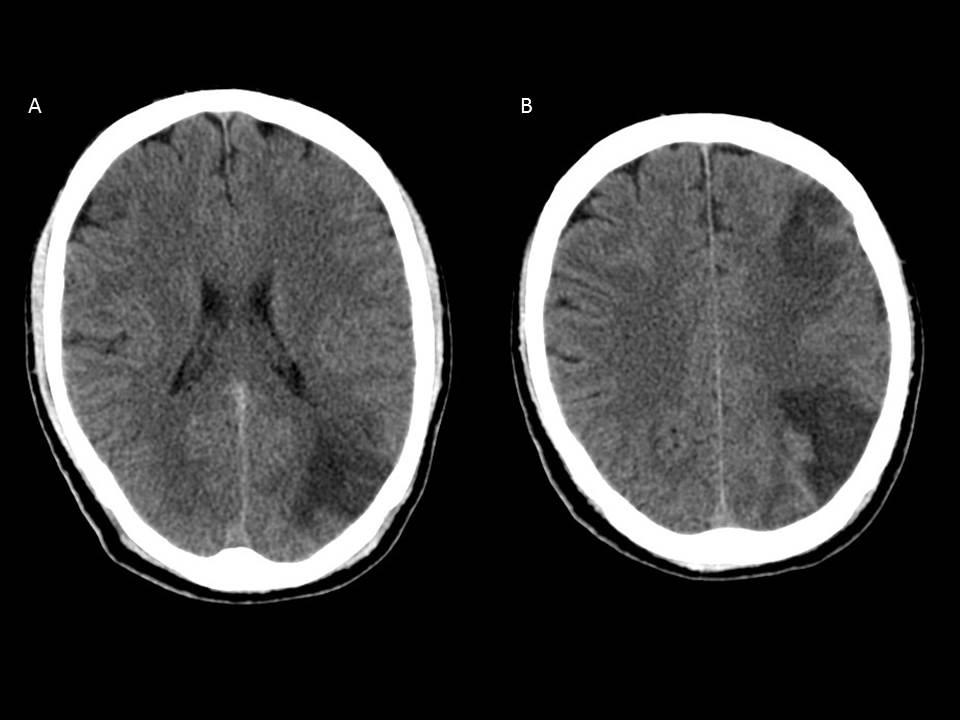 Imaging findings:
Unenhanced CTof the brain at the level of the corona radiata (A) and the centrum semiovale (B)
There are ill defined hypodensities affecting the grey and white matter at the left frontal lobe at the left MCA/ACA borderzone and the left parietal lobe at the MCA/PCA bordezone.
Diagnosis: Cortical watershed infarcts
Discussion:
Watershed infarcts occur at the borderzone of two vascular territories and represent up to 10% of infarcts.
They can be classified into internal or cortical watershed infarcts.
Internal watershed infarcts are thought to be secondary to haemodynamic compromise and have a risk of recurrent stroke with higher mortality and morbidity whereas cortical infarcts are more related to emboli and are associated with a more benign course.