Case contribution: Dr Radhiana Hassan
Clinical:
A 32 years old lady
Diagnosed fibrous dysplasia at 12 years old
History of recurrent fracture involving left tibia and left femur since 10 years ago
Since then having pain and left leg shortening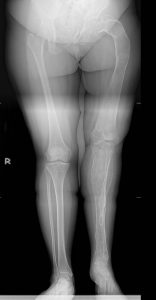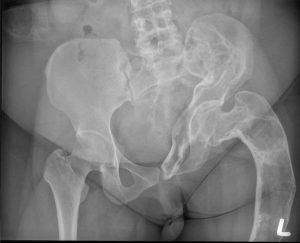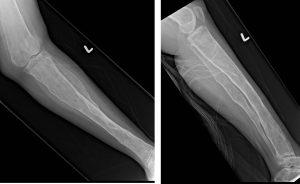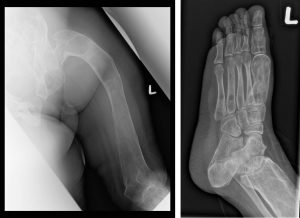 Radiographic findings:
There are homogeneous loss of trabecular pattern leading to ground glass appearance involving left femur, left tibia and left fibula.
They show narrow zone of transition, with bony expansion.
Endosteal scalloping with cortical thinning is noted, with focal cortical defect at lateral aspect of left proximal femur. No callus formation is seen.
Bowing deformity of the left femur is seen, with shepherd crook appearance of the femoral neck and bowing of the proximal femoral shaft laterally.
No acetabulum protrusion is detected.
There is shortening of left femur and left tibia and fibula.
Left hip, knee and ankle joints are unremarkable.
No soft tissue mass.
Diagnosis: Fibrous dysplasia; polyostotic form (biopsy proven)
Discussion:
It is a benign fibroosseous developmental anomaly of the mesenchymal precursor of bone, manifested as defect in osteoblastic differentiation and maturation
Mean age of 8 years, about 2/3 are symptomatic by age of 10 years.
Unilateral and asymmetric involvement; femur (91%), tibia (81%), pelvis (78%), foot (73%), rib, skull +facial bones (50%), upper extremities, lumbar spine (14%), clavicle (10%) and cervical spine (7%).
Radiographic findings include leg length discrepancy, 'shepherd's crook' deformity, tibial bowing, rib deformity and facial asymmetry.
Malignant transformation seen in 0.5-1% of cases
Common complication include pathological fractures.