Case contribution: Dr Radhiana Hassan
Clinical:
A 60 years old man
A chronic smoker
Complaint of right neck swelling for one year
Progressively increase in size. Not painful
No constitutional symptoms
On examination; swelling (2 x 3 cm) at right upper lateral neck which was firm, mobile and non pulsatile.

Ultrasound findings:
A well-defined hypo echoic lesion is seen within right parotid gland
The lesion measures about 1.8 cm x 2.5 cm x 3.4 cm (AP x W x CC).
There is no internal vascularity and no intralesional calcifications.
Otherwise, the rest of right parotid gland is homogenous in echo texture.
Right common carotid, external carotid artery and internal carotid arteries and right internal jugular vein are patent.
The left parotid gland is normal.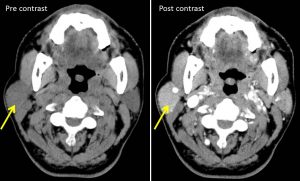 CT scan findings:
The right parotid gland is bulky compared to contralateral site.
An ill-defined hyperdense (HU 36- 42) lesion with smooth margin (yellow arrows) is seen at the inferior portion of right parotid gland, measures about 2.0 cm x 2.1 cm x 2.9 cm (AP x W x CC).
In post contrast images, the lesion is homogenously enhanced almost similar to the rest of the parotid tissue.
No calcification within the lesion. No fluid or fat component.
 No infiltration to the adjacent sternocleidomastoid muscle.
Right internal jugular vein and left internal carotid artery are patent.
No associated bone erosion or destruction. Left parotid gland is normal.
Intra-operative findings:
Mass at tail of parotid
Firm, well-defined and well encapsulated.
Measuring about 3×2 cm
Enucleation of mass done
HPE findings:
Macroscopy: specimen labelled as right parotid mass, consist of a piece of tan whitish tissue measuring 35x25x20 mm. Cut section shows tan whitish surface. No haemorrhage or necrosis seen.
Microscopy: section shows a well-encapsulated tumour composed of papillary projections lined by double epithelial cells displaying granular eosinophilic cytoplasm (oncocytes). The inner luminal cells are non-ciliated, tall columnar cells with nuclei aligned towards the luminal aspect. The outer basal cells are cuboidal cells with vesicular nuclei. The stroma is infiltrated by dense mature lymphocytes forming follicles with some germinal centres. The cystic spaces in between the papillae contained cellular debris. There is a thin rim of compressed normal salivary acini at periphery.
Interpretation: Warthin tumour.
Diagnosis: Warthin's tumour of right parotid gland.
Discussion:
Whartin tumour is also known as lymphomatous papillary cystadenomas, a benign sharply demarcated tumour of the salivary gland.
It is lymphoid in origin and most commonly arise from parotid gland tail at the level of mandibular angle
Warthin's tumor comprises 4-15% of all salivary gland epithelial tumors and 4-10% (up to 30% according to others) of all parotid tumors. 5-20% of cases appear to be multicentric.
It is the 2nd most common benign parotid tumour after pleomorphic adenoma
It typically occur in the elderly and twice as common in men
It may be bilateral or multifocal (20% of cases) and the most common neoplastic cause of multiple solid parotid masses
Association: smoking and irradiation
Malignancy developing in a Warthin's tumor is extremely rare (<1%).
In Ultrasound it seen as ovoid, well-defined margin and multiple irregular, small, sponge-like anechoic areas. Tumors that are large (e.g. >5 cm) tend to have a higher proportion of cystic content than smaller lesions had and in some cases can be composed almost entirely of cystic material. They are often hypervascular.
In CT scan, the classic appearance is a well-defined heterogeneous solid cystic lesion within the superficial lobe of parotid/parotid tail, well defined and no calcification Cystic changes appear as intralesional lower attenuation. It shows moderate enhancement. Presence of mural nodule is strongly suggestive of Warthin tumor.
In MRI, T1WI shows low to intermediate signal with cyst containing cholesterol components containing focal high signal, T2WI shows heterogeneous and variable signal intensity and T1 post contrast shows cystic components do enhance while solid parts usually enhanced.