Case contribution: Dr Radhiana Hassan
Clinical:
A 52 years old male.
Background Hepatitis C with liver cirrhosis
Recently diagnosed hepatocellular carcinoma
Presented with bilateral lower limb weakness for 2 weeks.
No history of trauma or fall.
Plain radiograph and MRI shows compression fracture of T10 vertebra.
Tumour markers AFP, CA 19-9 and CEA are raised. ALP slightly raised.
Left ear pain for 1 month, treated as mastoiditis and on medication from GP.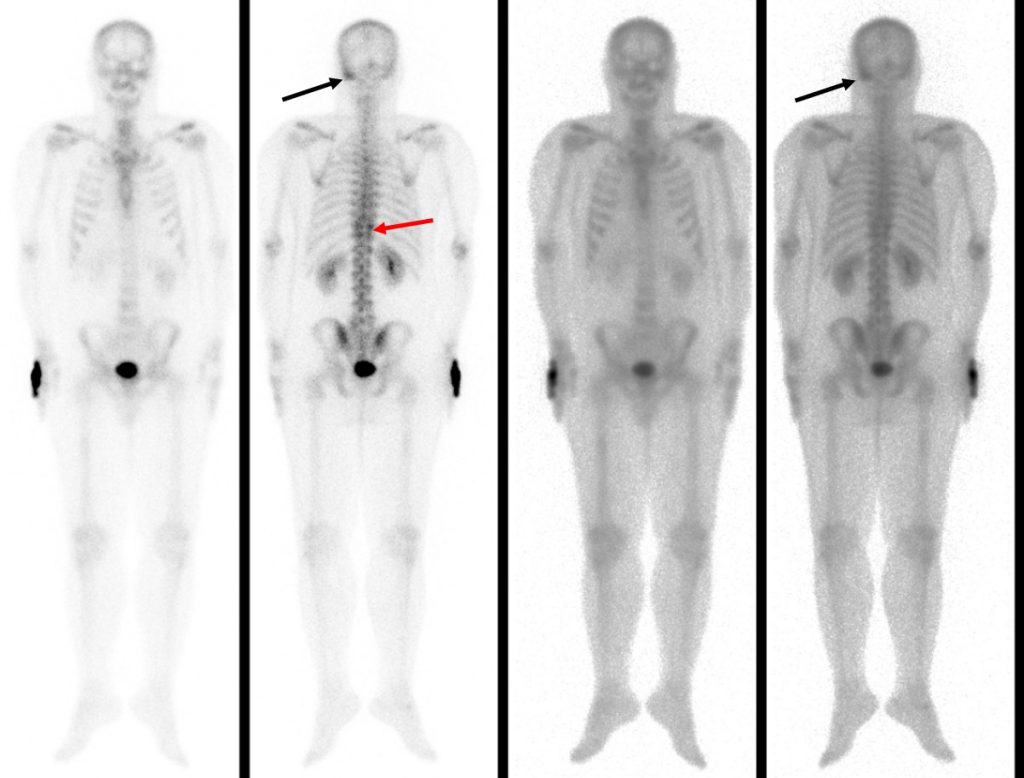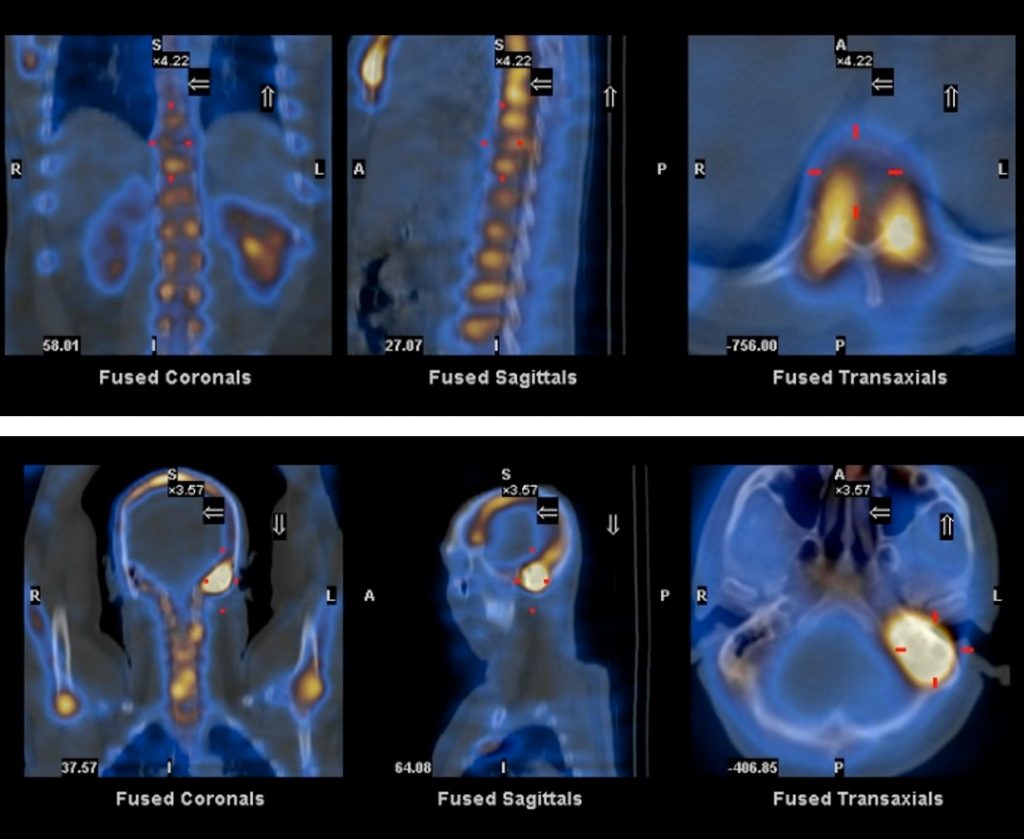 Bone scan with SPECT CT done
Generalised increased tracer accumulation of the left mastoid air cells which is opaque on CT. No lytic lesion or cortical destruction. This is likely due to underlying inflammatory process, chronic mastoiditis.
Mild increased tracer accumulation at the sides of the compressed T10 vertebra. No lytic lesion. This is more in favour with underlying benign cause rather than metastasis.
No abnormal tracer accumulation seen in the skeletal system to suggest skeletal metastasis
Progress of patient:
Had a fall at home about 5 months later
Presented with cerebellar sign and nystagmus.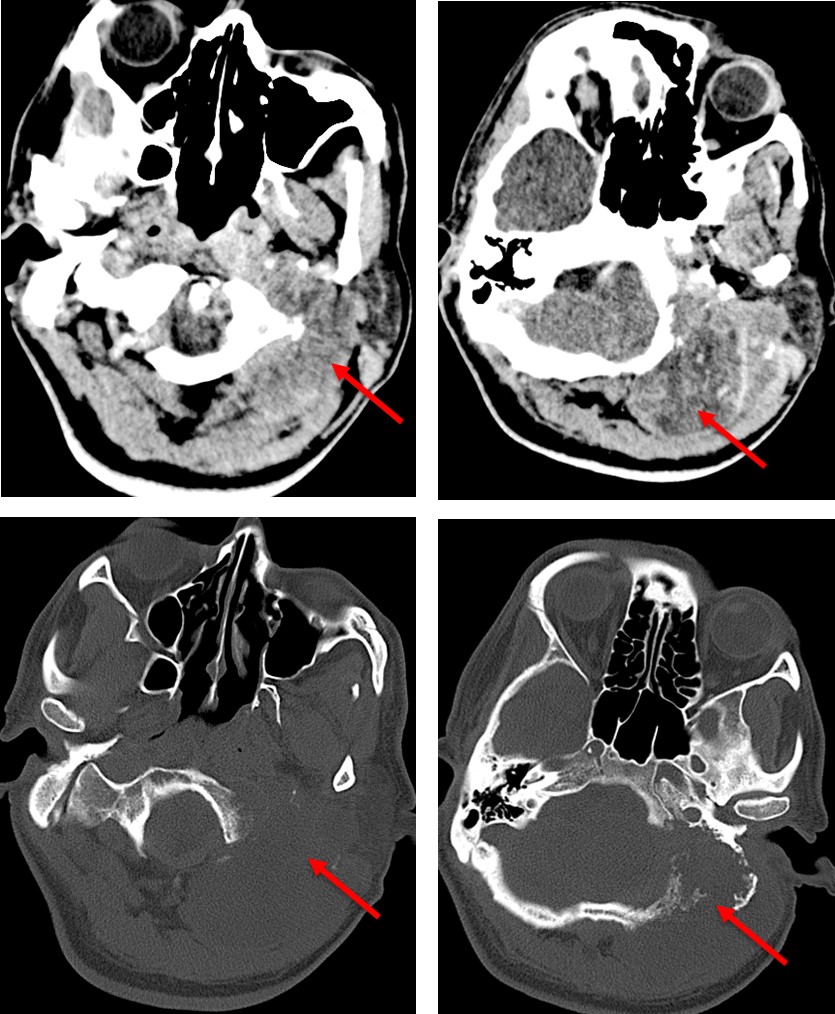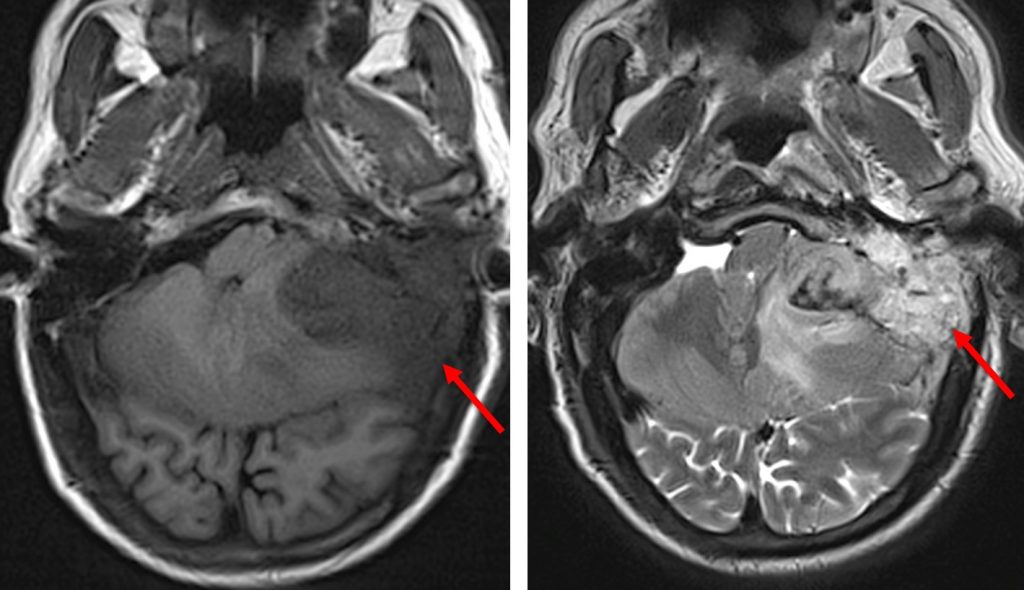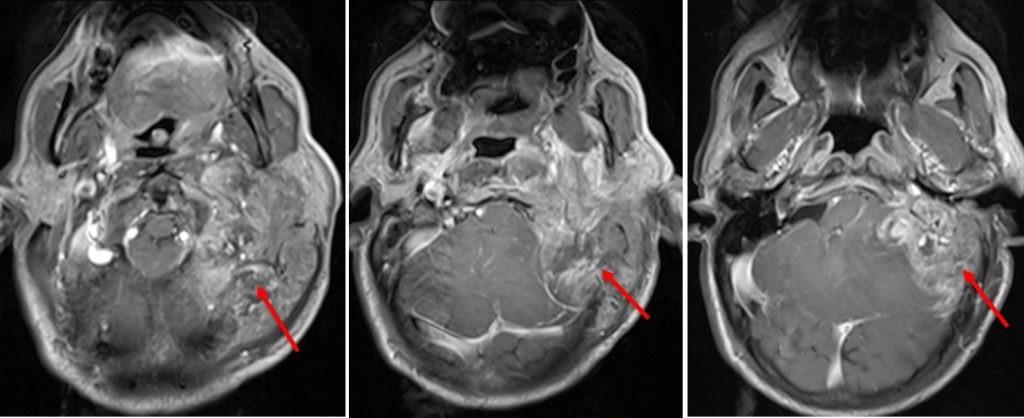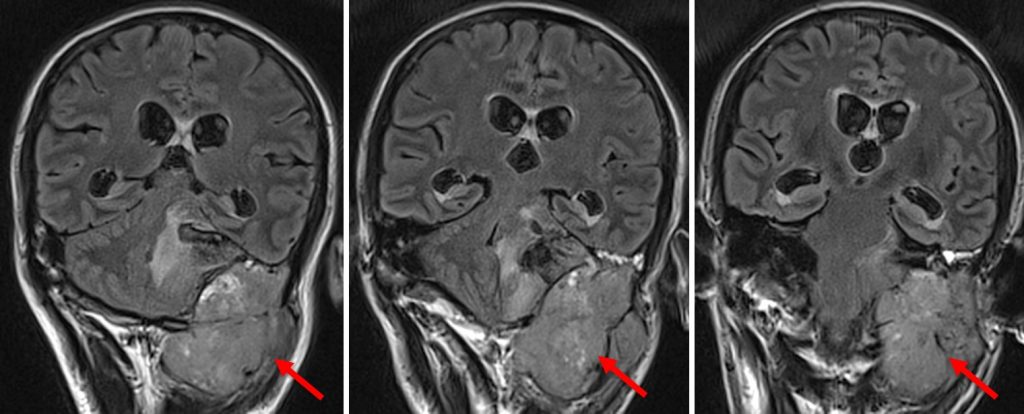 Biopsy of the lesion was done:
Macroscopy: specimen labelled as posterior fossa tumour consist of multiple fragments of brownish tissue measuring 130mm in aggregate diameter, admixed with blood clot. Few bony tissue measuring 40 x 10 x 5mm, 30 x 13 x 5mm and 10 x 10 x 5mm are included.
Microscopy: Sections show tissue with extensive infiltration by malignant cells arranged in diffuse sheets, trabeculae and glandular patterns. The malignant cells display a highly pleomorphic, vesicular nuclei, some with prominent nucleoli and moderate cytoplasm. Many bizarre, enlarged cells and tumor giant cells are seen. There are numerous mitotic figures as well as abundant tumor necrosis and hemorrhages.The malignant cells are mainly seen at the perivascular areas. They also seemed to infiltrate the bony fragments seen within the specimen. Few normal brain parenchyma, nerve and muscle bundles and variable-sized thick walled vessels are seen.
Immunohistochemical profile: AFP and Glypican 3: strongly positive, CK20, CEA, CA19-9 and Hepar-1: focally positive and CK7 and PSA were negative.
Interpretation: Posterior fossa tumour consistent with metastatic carcinoma, morphological features and immunohistochemical profile are compatible with a liver primary.
Final diagnosis: Metastatic hepatocellular carcinoma.
Discussion:
Hepatocellular carcinoma is an aggressive tumour
Metastatic spread is by direct invasion, through ascites or via hematogenous or lymphatic routes.
The most common sites of metastases include lung, followed by lymph nodes, bone,mesentery and/or omentum, adrenal glands and brain.
The overall prognosis of patients with metastatic hepatocellular carcinoma is poor.