Case contribution: Dr Radhiana Hassan
Clinical:
A 21 years old female
Incidental findings of multiple lung nodules during medical check up
No history of cough, fever or night sweat
No constitutional symptoms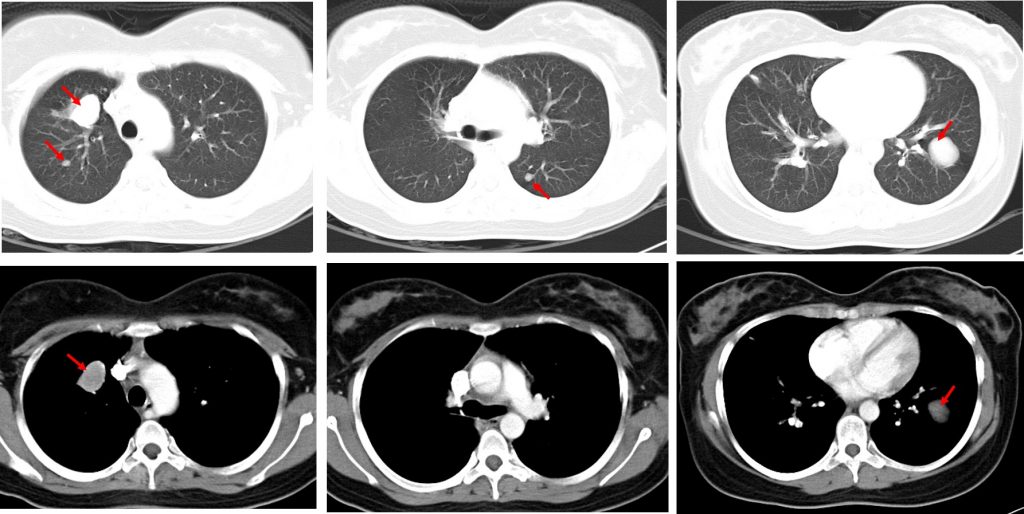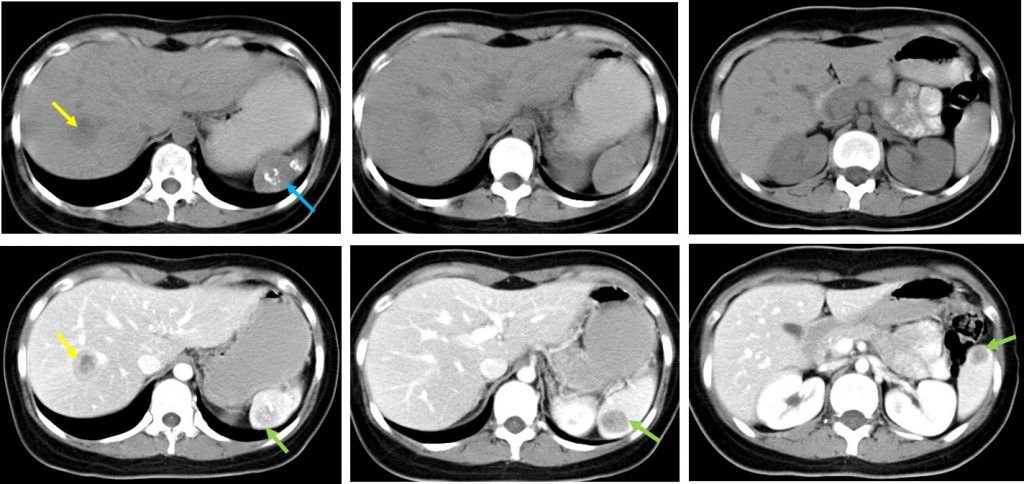 CT scan findings:
There are multiple lung nodules in both lungs (red arrows)
The lesions show well-defined margin
No calcification or cavitation within the lesion
No mediastinal lymphadenopathy
No pleural effusion. Bones are normal.
A lesion also seen in the right lobe of liver (yellow arrow)
Lesions also seen in the spleen (green arrows). There are calcification foci within the spleen (blue arrow).
A repeat CT scan 9 months later shows increased in number of previously seen lung nodules. Other finding remains the same.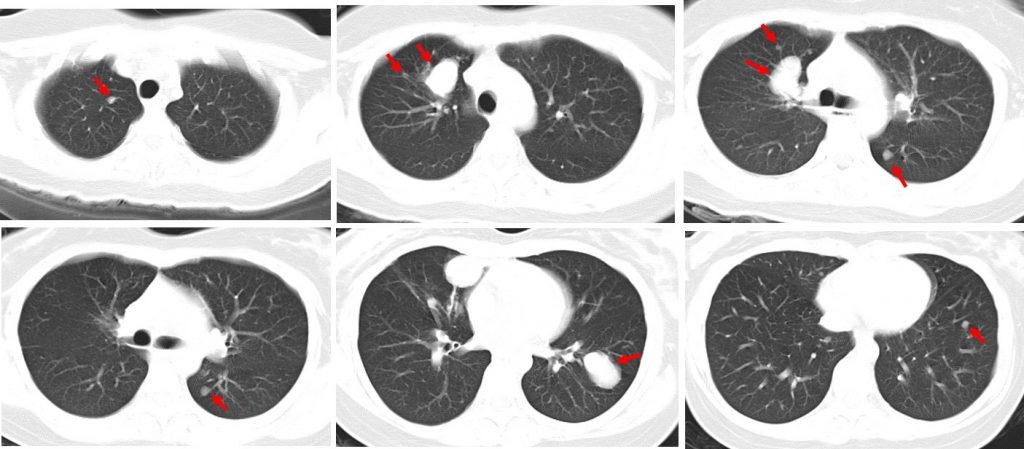 Subsequently a CT guided biopsy was done for the lung nodule.
HPE finding is consistent with inflammatory pseudotumour.
A year later patient presented with headache.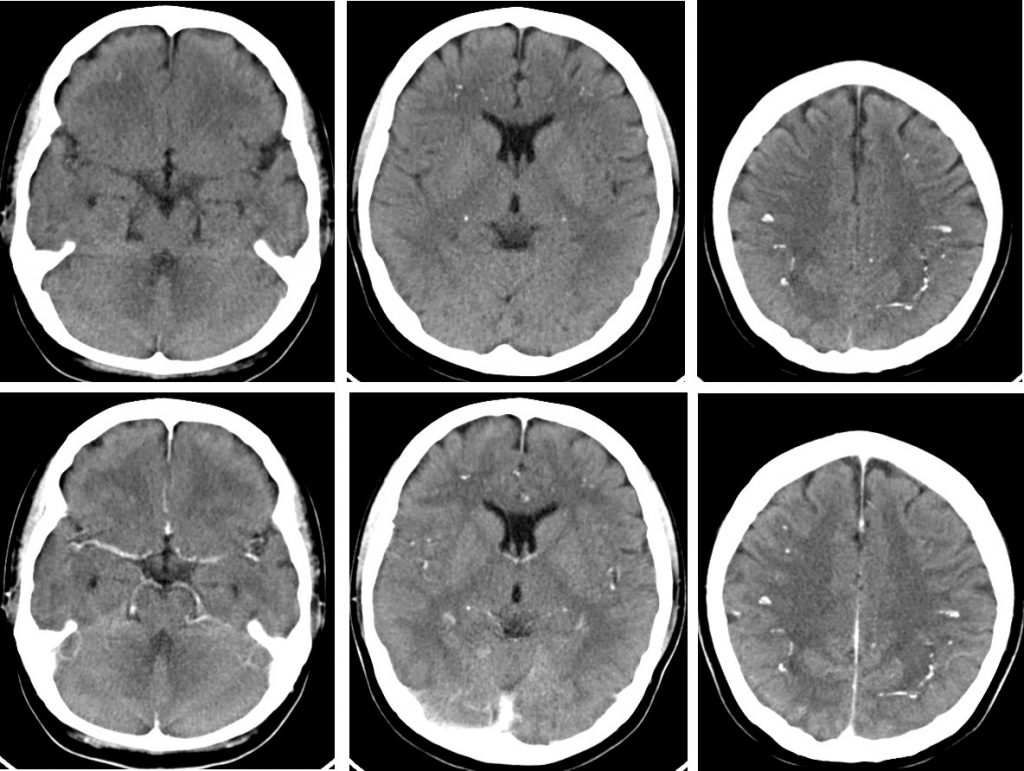 CT scan findings:
Multiple calcifications are seen within the brain parenchyma bilaterally.
No mass lesion is seen in the brain.
No abnormal leptomeningeal enhancement.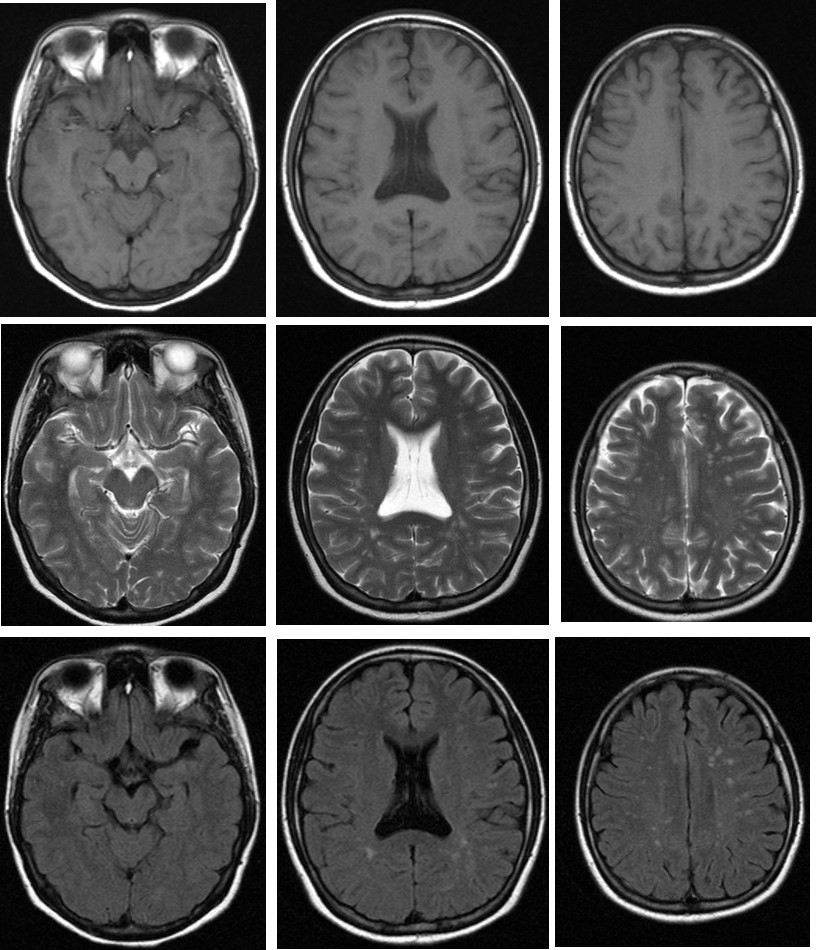 MRI findings:
Multiple focal of signal intensities in the white matter of bilateral frontoparietal region.
These are isointense on T1WI and hyperintense on both T2WI and FLAIR with no enhancement post contrast.
No other abnormality is seen.
Another episode of recurrent headache 2 years later with right diplopia.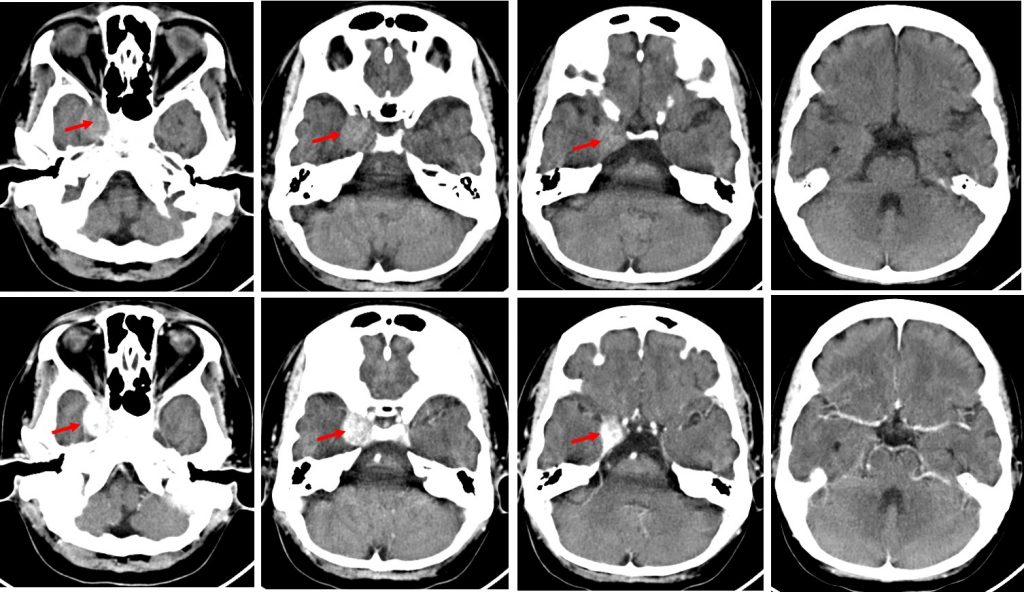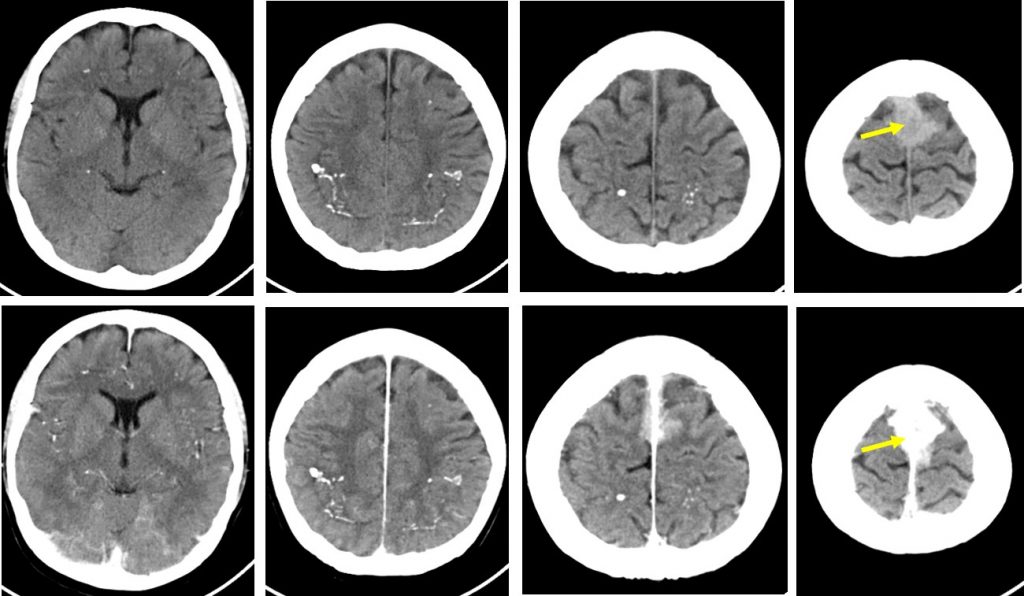 CT scan findings:
A lesion is seen at right cavernous sinus (red arrows) which is hyperdense on non-contrast image and heterogenous marked enhancement post contrast.
Another lesion with almost similar appearance is seen at the falx cerebri near to vertex (yellow arrow).
Multiple intracranial calcifications which are slight increase in severity compared to previous scan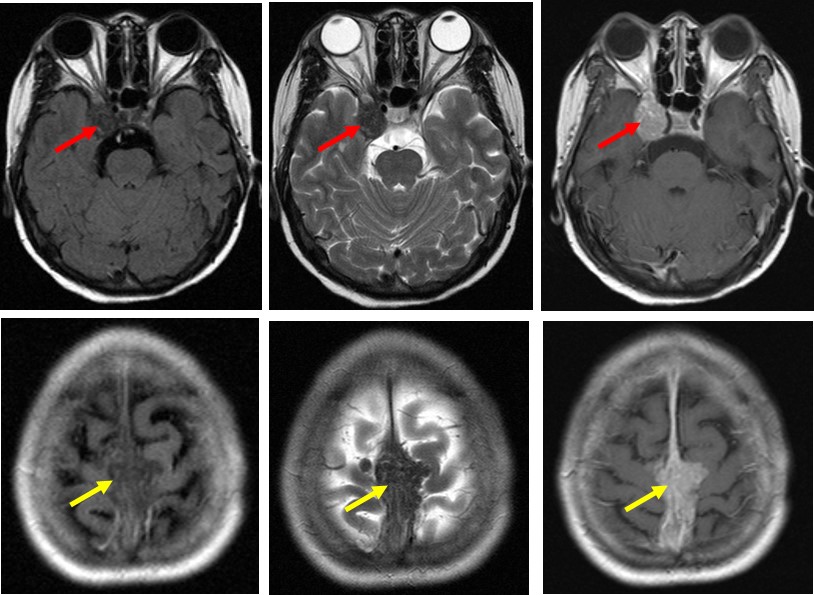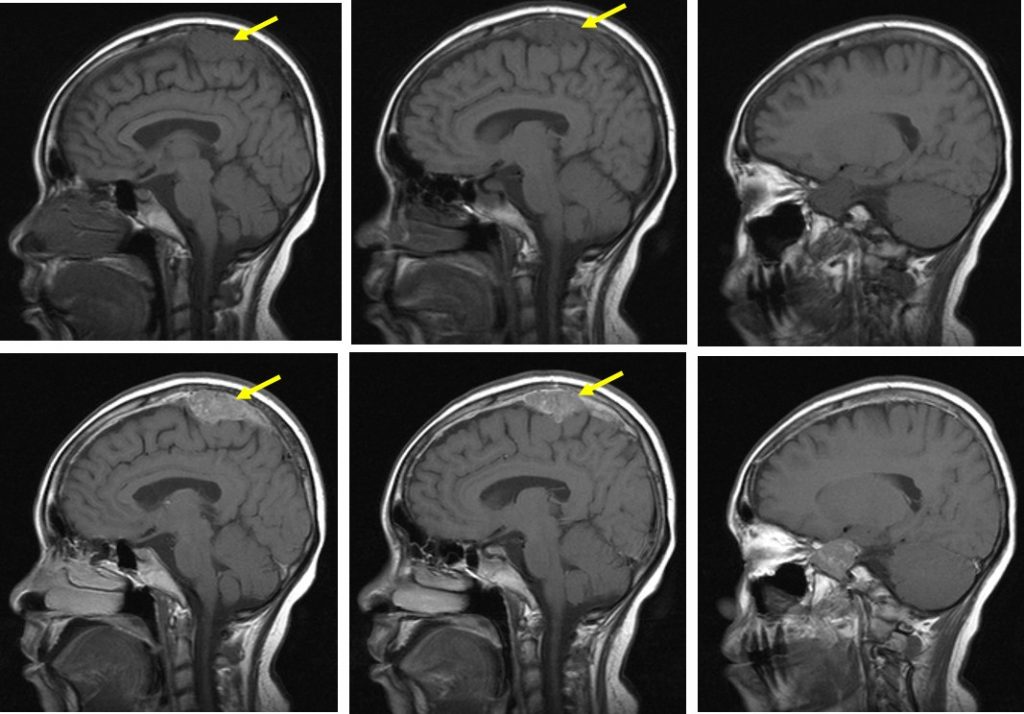 MRI findings:
A lesion at right cavernous sinus (red arrows) which is iso to hypointense to grey matter on T1WI and T2WI which enhances post contrast.
A multilobulated lesion along the falx cerebri with similar signal intensity to cavernous sinus lesion (yellow arrows)
Obliteration of superior sagittal sinus (images not shown)
Final diagnosis: Inflammatory pseudotumour with lung, liver, spleen and brain involvement.
Discussion:
Inflammatory pseudotumour is a benign lesion that has been reported to occur in nearly every site in the body
Inflammatory pseudotumour mimic malignant tumours both clinically and radiologically
It is a quasineoplastic lesion consisting of inflammatory cells and myofibroblastic spindle cells
It is most commonly involves the lung and orbit
The radiological features are non-specific
On ultrasound it can be hypoechoic or hyperechoic with either ill-defined or well-circumscribed border. The lesion often has increased vascularity during colour or power doppler.
CT also shows varying appearances; lesion can be iso, hypo or hyperdense
On MRI, inflammatory pseudotumour usually have low signal intensity in both T1 and T2-weighted images, which may reflect the fibrotic nature of the lesion.
Contrast-enhanced CT or MRI may show a homogenous or heterogenous enhancement.
Pulmonary inflammatory pseudotumours: On plain radiograph it is typically solitary, peripheral, sharply circumscribed lobulated mass with lower lobe predominance. Multiple lesions are seen in 5% of cases. On CT scan: variable and non-specific appearance with heterogenous attenuation and enhancement. Calcification within lesion occurs more frequently in children than adults. Cavitation and lymphadenopathy are rare. Atelectasis and pleural effusion may occur
Inflammatory pseudotumour of abdomen: Various sites has been reported to be involved. It is one of the differential diagnosis for any soft tissue mass within the abdomen and viscera. Liver, spleen, pancreas, adrenal gland, kidney, retroperitoneum, diaphragm, mesentery, alimentary and urinary tract are reported sites. GIT involvement is rare. Hepatic involvement has been recognized with increasing frequency in Asian countries. Most cases have solitary solid tumour mainly from the right hepatic lobe. Urinary tract involvement is rare in children. Urinary bladder is the site of few reported cases. Spontaneous regression of inflammatory pseudotumour of the bladder has also been reported.
Inflammatory pseudotumour of head and neck: Orbital pseudotumour is the commonest with no sex predilection and can develop in patients of any age. It is usually unilateral. Bilateral involvement suggestive of underlying systemic disease. Uveal and scleral thickening is seen in 33% of orbital pseudotumour. Bone destruction and intracranial extension are rare. Extraorbital inflammatory pseudotumour of head and neck can occur in the nasal cavity, nasopharynx, maxillary sinus, larynx and trachea. Perineural spread along maxillary, mandibular and hypoglossal nerve has been described.
Inflammatory pseudotumour of the brain: It is extremely rare in CNS involvement without involvement of other organ or systems. These lesions may be located in the brain parenchyma, attached to dura or rarely may involve both
Inflammatory pseudotumour of temporal bone and skull base: Low signal intensity on T2 and homogenous contrast enhancement. Dural thickening and enhancement are nonspecific changes. The pattern of a soft tissue mass characterised by low signal on T2WI, marked contrast enhancement and peculiar destruction of mastoid and sparing the inner ear and ossicular chain is contraindicative of an aggressive tumour and likely suggest a chronic inflammatory lesion.
Reference:
Inflammatory Pseudotumour. Narla et al. RadioGraphics 2003 at https://doi.org/10.1148/rg.233025073
Inflammatory pseudotumor: The Great Mimicker. Patnana M et al. AJR 2012, 198: W217-W227.
Imaging findings of head and neck inflammatory pseudotumour. Park SB et al. AJR 2009;193:1180-1186