Case contribution: Dr Radhiana Hassan
Clinical:
A 47 years old lady
DM, HPT and hypercholesterolaemia on medication
Presented with abdominal fullness for one month. No vomiting. NO abdominal pain
Bowel openings are normal. No urinary symptoms. Menstrual cycle is regular.
CA125-39, CEA/AFP normal
Pap smear unremarkable.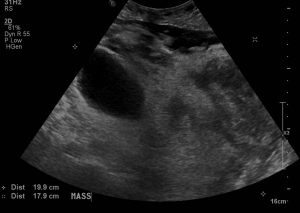 Ultrasound findings:
There is a large mass observed occupying the lower abdomen and pelvis measuring about 22 x 18 cm
It shows heterogenous echogenicity with multiple solid-cystic components.
The visualized spleen, pancreas, uterus and urinary bladder are normal.
Unable to visualize normal ovaries bilaterally.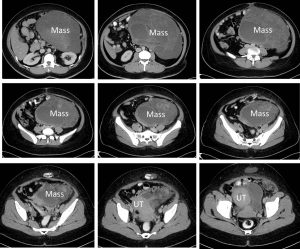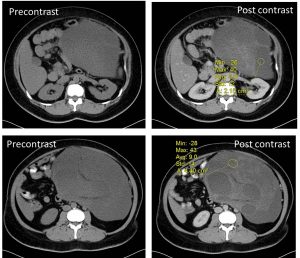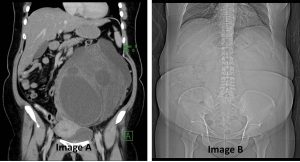 CT scan findings:
A large lobulated mass is seen occupying the left abdomen and left pelvic cavity.
The wall of the mass is indiscernible. It measures about 16.6 x 20.1 x 24.4cm.
It is predominantly cystic with septae and enhancing solid component  within.
Low attenuation areas are also seen interspersed within solid component which may represent areas of fatty component.
No calcification is seen within the mass.
Clear plane of demarcation are seen between the mass and the surrounding structures.
The uterus and urinary bladder are normal.Both ovaries are not seen.
Intra-operative findings:
Upon entering the peritoneal cavity, dense adhesion between the peritoneum, omentum and small and large bowels are seen. Adhesiolysis done.
A large inclusion cyst 20×18 cm, thin wall, attached to bowel, attached to left ovary ruptured during adhesiolysis
Both ovaries are normal in size
Uterus 12 weeks size adhered to omentum, peritoneum and left cyst. Cervix normal.
No ascites.
HPE findings:
Macroscopy: Specimen labelled as uterus, cervix and inclusion cyst consist of normal looking uterus with bilateral ovaries and also right fallopian tube. The left fallopian tube is not seen. The huge tumour is attached to the left ovary and can be separated easily from the ovary. The tumour is ovoid in shape and measures 230x200x70mm. Cut section shows solid pale yellow in colour. No cystic component is identified. There is area of haemorrhage and myxoid change noted on the cut surface. There is also focal omental covering seen on the outer surface.
Microscopy: sections show a partially encapsulated tumour composed of lipogenic and non-lipogenic component. The lipogenic area is composed of lobules of atypical adipocytes of varying sizes interspersed by bizarre and atypical stromal cells. Lipoblast-like cells are seen occasionally. The non-lipogenic area is composed of hypocellular area of loosely arranged atypical spindle cells with elongated curvilinear blood vessels in the background. In the hypercellular area, there is sheets of ovoid tumour cells having hyperchromatic nuclei and coarse chromatin pattern. Mitotic activity is increase including the abnormal ones. Adjacent area of hemorrhage and necrosis is present. There is no heterologous differentiation seen.
Impression: dedifferentiated liposarcoma. Right and left ovaries, right fallopian tube and uterus show no tumour.
Discussion:
Liposarcomas are malignant tumours of fatty tissue and are the malignant counterpart to a benign lipoma.
They are the second most common type of soft-tissue sarcoma.
It is typically seen in adult, 40-60 years of age.
Histologically divided into:

Well-differentiated liposarcoma (atypical lipomatous tumour)
Myxoid liposarcoma (round cell)
Dedifferentiated liposarcoma
Pleomorpphic liposarcoma
Mixed liposarcoma

High grade lesions have poor prognosis with a recurrence rate of 63-91%.
On CT scans have 3 patterns, based on amount and distribution of fat in the tumour

Solid: attenuation >+20
Mixed: areas of <-20 and areas >+20

Pseudocystic: homogenous density between -20 and +20
References:
Chmiel-Nowak et al. Liposarcoma at https://radiopedia.org/articles/liposarcoma
O'Regan et al. Imaging of liposarcoma: Classification, patterns of tumour recurrence and response to treatment. AJR 2011;197: W37-W43. 10.2214/AJR.10.5824