Case contribution: Dr Radhiana Hassan
Clinical:
A 51 years old man
No known medical illness
Active smoker
Presented with sudden onset of right iliac fossa pain
Associated with fever and vomiting
No bowel habit change
Similar symptoms twice few months before, spontaneously resolved with self medication
Clinically stable, abdomen soft, localized guarding at right iliac fossa, no ascites
Blood investigation Hb:12.8, TWBC:11.7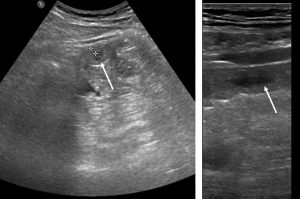 Ultrasound findings:
There is a focal thickening of bowel wall at right iliac fossa region, may represent the terminal ileum
No obvious dilatation of the bowel seen.
The appendix is not visualized. However, no evidence of collection seen within the appendicular region.
No obvious abnormality of the caecum identified.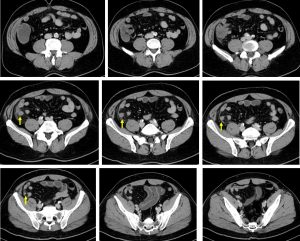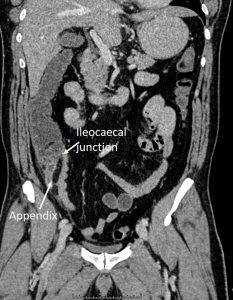 CT scan findings:
The appendix appears heterogenous and dilated measuring about 1.3 cm.
The appendix wall is thickened associated with periappendiceal fat stranding.
No hyperdense structure intraluminal to suggest appendicolith.
Bowel loops are not dilated.
No ascites.
Progress of patient:
Laparoscopic converted to laparotomy done on the same day after CT scan
Intra-operative findings: pus at right paracolic gutter, clumping of bowel covering appendix, no perforation, base ishealthy
Appendicectomy done.
HPE confirmed appendicitis.
Diagnosis: Acute appendicitis
Acute appendicitis is a very common condition and is a major cause of abdominal surgery in young patients.
CT is the most sensitive modality to detect appendicitis but its use should be limited because of the radiation dose required especially in young patients
Ultrasound should be employed as first-line where possible.
Ultrasound is performed with graded compression using the linear probe over the site of maximal tenderness, with gradually increasing pressure to displace normal overlying bowel gas.
Ultrasound findings include distended appendix, surrounding (echogenic) inflamed fat, thickening (edema) and then later, thinning (pre-rupture) of the appendix wall. Collections (hypoechoic areas) around the appendix can also be seen.
CT is highly sensitive (94-98%) and specific (up to 97%) for the diagnosis of acute appendicitis. CT scan findings are almost similar what is seen on ultrasound.
Acknowledgement:
Dr Siti Kamariah Che Mohamed.