Case contribution: Dr Radhiana Hassan
Clinical:
A 63 years old lady
Underlying DM on treatment
Presented with sudden onset of severe, dull aching abdominal pain at right side
No aggravating or relieving factor
Associated with vomiting 4-5 times since having pain
No loose stool, no altered bowel habit, no PR bleed
BP=128/84 mmHg, HR= 88 bpm, T=36.8
Pain score 7/10
Clinically there is tenderness and guarding at right iliac fossa with vague mass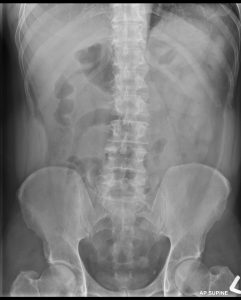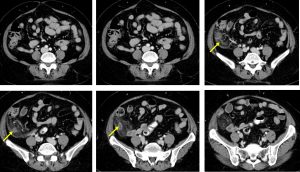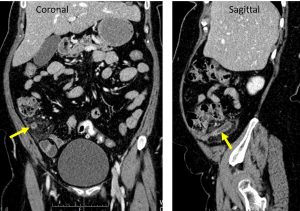 CT scan findings:
Transverse retrocecal appendix is noted (yellow arrows).
Appendix is dilated measuring up to 1.2 cm in diameter. Its wall appears thickened and irregular.
The surrounding fat is streaky. No obvious collection at right iliac fossa region.
No pneumoperitoneum. No free fluid.
The rest of bowel loop is neither thickened nor dilated. No pelvic free fluid.
Uterus is normal. No adnexal lesion is seen.
Intra-operative findings:
Laparoscopic appendicectomy done
Suppurative appendicitis
Minimal hemoserous fluid at right iliac fossa and pelvis
No pus. Base of caecum healthy
HPE: acute appendicitis
Diagnosis: Acute appendicitis
Discussion:
Transverse retrocaecal appendix comprise about 2% of all appendix location.
CT is highly sensitive (94-98%) and specific (up to 97%) for the diagnosis of acute appendicitis
CT findings include:

appendiceal dilatation (>6 mm diameter)
wall thickening (>3 mm) and enhancement
thickening of the cecal apex
periappendiceal inflammation
focal wall nonenhancement representing necrosis (gangrenous appendicitis) and a precursor to perforation
appendicolith
periappendiceal reactive nodal enlargement
Reference:
https://radiopaedia.org/articles/appendicitis-2
Acknowledgement:
Dr Siti Kamariah Che Mohamed