Case contribution: Dr Radhiana Hassan
Clinical:
A 13 years old boy
Motorcycle skidded
Vital signs stable
Complaint of vague pain at abdomen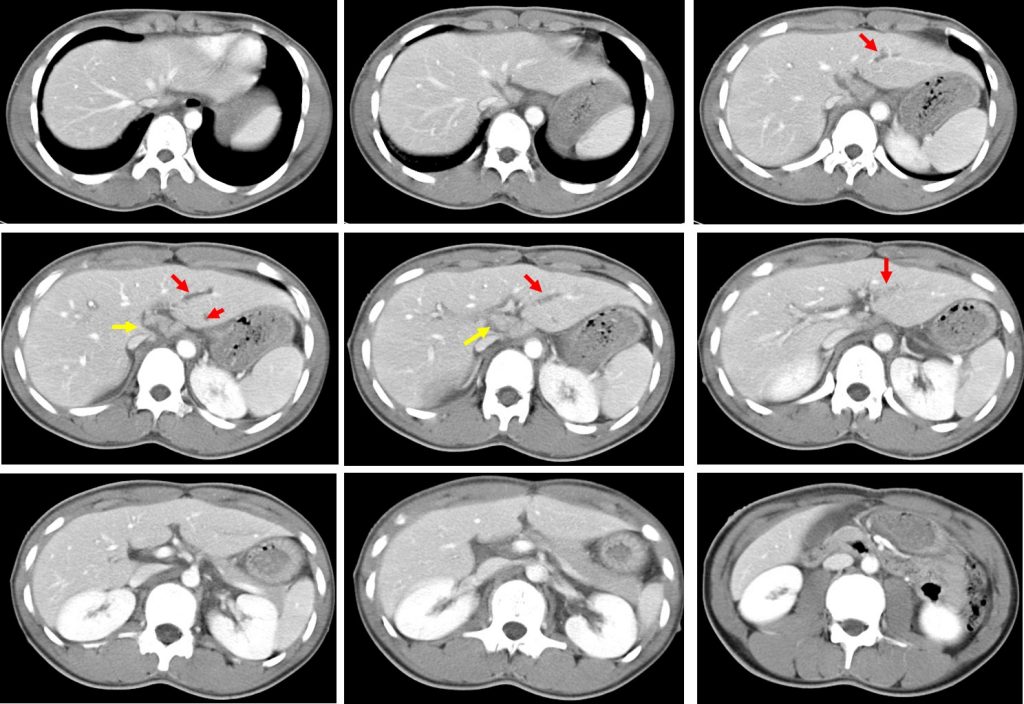 CT scan findings:
Multiple short lacerations in left lobe of liver (red arrows)
These lacerations do not extend to capsular surface
A short laceration near the hilum (yellow arrow) less than one cm
No intraparenchymal hematoma, no free fluid seen
Progress of patient:
Patient was managed conservatively for the liver injury
However he had prolong admission due to multiple injuries:

open fracture right tibia and fibula with external fixator complicated with osteomyelitis
Closed fracture of midshaft femur, plating done
Post linsfrac amputation and SSG of right foot
Diagnosis: Grade I liver injury
Discussion:
The liver is the largest solid abdominal organ with a relatively fixed position is prone to injury.
The liver is the second most commonly injured organ in abdominal trauma.
CT has high sensitivity and specificity for the detection of liver injury.
The CT features of blunt liver injuries are lacerations, subcapsular and parenchymal haematomas, active haemorrhage and vascular injuries.
Grade I liver injury according to AAST liver injury grading system refers to subcapsular hematoma of <10% surface area or laceration with capsular tear <1 cm in parenchymal
depth.