Case contribution: Dr Radhiana Hassan
Clinical:
A 21 years old man
Involved in MVA; motorcyclist hit by a car
On arrival vital signs were stable and patient was fully conscious
Patient complaint of right abdominal pain.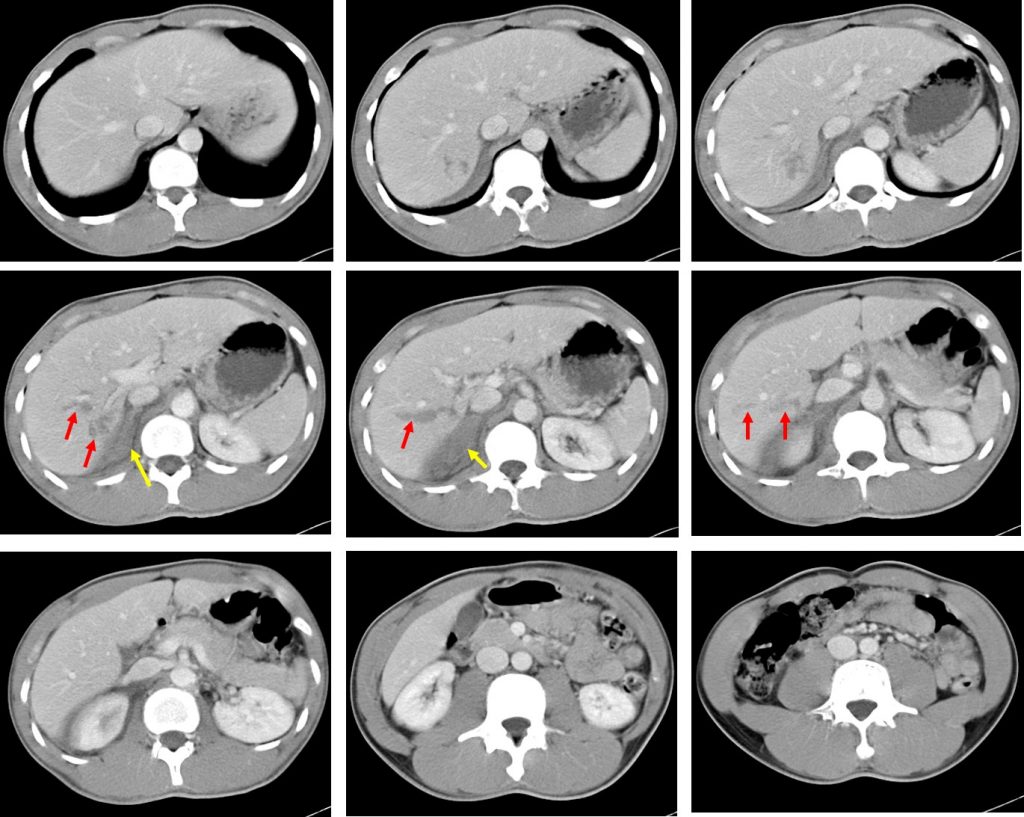 CT scan findings:
Multiple short lacerations within the liver in the right lobe (red arrows)
Right adrenal gland is diffusely enlarged with streakiness of surrounding fat and indinstinct border or outline (yellow arrow)
Associated minimal fluid at hepatorenal fossa
No other organ injury
Also noted to have right pneumothorax (white arrow) and multiple contusions (blue arrows)
No rib fracture is seen.
Progress of patient:
Patient was managed conservatively
Discharged well few days after.
Diagnosis: Grade II liver injury with right adrenal injury
Discussion:
Adrenal gland trauma is present on 1-2% of CT imaging in blunt trauma.
The right adrenal gland is more commonly affected than the left.
Isolated adrenal gland trauma is uncommon;<5% of all adrenal trauma.
Associated injuries include lung injuries, liver, spleen and/or renal injuries, rib, pelvic or spine injuries and head injury
CT appearance include mass-like hematoma, diffuse enlargement of the gland, splaying of adrenal limbs and surrounding fat stranding