Case contribution: Dr Radhiana Hassan
Clinical:
A 20 years old lady with no known medical illness
Involved in MVA, motorbike versus car
Complaint of headache, chest discomfort and left sided abdominal pain
BP=126/82 mmHg, PR=101 bpm, GCS=15/15
Hb=12.2 gm/dL and Serum amylase was normal
Admitted for observation. Cerebral concussion resolved
Upper abdominal pain persistent
Ultrasound abdomen done was reported as normal
Hb drop from 12.2 to 11.8 gm/dL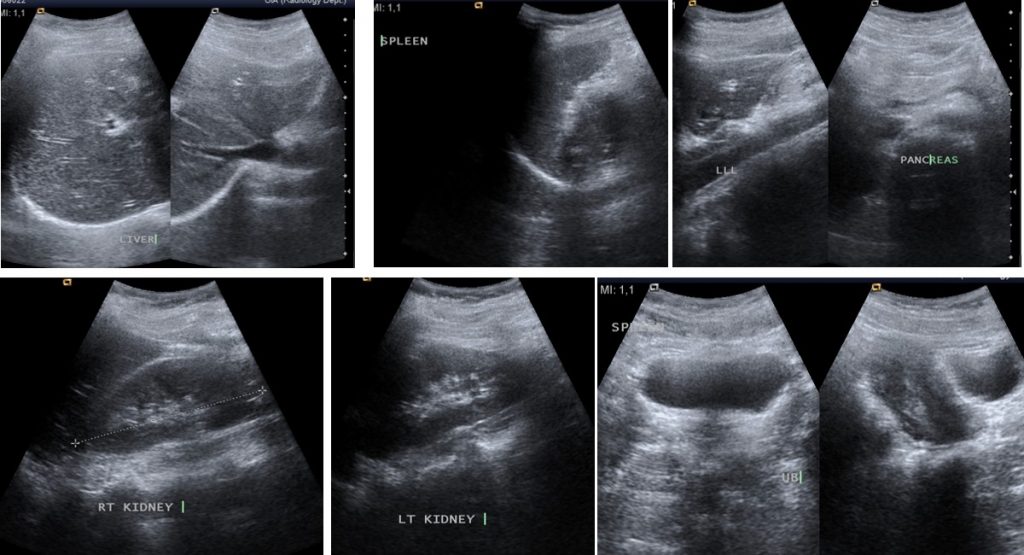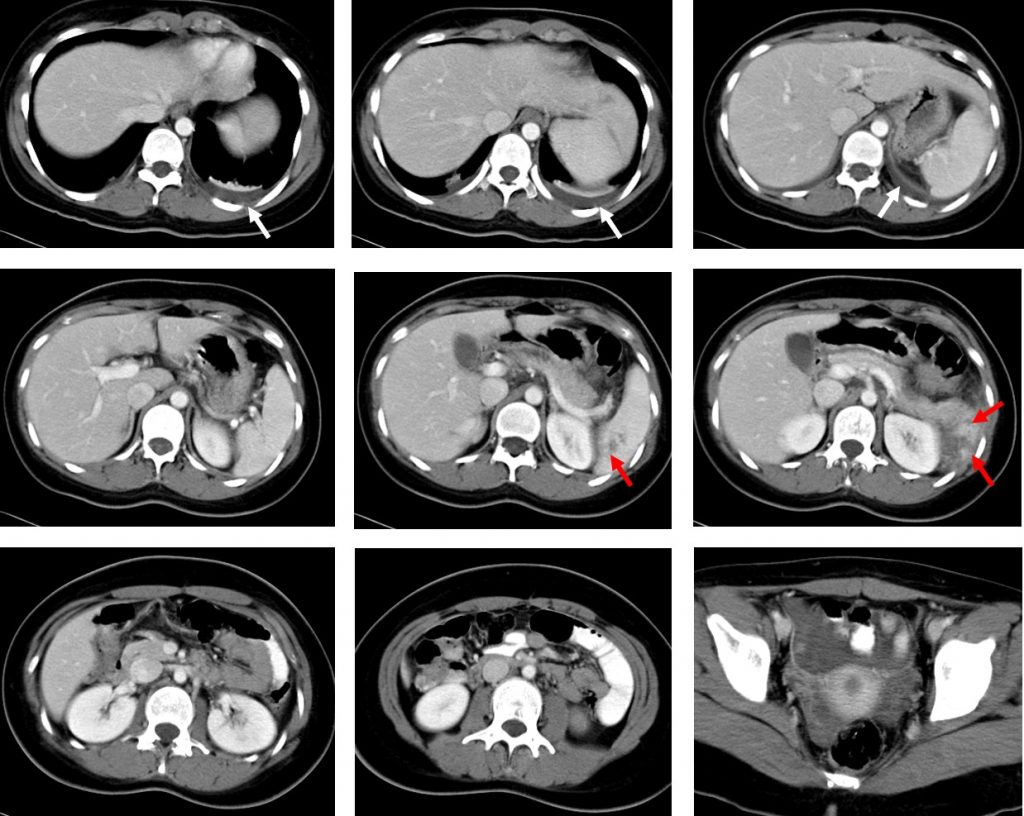 CT scan findings:
Left pleural effusion (white arrows) with bibasal atelectasis
No lung contusion or pneumothorax.  No rib fracture.
Laceration at lower pole of spleen (red arrows) and intraparenchymal hematoma
Minimal free fluid is seen surrounding the spleen
Free fluid also seen at pelvic region.
Other organs are normal. No  evidence of bowel injury.
Progress of patient:
Patient was managed conservatively
No blood transfusion required during admission
Discharged well 5 days later
Diagnosis: Grade II spleen injury
Discussion:
The management of blunt spleen injuries has changed from mainly operative intervention, to the current practice of selective non-operative management.
It is now the treatment modality of choice in hemodynamically stable patients, irrespective of the grade of injury, patient age, or the presence of associated injuries.
Its use is associated with a low overall morbidity and mortality when applied to an appropriate patient population.
All hemodynamically stable patients are treated with observation, serial abdominal examination, and follow-up abdominal CT scanning whenever necessary.
This approach is selected even for higher grade of injuries (over 80% of grade 4 and 5 injuries were successfully managed nonoperatively).