Case contribution: Dr Radhiana Hassan
Clinical:
An 82 years old lady
UnderlyingDM, HPT, hyperlipidaemia,
Presented with incoherent speech and lower limb weakness.
Clinical examination shows GCS E4V4M6, power lower limbs 3/5.
Fluctuation in GCS is due to metabolic disorders (acute CKD with urea 23 and metabolic acidosis)
Improve during hospitalization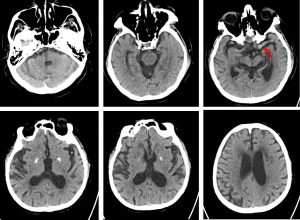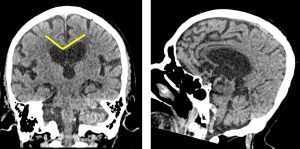 CT scan findings:
There is dilatation of lateral, third and fourth ventricles
Widening of CSF spaces seen, more prominent at frontotemporal region.
No crowding of vertex. Callosal angle is normal.
Left MCA appears dilated (red arrow)
A few areas of lacunar infarctions are also seen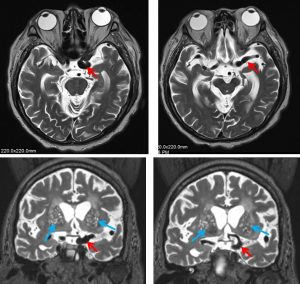 MRI findings:
MRI better demonstrate the fusiform dilatation of left distal ICA extending to MCA (red arrows)
No saccular aneurysm is seen
The are numerous T1-hypointense, T2-hyperintense and FLAIR suppressed lesions in both basal ganglia with almost symmetrical distributions (blue arrows). This is in keeping with dilated perivascular spaces.
No acute infarction seen
Generalised cerebral atrophy with leukoariosis are also seen
Diagnosis: Fusiform MCA aneurysm with dilated perivascular space and cerebral atrophy
Discussion:
Dilated perivascular spaces (PVS) is seen as cluster of variable-sized fluid-filled spaces similar to CSF signal intensity
Most common site for PVS is basal ganglia.
Other location includes midbrain, deep white matter, subinsular cortex, thalami and corpus callosum, dentate nuclei
Fusiform aneurysm of intracranial vessels are usually caused by atherosclerotic disease. It comprises 3-13% of intracranial aneurysms. Most cases are treated conservatively.