Case contribution: Dr Radhiana Hassan
Clinical:
A 41 years old man with underlying DM, HPT and dyslipidaemia
Presented with right hypochondriac pain for 4 days
Associated with fever for one week
Also had nausea and reduced oral intake.
Condition worsened and admitted for 5 days in ICU due to sepsis.
Blood culture: Burkholderia pseudomallei, HBA1C=13.4%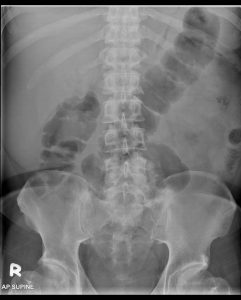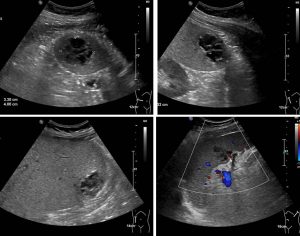 Ultrasound findings:
The liver has normal parenchyma echogenicity. It has smooth margin. Liver is enlarged measuring approximately 18 cm at midclavicular line.
There is a hypoechoic lesion with ill-defined margin seen at segment VI measuring 3.3 x 4.0 x 4.3 cm (AP x W x CC). This lesion has internal septations and echogenic debris within.
Spleen is enlarged measuring 14.0 cm. There is a hypoechoic lesion with ill-defined margin adjacent to the hilum measuring approximately 2.0 x 3.1 cm (AP x W). This lesion has internal septations and echogenic debris within.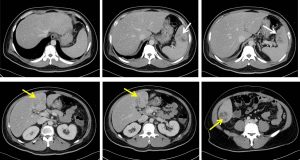 CT scan findings:
Liver is enlarged measuring about 25 cm in craniocaudal length. It shows fatty change.
Two peripherally enhancing ill-defined multiloculated lesions with central low attenuation are identified in segment VI and IV (yellow arrows). They are measuring 3.9 x 3.3 x 3.2 cm and 2.8 x 3.5 x 2.2 cm (AP x W x CC) respectively suggestive of abscesses.
The gallbladder is distended with thickened enhancing wall and pericholecystic fluid collection. No layering density within. No gallbladder calculus. Gallbladder wall is intact.
Ill-defined multiloculated non-enhancing hypodense lesion is also seen in the upper pole of the spleen measuring 3.6 x 1.8 x 2.3 cm (AP x W x CC). Reactive fluid is seen medially adjacent to this collection in the splenic hilum.
The splenic hilar vessels are grossly patent and not thrombosed.
Diagnosis: Meliodosis with spleen and liver abscesses.
Discussion:
Meliodosis is a bacterial infection caused by Burkolderia pseudomallei
It is most commonly infects adult with underlying predisposing factors mainly diabetes mellitus.
Spleen is the most commonly affected extrapulmonary visceral organ.
Splenic lesions are often multiple, small and discrete varying from 0.5 cm to 1.5 cm, single or multiloculated lesions, subcapsular collections with or without peripslenic extension.
Concurrent spleen and liver abscesses are more likely to be associated with meliodosis than with infections with other organisms.
Liver is the second most common visceral organ affected by meliodosis. Similar with splenic lesion, appearance on imaging may varies. Liver involvement is usually part of multi-organ involvement rather than a solitary organ involvement.
Other organs to be involved: kidneys and prostate
Rare involvement: bowel and peritoneum causing enteritis, colitis and peritonitis
Progress of patient:
Completed IV meropenem followed by Bactrim.
Patient responded and discharged well.
A repeat CT scan 3 months later shows resolution of abscesses foci.