Case contribution: Dr Radhiana Hassan
Clinical:
A 58 years old
Presented with breast lump for 6 months
No family history of malignancy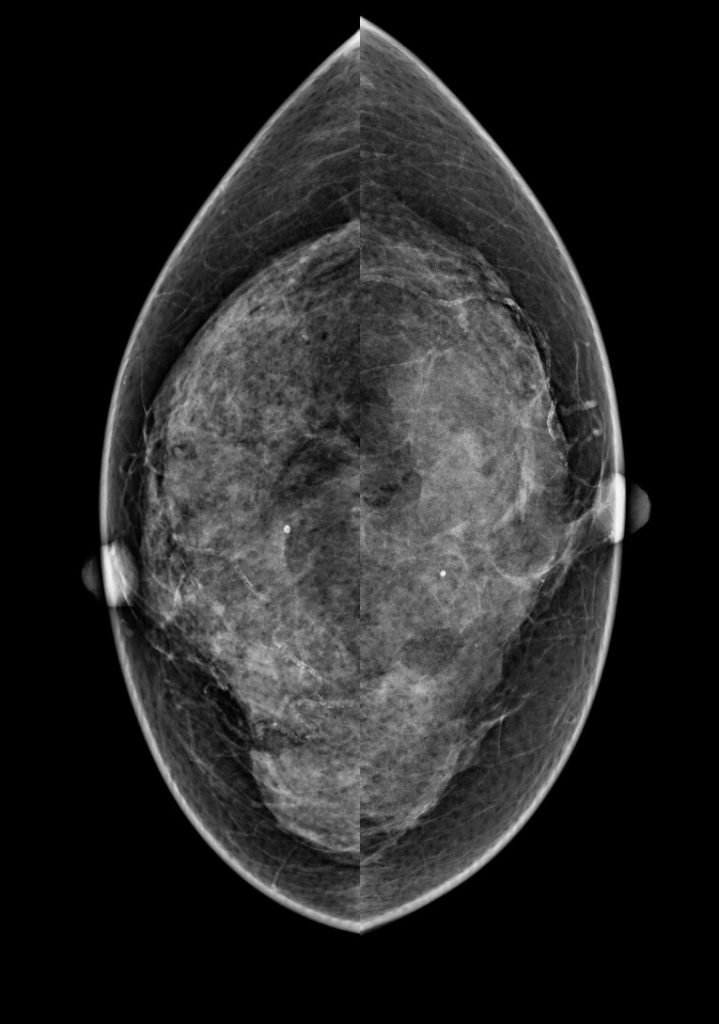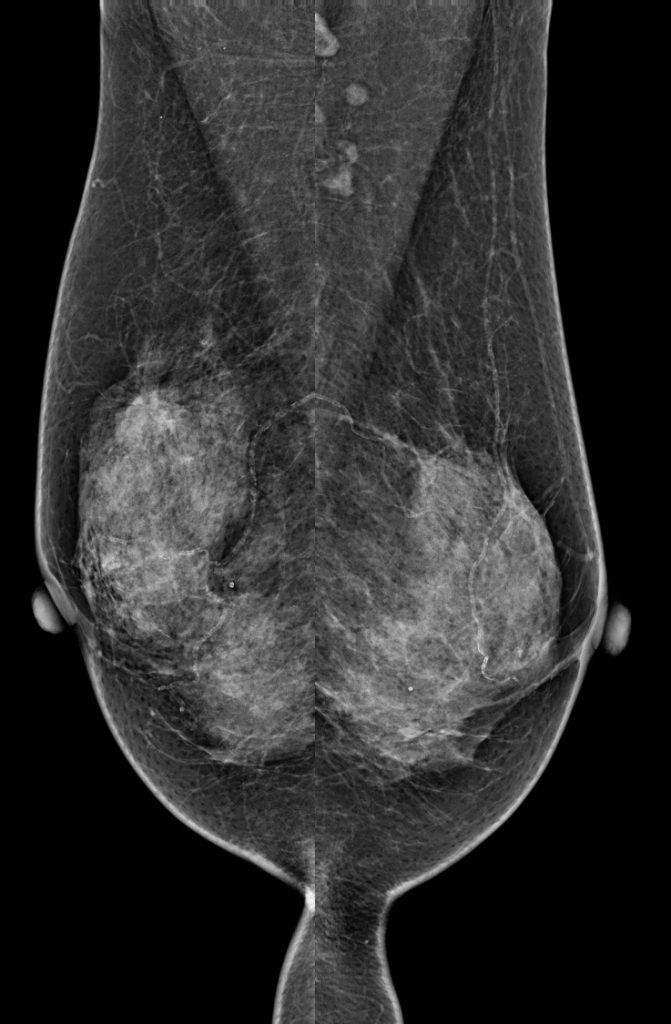 Mammogram findings:
Bilateral extremely dense breasts, BIRADS D
A focal asymmetry is seen on MLO view at right upper quadrant.
Tomosynthesis images shows this as a mass lesion with speculated margin
No suspicious clustered microcalcification.
No skin thickening or nipple retraction.
No abnormal axillary nodes.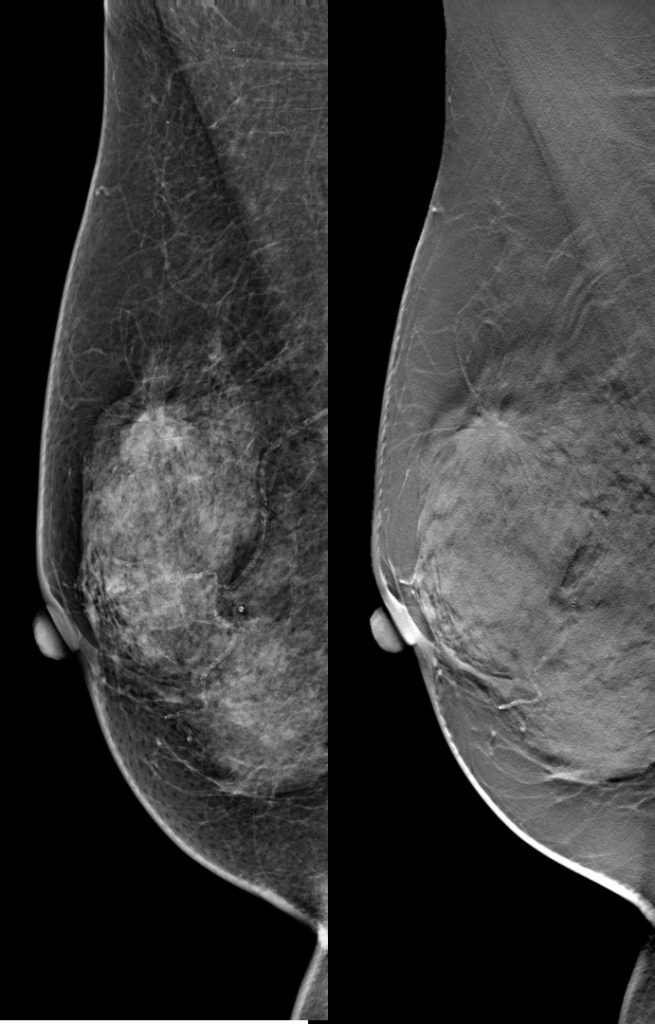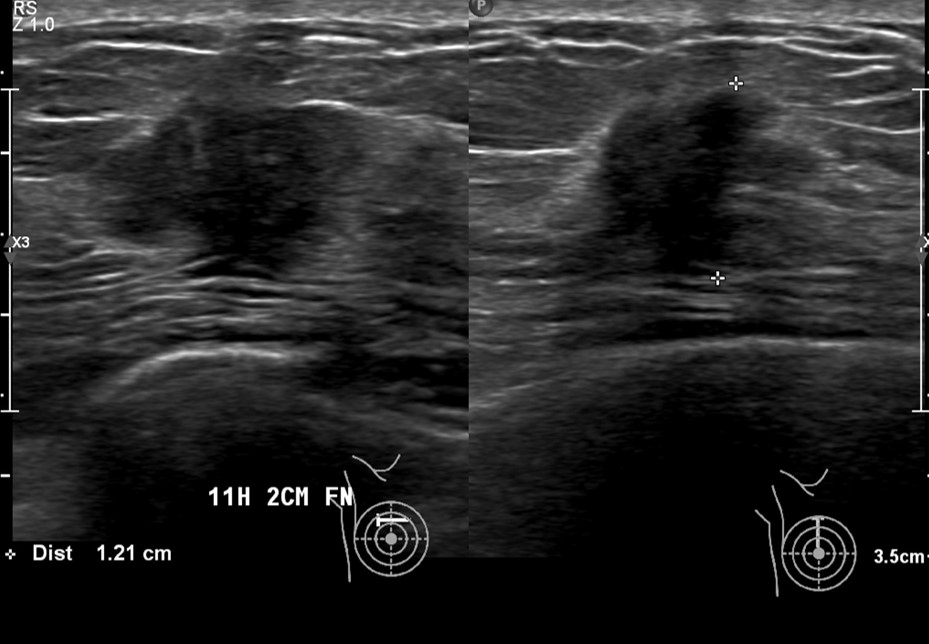 Ultrasound findings:
A hypoechoic lesion is seen at Rt12H
It shows lobulated outline. largest dimension is 12 mm.
No posterior shadowing or penetrating vessels
No skin thickening or odema
No abnormal axillary node is seen.
Progress of patient:
Trucut biopsy of right breast shows atypical cells. The atypical cells are scanty making assessment is limited. The biopsy might be at the edge of the tumour. Suggest repeat.
Patient subsequently had WLE and right axillary clearance.HPE: invasive carcinoma, no special type. Histological grade bloom and Richardson grade 1, nuclear score 2, tubule score 1, mitosis score 1, tumour necrosis absent, slight lymphoid response to tumour, no calcification, no lymphovascular invasion and no perineural invasion.
CT thorax, abdomen and pelvis show no distant metastasis
Subsequently had radiotherapy and currently on tamoxifen
Diagnosis: Invasive carcinoma, no special type.
Discussion:
Higher true positive rates of DBT compared to FFDM in all breast density and age groups
Better sensitivity especially in speculated masses and architectural distortion
Lower false positive rate especially asymmetric densities
Reduced recall rate for screening mammogram