Case contribution: Dr Radhiana Hassan
Clinical:
A 53 years old man
presented with difficulty in speech and memory loss
Gradual onset and worsening, disorientated at times
No headache, no seizure, no blurring of vision
No fever, no trauma
HIV antigen and antibody -ve
Work out for TB all negative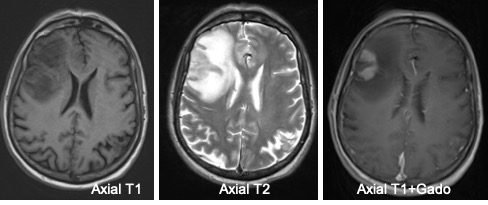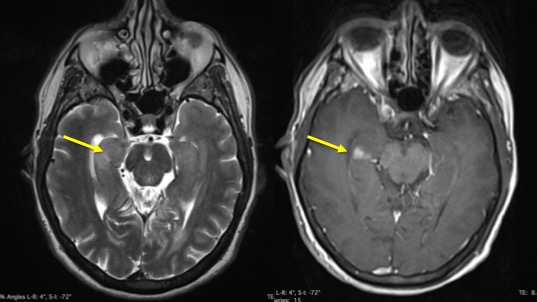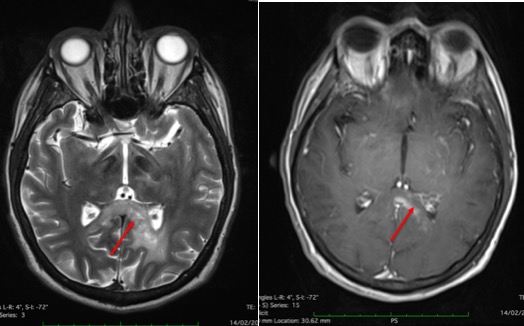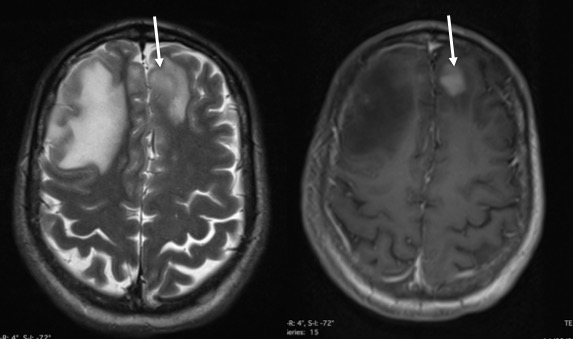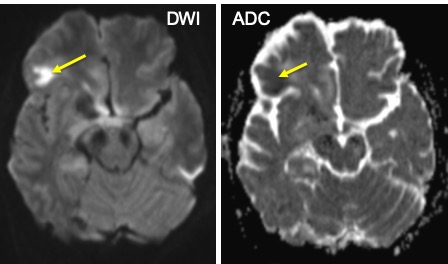 MRI findings:
There are multiple ill-defined lesions, largest at right frontal region.
The enhancing part showed restricted diffusion on DWI/ADC
The lesions are predominantly hyperintense on T1, isointense on T2 and enhanced post gadolinium
No blooming artifact on SWI (images not shown)
There is marked perilesional oedema
Other lesions are smaller at parasagittal of right frontal, left frontal, corpus callosum and right temporal
No hydrocephalus
MR spectrospcy showed significant choline/NAA reversal (images below)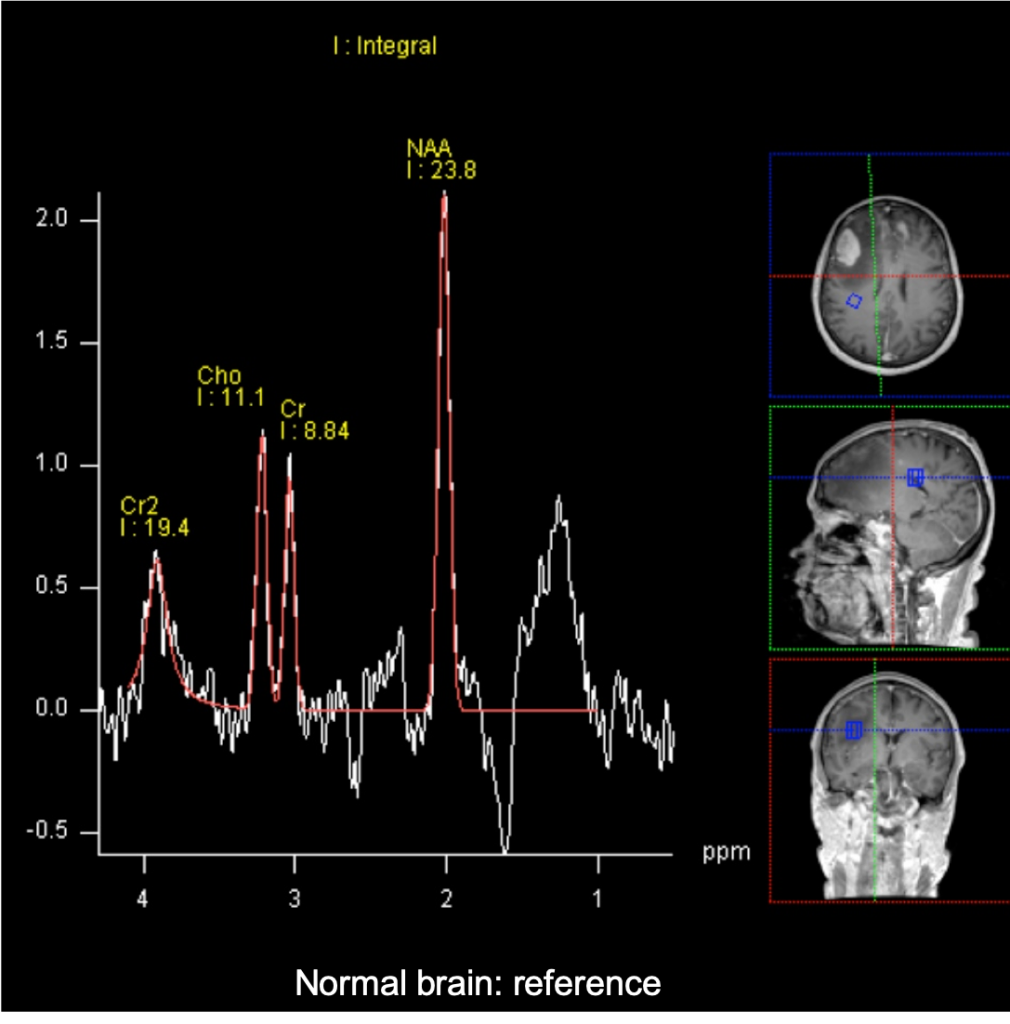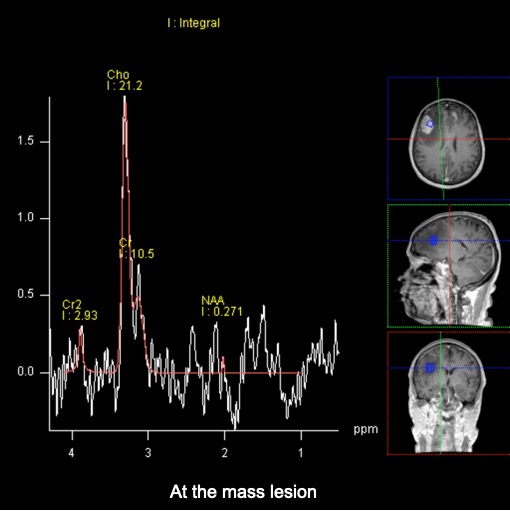 Histopathological result:
Macroscopic: Specimen labeled as soft tumor (superficial) and hard tumour (deep) composed of multiple fragments of  whitish tissue measuring 25 mm in aggregate diameter.
Microscopic: Section shows multiple fragments of brain tissue diffusely infiltrated by atypical lymphoid cells which are predominantly forming perivascular cuffs. The lymphoid cells are medium to large in size and display hyperchromatic nuclei, occasional conspicuous nucleoli and scanty cytoplasm. Many mitosis and apoptotic bodies are also observed.
Immunohistochemical studies show the atypical lymphoid cells are positive for CD20, BCL2 & MUM1, scatteredly positive to BCL6 and negative to CD3. The proliferative index is high (80%). Synaptophysin highlights the neuronal background of the brain tissue.
GFAP staining shows presence of reactive astrocytic cells.
Diagnosis: Brain tumor: Diffuse large B-cell lymphoma
Progress of patient:
BMA and Trephine biopsy showed no blast cells
US testes showed no testicular lesion
CT Thorax, abdomen and pelvis are unremarkable
Primary CNS lymphoma:
Extranodal malignant lymphoma arising in CNS in absence of systemic lymphoma
In immunocompetent patient, 6th to 7th decade
In immunocompromised patient mean age of  39 years
Gender: male predominance
Location: 60-80% are supratentorial, deep gray nuclei commonly affected, often involve and cross corpus callosum, frequently abut and extend along the ependymal surfaces
Morphology: can be solitary mass or multiple lesions
Imaging and prognosis varies with immune status
Periventricular and subependymal involvement is characteristic
NECT: classically hyperdense, may be isodense, may or may not contain hemorrhage/necrosis
CECT: commonly show moderate and uniform enhancement, can be ring-enhancement in immunocompromised patient
MRI: may be heterogenous signal from hemorrhage and necrosis, may show restricted diffusion, strong homogenous enhancement post contrast, MRS with low NAA and high CHo
Steroid may dramatically reduced the mass, reduced the enhancement and mask biopsy result