Clinical:
A 3 years old girl
Presented with persistent vomiting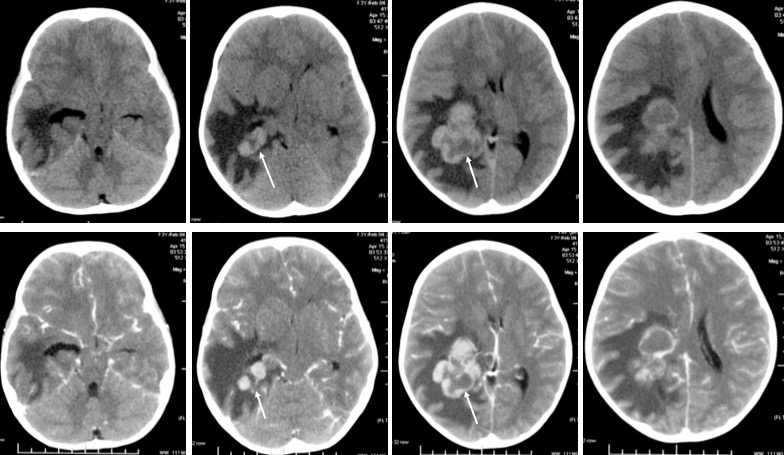 CT scan findings:
A lobulated mass lesion seen at atrium of right lateral ventricle
It is hyperdense compared to brain parenchyma
There is marked enhancement post contrast
Central necrotic areas are also seen
Marked perilesional oedema with widening of temporal horn of right lateral ventricle
There is associated midline shift to the left side.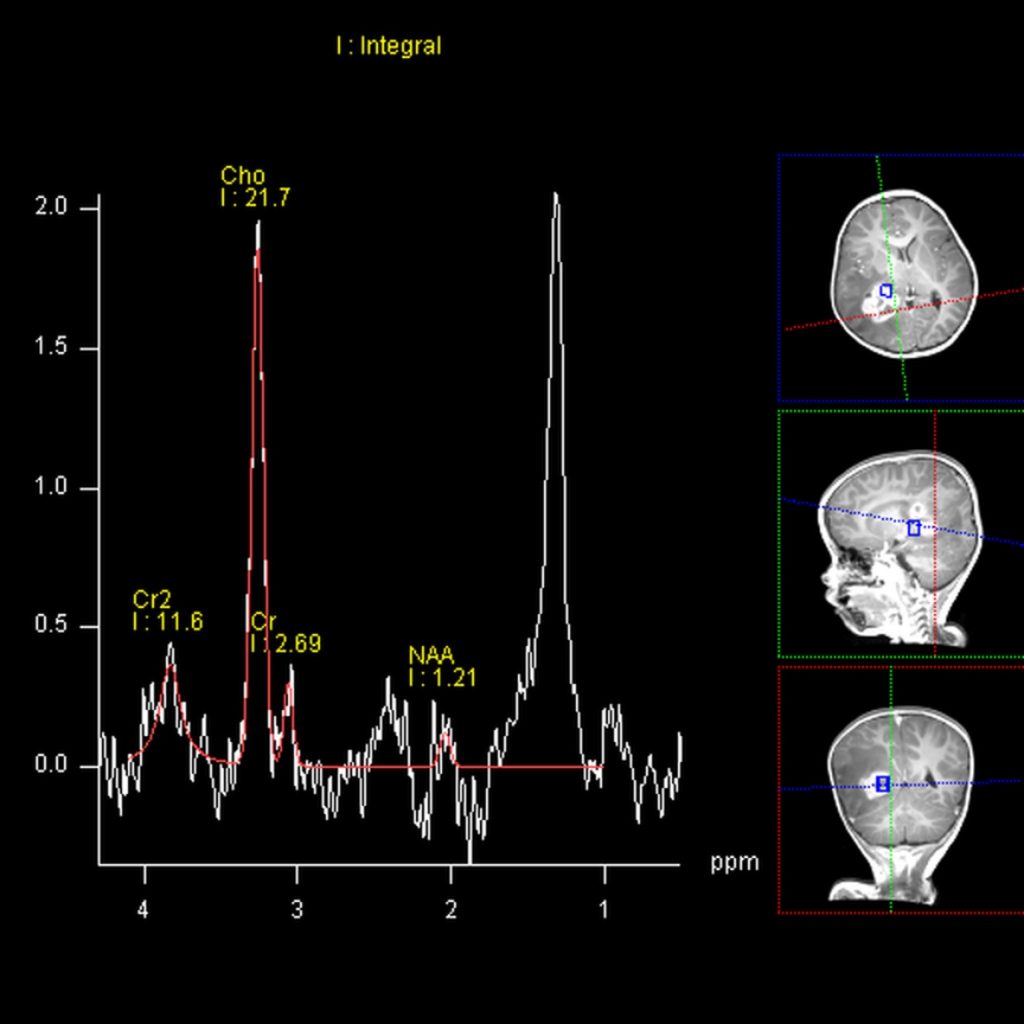 MRI findings:
A lobulated mass within the right lateral ventricle which is hypointense to white matter on T1 and T2-weighted images
It shows marked heterogenous enhancement post contrast
Non-enhancing central region suggestive of necrosis
There is blooming artifact on SWI sequence
No restricted diffusion on DWI/ADC images
Reversal of choline-creatine ratio on MRS, increased choline with reduction of NAA
HPE findings:
Macroscopic: Multiple fragments of tissue labelled as tumor measuring 60 mm in aggregate diameter.
Microscopic: Sections show multiple fragments of cellular tumor tissue composed of solid sheets and papillary structures of malignant cells. These cells show moderate pleomorphism, round to oval nuclei, stippled chromatin pattern and some prominent nucleoli with moderate amount of cytoplasm, some with cytoplasmic vacuoles. Focal area of normal choroid plexus tissue noted. Extensive tumor necrosis is noted. Mitotic count is 7/10hpf.
Immunohistochemistry shows tumor cells are positive for CK MNF116, GFAP (focally), S100 (focally), KI67 (<5%) and negative for Chromogranin, Synaptophysin, CK, EMA.
Interpretation: consistent with choroid plexus carcinoma
Diagnosis: Choroid plexus carcinoma
Discussion:
Choroid plexus carcinomas are malignant neoplasms arising from the choroid plexus. They are classified as a WHO grade III tumour.
It occurs predominantly in children, typically in the first 5 years of life. They are rare, representing only 1-4% of pediatric brain tumors.
Choroid plexus carcinomas are markedly enhancing intraventricular tumours.
Hydrocephalus may be present but is less likely than with choroid plexus papillomas. In choroid plexus carcinomas, hydrocephalus is generally a consequence of mechanical CSF pathway obstruction by the mass or CSF seeding, whereas, in choroid plexus papillomas, there is at least a component of CSF overproduction.
On non-contrast CT choroid plexus carcinomas are heterogeneous and typically iso to hyperdense to grey matter. Calcification may be seen in 20-25% of cases.
Contrast enhancement is usually prominent but heterogeneous with areas of necrosis and cyst formation evident.
The tumors may have CSF seeding, therefore imaging of the entire neural axis is recommended prior to surgery.
Progress of patient:
Operation done and started chemotherapy and radiotherapy after operation.
Shows good response
Repeat MRI one month after operation shows encephalomalacia changes.
MRI of spine shows no drop metastasis.