Clinical:
A 23 years old lady
Involved in MVA
On arrival in ED, GCS 15/15, vital sign stable
Pain and tenderness at right lumbar region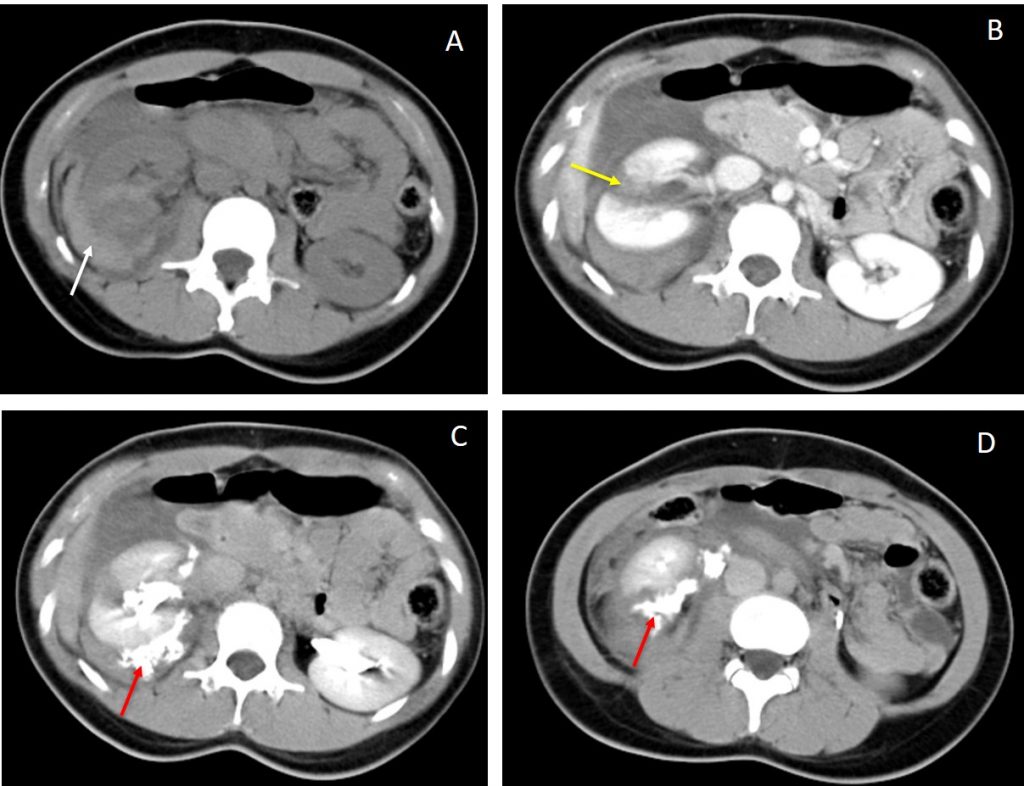 CT scan findings:
A: Non-contrast CT scan shows hyperdense collection surrounding right kidney suggestive of perinephric hematoma.
B: Post contrast CT scan shows multiple right renal lacerations. One of the laceration is seen deep through the renal cortex and communicates with the collecting system.
C &D: Delayed phase CT scan demonstrate contrast extravasation from the renal collecting systems into the perinephric region confirming the injury to the collecting systems.
Otherwise both kidneys are well opacified by contrast.
Diagnosis: Grade IV right renal injury.
Discussion:
To determine the appropriate management for a renal injury, the renal injury needs to be accurately staged.
The American Association for the Surgery of Trauma (AAST) Grade IV Renal injury is defined as cortical laceration extending into the collecting system (as noted by contrast extravasation), or a segmental renal artery or vein injury (noted by a segmental parenchymal infarct), or main renal artery or vein injury with a contained hematoma.
The AAST guidelines recommend dual arterial/portal venous phase imaging for evaluation of these injuries.
If there are imaging or clinical findings suggesting collecting system injury (e.g. hematuria or blood at the meatus), additional delayed excretory phase images should be obtained after 5-15 minutes delay to evaluate for urine extravasation.
Urinary contrast is usually hyperdense and readily distinguished from hemorrhagic vascular contrast.