Clinical:
A 17 years old boy
Alleged MVA
On arrival in ED, GCS 15/15, vital signs are stable

CT scan findings:
An oval-shaped lesion at right adrenal region which is hyperdense on pre-contrast image
Post contrast image shows the lesion to be relatively hypodense than the surrounding normal enhancement of right adrenal gland
There is associated streakiness of the fat plane surrounding the right adrenal gland.
This is in keeping with right adrenal hemorrhage.
Diagnosis: Traumatic right adrenal hemorrhage.
Discussion:
Adrenal gland trauma is present on 1-2% of CT imaging in blunt trauma.
Adrenal hemorrhage is the most common injury to the adrenal gland. Adrenal laceration is rare.
Isolated adrenal trauma is uncommon, comprising <5% of cases.
Associated injuries in adrenal gland trauma include lung injury, pneumothorax, solid abdominal organ injuries, ribs and spine fractures and head injuries.
On ultrasound, an early-stage haematoma appears as solid with diffuse or inhomogeneous echogenicity.
On CT scan, adrenal hematomas appear round or oval, often with surrounding stranding of the periadrenal fat.
Adrenal hematomas decrease in size and attenuation over time, and most resolve completely
Progress of patients:
Patient was treated conservatively
He also sustained other injuries: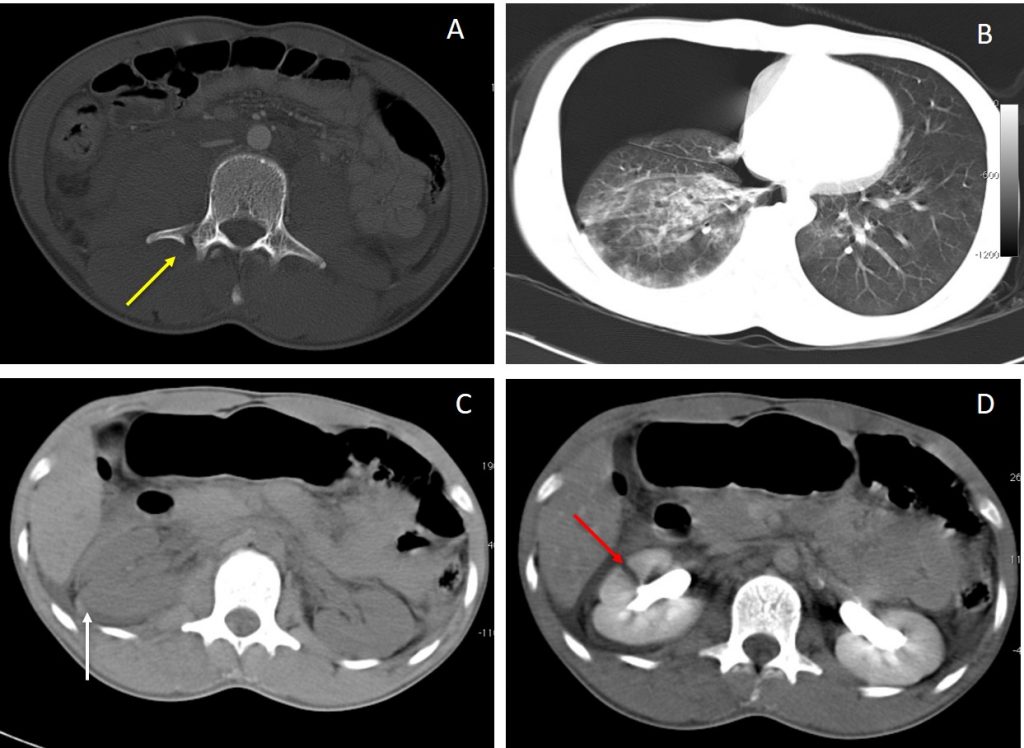 Other CT findings in this case:
A: Bone window shows fracture of transverse process of lumbar vertebra
B: Lung window shows right pneumothorax with lung contusion
C: Pre contrast CT abdomen shows hyperdense collection surrounding the right renal suggestive of perinephric hematoma.
D: Post contrast CT abdomen shows right renal laceration through the cortex not extending to the collecting system and not causing urinary extravasation in keeping with Grade III renal injury.