Case contribution: Dr. Radhiana Hassan
Clinical:
A 38 years old man
No known medical illness
Active smoker
Previously under follow up for gastritis, OGDS done confirming the diagnosis
Presented with sudden onset abdominal pain at epigastric region
Colicky, non-radiating
Associated with nausea and vomiting
Clinically per abdomen distended but no peritonism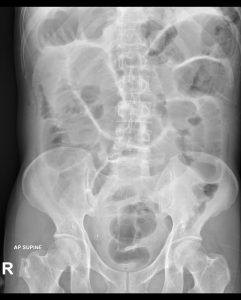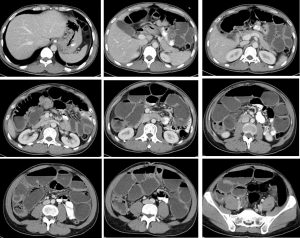 CT scan findings:
Dilated small bowel loops are seen, mainly the small bowels
Fluid levels are seen within the dilated bowel loops
No obvious bowel wall thickening, no mass seen
No free air or free fluid
No paraortic or paracaval node enlargement
Intra-operative findings:
Exploratory laparotomy done
100 cc clear peritoneal fluid, no pus, no fecal material
Mobile constricting tumour at mid transverse colon causing dilatation of proximal colon and small bowel, distal colon appeared collapsed
No liver nodule no peritoneal nodule
Extended right hemicolectomy with end ileocolic anastomosis
Progress of patient:
Complicated with anastomotic leak
Also had enterocutaneous fistula
HPE: adenocarcinoma, moderately differentiated TNM staging T3N1Mo
Diagnosis: Bowel obstruction due to colon carcinoma
Discussion:
Bowel obstruction is any mechanical or functional obstruction of the intestine that prevents physiological transit and digestion.
Colonic carcinoma is the most common cause of intestinal obstruction.
Bowel obstruction may appear at any time during the evolution of the disease, but is more frequent in cases of advanced cancer.
Intraluminal tumors may occlude the bowel lumen or provoke intussusception.
Intramural infiltration through the mucosa may obstruct the lumen or impair peristaltic movements.
Mesenteric and omental tumor involvement may angulate the bowel and provoke extramural bowel occlusion.
Infiltration of the enteric or celiac plexus may cause severe impairment in peristalsis and consequent obstruction due to dysmotiliy.
The radiological signs are distension of the intestinal loops, fluid retention, and gases with the presence of air-fluid levels in the zone proximal to the occlusion as well as a reduction in gas and stools in the segments distal to the obstruction. In upper occlusions, distension of the loops and air-fluid levels may be absent.
Contrast studies such as barium enema may may be necessary to evaluate the surgical approach in certain cases.
Computerized tomography (CT) provides a high possibility for the diagnosis of the extension of the neoplasm and on many occasions, the level of obstruction.