Case contribution: Dr. Radhiana Hassan
Clinical: 
A 29 years old man
Alleged MVA, motorbike versus motorbike
Complaint of abdominal pain
Vital signs stable
GCS full
Patient was noted to be tachycardic in ward with drop in HB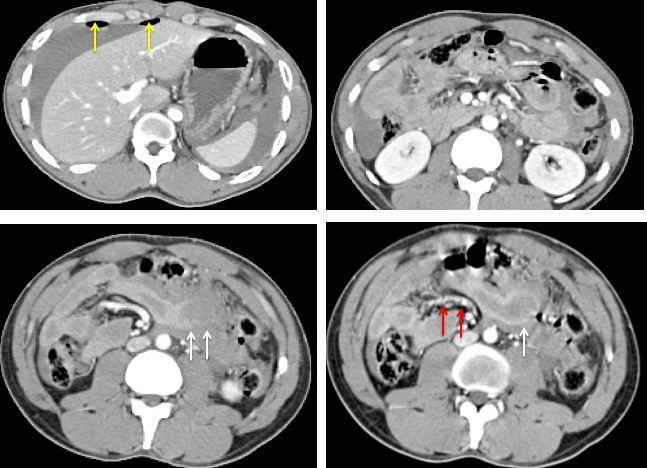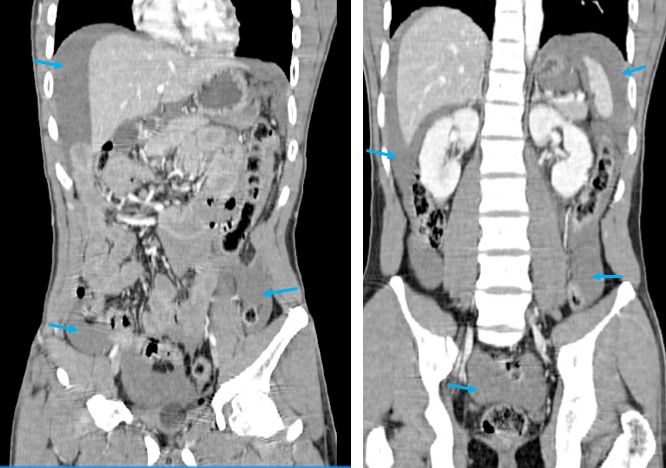 CT scan findings:
Presence of pneumoperitoneum (yellow arrows)
Small bowel wall thickening and abnormal enhancement
Suspicious discontinuity of small bowel wall with surrounding blood collection (white arrows)
Massive hemoperitoneum (blue arrows) with blood pool at perihepatic, perisplenic, both paracolic gutter and pelvic region.
Beaded mesenteric arteries (red arrows)
Intra-operative findings:
A total of 1200 mls of blood in peritoneal cavity
Through and through perforation at jejunum about 30 cm from ileocaecal valve
A 3 cm tear at mesentery near the bowel injury site
active bleed with contusion and hematoma of transverse colon.
Solid organs are normal
Small bowel resected about 5 cm and primary anastomosis done
Mesenteric repair was also done
Diagnosis: Blunt abdominal trauma with small bowel injury
Discussion:
Bowel and mesenteric injuries are uncommon
it is found in about 1% of all blunt abdominal trauma patients undergone CT scan
It is detected in 3-5% of patients in patients who underwent laparotomy for blunt abdominal trauma.
CT features of bowel and mesenteric injuries include pneumoperitoneum, extravasation of oral contrast. bowel wall defect, abnormal bowel wall enhancement, focal bowel wall thickening, mesenteric fat hematoma or fat stranding and associated intraperitoneal or retroperitoneal hematomas.