Case contribution: Dr Radhiana Hassan
Clinical:
a 23 years old man
Front passenger of a lorry, skidded and trapped in it
Vital signs are stable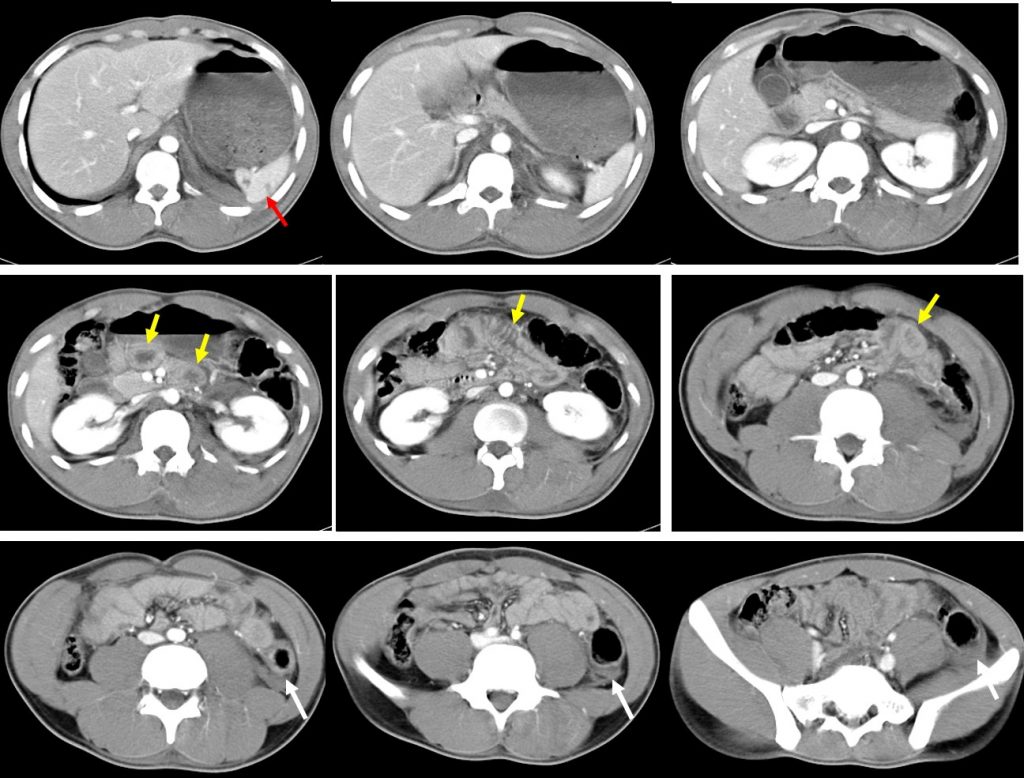 CT scan findings:
A few lacerations within the spleen (red arrow). No extension to capsular region. No perisplenic blood collection
Fat streakiness surrounding left kidney. No parenchymal laceration. No contrast extravasation. Normal enhancement of both kidneys are seen.
Wall thickening involving small bowels (yellow arrows). No obvious discontinuity seen. No free air.
Wall thickening also seen involving the descending colon with focal blood pooling posterior to it (white arrows)
Intra-operative findings
showed small bowel perforation about 4 cm , 90 cm from DJ.
Serosal tear at descending colon with minimal contamination.
Minimal hemoperitoneum
The liver, spleen and kidneys are normal
Diagnosis: Blunt abdominal trauma with bowel, renal and splenic injuries.
Discussion:
Signs of bowel perforation such as free air and contrast material are virtually pathognomonic.
Bowel-wall thickening, free fluid, and mesenteric infiltration are other findings suggestive of bowel injury.
Progress of patient:
Patient also had Left AKA for crush injury of left LL
Recovered well