Clinical:
A 26 years old lady
Right distal thigh swelling for one year
Recent increase in size
Associated with dull pain on and off
Worsening of pain upon prolong ambulation
No constitutional symptoms
Clinically examination shows a mass over medial aspect of distal femur about 8×6 cm, bony hard and non-mobile, not attached to skin. No skin changes.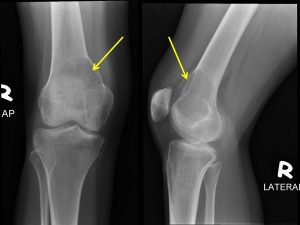 Radiographic findings:
There is an expansile lytic lesion at metaphysis of distal femur
It showed narrow zone of transition, No obvious sclerotic margin
Thinning of the cortex
"soap-bubble" appearance seen
No fracture
No obvious soft tissue swelling
No extension to articular surface
No periosteal reaction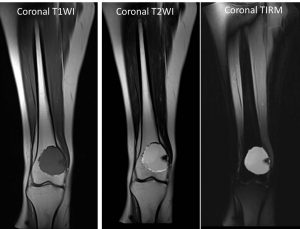 MRI findings:
A well defined fairly round lesion noted at distal right femur. The lesion measure 3.8 x 4.7 x 4.6cm (APxWxCC). It is located about 1 cm from knee joint.
The lesion appears hypointense on T1, hyperintense on T2 and not suppressed on FLAIR.
It has well defined irregular margin which appear hypointense on T1 and T2WI.
Multiple thin septation within which enhanced post contrast. The peripheral of the lesion also enhanced post contrast.
Fluid-fluid level noted (red arrow).
Normal signal of bone marrow surrounding the lesion. No cortical break or periosteal reaction. Surrounding muscles are normal. The neurovascular bundle is intact.
HPE findings:
Macroscopy: specimens labelled as bone and cyst aspirate.
Microscopy: Section of bone specimen shows fragmented unremarkable bony trabeculae and marrow spaces, admixed with a fragment of fibro-collagenous tissue. The marrow spaces are consist of fatty tissue and normal hematopoietic cells. The fibro-collagenous tissue are composed of bland fibroblast proliferation, aggregates of cholesterol clefts and occasional multinucleated giant cells. In areas, hemosiderin laden macrophages are also noted. Negative for malignancy.
Section of tissues from cyst aspirate shows predominantly blood admixed with tiny fragments of fibro-collagenous. The fibro-collagenous tissue are composed of bland fibroblasts proliferation and scattered multlinucleated giant cells. In areas, hemosiderin laden macrophages are also noted. Negative for malignancy.
Interpretation: compatible with aneurysmal bone cyst
Diagnosis: Aneurysmal bone cyst
Discussion:
Aneurysmal bone cysts are benign expansile tumor-like bone lesions of uncertain etiology mostly diagnosed in children and adolescents
Peak age 16 years; range from 10-30 years, in 75% <20 years
Female>Male
Location
Spine: 12-30%, predilection for posterior elements. Thoracic>lumbar>cervical spine
Long bones: eccentric in metaphysis of femur, tibia, humerus, fibula
Radiographic features include:

Purely lytic eccentric radiolucency
Aggressive expansile 'soap-bubble' pattern with internal trabeculations
Sclerotic inner portion
Almost invisible thin cortex
Tumour respect epiphyseal plate
No periosteal reaction

CT shows blood-filled sponge with fluid-fluid levels
MRI shows

multiple cysts of different signal intensity representing different stages of blood products
Low signal intensity rim = intact thickened periosteal membrane

Angio: hypervacularity in lesion periphery in 75%
Bone scan: 'doughnut sign'= peripheral increased intake and a photophenic centre
Progress of patient:
Planned for extended curretage, bone cement and locking plate distal right femur