Clinical:
A 28 years old lady
First 2 presentations were optic neuritis
Third presentation with lower limbs weakness
Current presentation with bilateral lower limb weakness and urgency.
Clinical examination shows bilateral lower limb power 4/5.
Sensory level reduction at T2-T11 and L5-S1.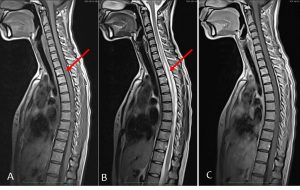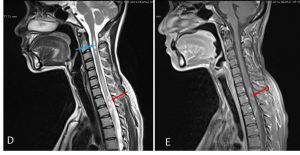 MRI findings:
Initial MRI shows diffuse long segment high signal intensity within the cord (yellow arrows) with superior most margin at C4/C5 level and inferior margin at T8/T9 level. Faint abnormality also seen at C2-C3 level. There is  no enhancing lesion on post Gado.
Repeat MRI during current admission shows lesion at C2-C3 level, more conspicuous and almost of CSF density as compared to previous MRI. It is already hypointense on T1. No cord expansion.
Hyperintense signal is also seen at C5 to T8 level, similar extension of involvement as compared to previous findings.
However, there are multiple foci of enhancement seen at level of C7 to T2 on post contrast (red arrows). These enhancing lesion are peripherally and mostly posterolateral in location.
There is cord expansion with the largest AP diameter of the spinal cord measures 0.7cm at T2 level
MRI brain is normal (images not shown).
Diagnosis: Correlating with clinical presentations, features are in consistent with neuromyelitis optica.
Discussion: Neuromyelitis optica (NMO)
NMO is an idiopathic, autoimmune, inflammatory, demyelinating condition
It is characterised by bilateral optic neuritis and myelitis resulting in blindness and paraplegia
Involvement of optic nerve and spinal cord is common
The brain and brainstem are generally spared (10%)
23% mortality rate
Women in their 30s and 40s
Comparison Neuromyelitis optica and multiple sclerosis:
| | |
| --- | --- |
| NMO | MS |
| More severe presentations with poor recovery (irreversible impairment) | Mild to moderate presentations |
| Optic nerve and spinal cord | Multiple lesions in the brain |
| Free of oligoclonal bands | Oligoclonal bands |
| NMO-IgG (73% sensitivity) | Seronegative on NMO-IgG |
| Attack water channel in astrocytes | Attack immune T-cell |
| CSF: more cell response | CSF: normal cell count, even during exacerbations |
| Women:men=4:1 | Women:men=2:1 |
| Late 30s | Early 20s |
| Non-caucasian background | Northern europe/caucasian |