Clinical:
A 40 years old lady
Presented with progressive abdominal distension
No constitutional symptoms
No bowel or urinary symptoms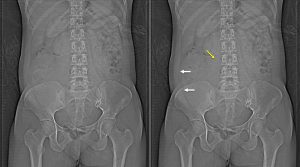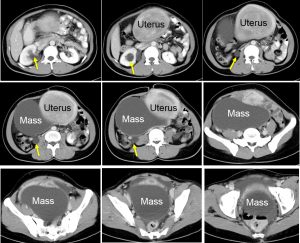 CT scan findings:
A large non-enhancing cystic lesion arising from right hemipelvis measuring 18x16x10 cm. No soft tissue mass, fat component or calcification within it.
Uterus is enlarged. There is heterogenously enhancing mass within the fundus of uterus measuring 12x12x9 cm.
The urinary bladder is compressed by the mass lesion.
Mild to moderate right hydronephrosis with right hydroureter (yellow arrows).
Bowels are normal.
Intra-operative findings:
Uterus is enlarged about 16 weeks size and pushed to the left side.
Left ovarian cyst extended to the iliac fossa measuring about 20×15 cm with smooth surface. No tumour nodules on the surface of the tumour
Right ovary, both fallopian tubes are normal.
Minimal adhesion.
HPE findings:
Macroscopy: specimen labelled as uterus, bilateral ovaries and fallopian tubes, right ovarian mass and omentum weighing 2500 gms. The right ovary measures 50x30x23 mm and cut section of right ovary shows multiple cystic spaces. The left ovarian cyst measured 210x130x85 mm. It is well encapsulated with wall thickness measuring 1mm. Cut section of the mass shows a uniloculated cyst filled with serous fluid. No solid area or papillary structures seen. Cut section of the uterus shows a large fibroid in the posterior wall measuring 110x100x80 mm. The fibroid has well defined margin with solid creamy white whorled cut surface. No areas of hemorrhage or necrosis seen.
Microscopy: Section shows a benign smooth muscle tumour conposed of sweeping fascicles of mature smooth muscle cells. There is no significant atypia or mitoses. The cervix and myometrium shows no obvious pathology. The right ovary has many follicular cysts and some corpora albicantes. The left ovarian cyst is lined by a single layer of tall, mucin-secreting columnar epithelium. No multi-layering, atypia or mitoses seen.
Interpretation: Intramural leiomyoma and mucinous cystadenoma of left ovary.
Diagnosis: Ovarian mucinous cystadenoma and uterine leiomyoma.