Case contribution: Dr Khariah Mat Nor 
Clinical:
A 25 year old male with no known medical illness
Presented with headache which progressively became severe associated with nausea and vomiting for 6 days.
No history of trauma. No other symptoms (no tinnitus, hearing loss, facial numbness, dysphagia, limb weakness or numbness).
His blood pressure was normal.
Neurological examination revealed right cerebellar sign and bilateral papilledema.
Urgent non-contrast CT scan showed right cerebello-pontine angle mass with hydrocephalus. MRI was performed a few week later.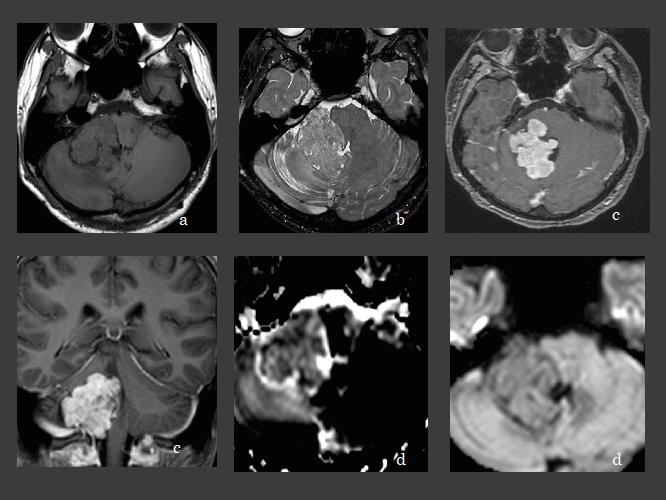 MRI findings:
MRI of the brain in axial and coronal plane (a) T1-weighted image, (b) T2-weighted image, (c) T1-post contrast and (d) DWI/ADC sequence.
A large lobulated mass at the right cerebellopontine angle compressing onto right cerebellar peduncle and adjacent cerebellum infiltrating into the 4th ventricle.
It returns isointense signal on T1W, hyper intense signal onT2W/Flair and enhances avidly post Gad.
No area of restricted diffusion on DWI/ADC mapping or susceptible artefact on GRE.
Diagnosis: Choroid plexus papilloma (HPE proven)
Discussion:
Choroid plexus papillomas (CPPs) are rare primary intracranial tumor of neuroepithelial origin. They represent 0.3 to 0.7% of all primary intracranial tumour
Choroid plexus papilloma originate from choroid tissue.
The most common site is the lateral ventricles, followed by 4th and 3rd ventricles, whereas it's rarely present as cerebellopontine angle tumors as direct extension of the tumor from foramen of Luschka or seeding along cerebrospinal fluid pathways.
The majority of choroid plexus papillomas are benign and malignant transformation of choroid plexus papilloma to choroid plexus carcinoma has been reported but rare

.

Cerebellopontine angle lesions presentation are nonspecific, dysfunction of hearing, cerebellar sign, facial movement, headache, gait ataxia, papilledema and hydrocephalus are the common presentation.
Investigation is by computed tomography (CT), Magnetic Resonance Imaging (MRI) and angiography.
Non contrast enhance CT, CPPs are iso to hyperdense as compared to brain parenchyma, which enhances after contrast injection.
Calcifications is seen in 25% of cases.
On MRI CPPs are typically isointense to hyperintense of T2W/ Flair, isointense to hypointense on T1W and enhances avidly following contrast administration.
CPPs generally do not restrict on DWI/ADC mapping.