Case contribution: Dr Radhiana Hassan
Clinical:
A 59 years old lady with right breast lump for 2 months.
Not painful, no fever. No skin change.
No constitutional symptom.
Married, nulliparous
Sister was diagnosed breast cancer at age of 40 years.
Clinically a firm mass felt at 12 o'clock, not fixed to underlying tissue. No skin change.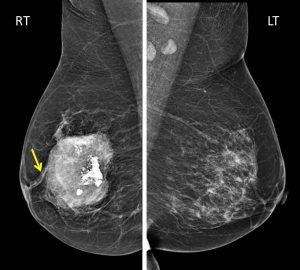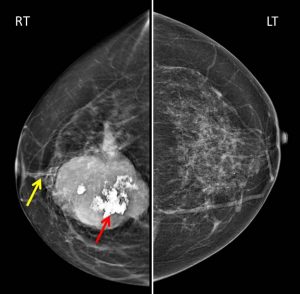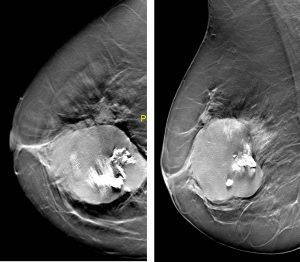 Mammographic findings:
The breasts are heterogenously dense (composition C).
There is a well-defined, lobulated, heterogeneously high-density mass at the right retro-areolar region.
A focal stromal distortion is seen coursing towards the areolar region
This lesion has coarse internal calcification
There is nipple retraction.
No skin thickening
No significant axillary lymphadenopathy.

Ultrasound findings:
A large well-defined, lobulated lesion in the retro-areolar region measuring about 60 mm in its largest dimension
It shows heterogenous echogenicity with hypoechoic foci within
Multiple foci of calcification (red arrows) are seen within.
The mass shows slight increase in vascularity on Doppler study.
No dilated duct.
Enlarged right axillary lymph node with cortical hypertrophy noted (images not shown).
Intra-operative findings:
A mass in the right breast
8×9 cm, not involving the skin
Deep margin close to fascia/muscle bed
Multiple enlarged axillary nodes
Axillary dissection level 2 done
HPE findings:
Macroscopy: right mastectomy with axillary clearance specimen. Tumour size: 70x70x45 mm. Solitary at the middle of specimen. Tumour cut surface shows tan white to yellowish, firm to hard in consistency with areas of hemorrhage, necrosis calcification and cystic changes.
Microscopy: the tumour is extensively hemorrhagic. There are carcinomatous area in the form of glands and clusters in the background of mesenchymal component. Foci of carcinoma with squamous differentiation is also seen. The mesenchymal component is in a form of osseous and sarcomatous tumour displaying bizarre spindle cells sarcoma with tumour giant cells. No lymphatic, perineural or vascular invasion. Deep surgical margin 1 mm from tumour. Other margins are >10 mm.
Immunohistochemistry: ER –ve, PR –ve and CerbB2 –ve.
All 13 lymph nodes are negative for metastasis
Interpretation: Metaplastic carcinoma with mesenchymal differentiation TNM staging pT3NoMx
Diagnosis: Metaplastic breast carcinoma
Discussion:
Metaplastic breast carcinoma is a rare aggressive type of breast cancer
It consist about 1-5% of all breast tumours
It is a tumour exhibiting either a mesenchymal (or other non-epithelial) component or squamous differentiation
Patients are commonly older than 50 years, average age of diagnosis is 55 years.
On mammogram, the characteristic malignant imaging features are less common than invasive type of ductal carcinomas. The lesions are usually large with mean diameter at the time of diagnosis of 4 cm. The lesions are rounded densities with margins that are both well-defined and smooth. Spiculated lesions have been reported. Calcification is very rare.
On ultrasound, the lesions are round to ovoid, microlobulated with solid and cystic components related to hemorrhage or necrosis. Most lesions have well defined margins.
Aggressive biological parameters like high histological grade are more common in this type of tumour
Mastectomy rateare higher due to large tumour size at presentation despite lower incidence of aixllary node metastasis
It typically do not express estrogen receptor (ER), progesterone receptor (PR) or human epidermal growth factor receptor-2 (HER2)
It carries poor prognosis due to lack of response to hormonal therapy