Case contribution: Dr Radhiana Hassan
Clinical:
A 16 years old boy
History of fall during football game
Complaint of left hip pain which was progressive associated with limping gait.
On examination; flex left hip, abducted and externally rotated.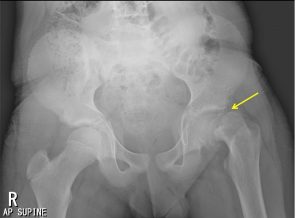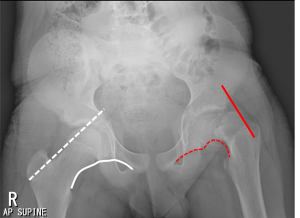 Radiographic findings:
There is lateral displacement of the left proximal femur metaphysis, with widening and irregularity of left physis (yellow arrow).
Positive Threthowan sign is seen, in which the Klein line does not intersect with the left femoral epiphysis (red line). Compare to normal appearance on right side (white dotted line)
There is also disruption of the Shenton's line (dotted red line). Compare to normal line on the right side (white curve line).
Positive metaphyseal blanch sign is noted, in which appearance of sclerosis of the metaphysis (due to overlap with the posteriorly displaced epiphyses).
Left femoral epiphysis appear slightly smaller than the right side.
The hip joint itself is otherwise normal.
No flattening of the femoral head.
Diagnosis: Slipped upper femoral epiphysis
Discussion:
Slipped upper femoral epiphysis is also called slipped capital femoral epiphysis.
It is commonly affecting adolescents
More common in boys than girls
Obesity is a significant risk factor
Other risk factors include hypothyroidism, hypopituitarism, hyperparathyroidism, renal osteodystrophy and radiation/chemotherapy
Radiological findings include:

The affected epiphysis appears smaller due to posterior slip
Line of Klein fails to intersect the epiphysis (Trethowan sign)
Loss of triangular sign of Capener ( metaphysis do not overlap with posterior lip of acetabulum)
Metaphyseal blanch sign; increased density of proximal metaphysis due to superimposition of the femoral neck and posteriorly displaced capital epiphysis

Treatment: surgical stabilization
Complications:

Osteoarthritis (90%)
Avascular necrosis of the femoral head (10-15%)
Chondrolysis (7-10%): acute cartilage loss
Deformity-limb length discrepancy
Femoroacetabular impingement
Progress of patient:
Screw fixation done
Uneventful recovery
Able to play sport again