Case contribution: Dr Radhiana Hassan
Clinical:
A 20 years old male
No known medical illness
Presented with left eye blindness and ptosis
No headache, no fever no constitutional symptom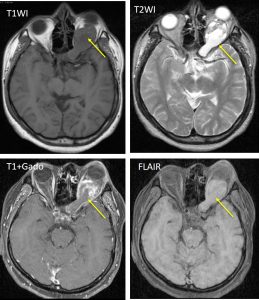 MRI findings:
There is left proptosis.
A heterogenous mass with solid and cystic component is seen in the intraconal region of the left orbit (yellow arrows).
There is enhancement of the solid component post contrast and rim enhancement of the cystic component.
This mass extends posteriorly, enlarging the left optic foramen.
No involvement of optic chiasm.
The recti muscles are in close proximity to the mass.
The right orbit and contents are normal.
Diagnosis: Optic nerve glioma (HPE proven)
Discussion:
Optic nerve glioma is part of optic pathway glioma
They are the most common primary neoplasm of the optic nerve
Histologically these tumours are pilocytic astrocytomas
Typically present in children, adult forms are rare and usually aggressive
CT is often the first investigation performed and although not as sensitive as MRI.
The optic nerve is variably enlarged, and the mass may either be fusiform or exophytic in appearance. Additionally, the nerve may be elongated with kinking or buckling 5.
MR imaging is optimal for showing the relationship of the mass to the hypothalamus, optic chiasm, and infundibulum as well as the intraorbital and intercanalicular components of the mass.
Large tumors are typically heterogeneous with cystic and solid components.

T1 – enlargement, often iso to hypointense compared to the contralateral side
T2 – hyperintense centrally, thin low-signal at the periphery representing the dura
T1 C+ (Gd) – enhancement is variable