Case contribution: Dr Radhiana Hassan
Clinical:
An 11 year old female
Trauma, electric scooter vs electric scooter
Complaint of pain and swelling over right knee
Unable to weight bear and unable to fully extend right knee
Clinical examination shows swollen right knee with limited ROM 30-90 degrees, generalized tenderness around knee region
Sensation intact, no foot drop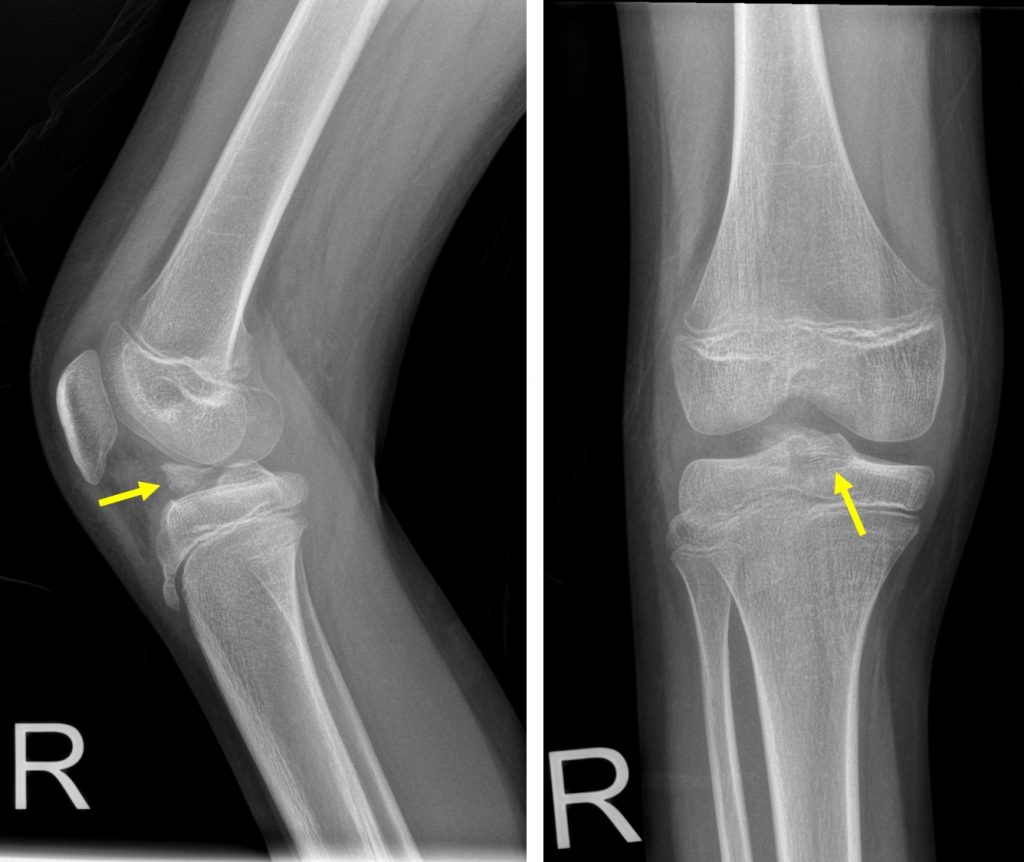 Radiograph of right knee in AP and lateral views:
bone fragment seen within the joint space
Associated irregularity seen at base of tibial eminence
No other fracture seen
No obvious soft tissue swelling
No radiopaque foreign body

MRI of right knee:
Sagittal T2-weighted images show the avulsion fracture (yellow arrows)
The avulsion fracture of tibial eminence is seen at the anterior intercondylar notch, at the attachment site of the ACL.
There is buckling of ACL with some heterogeneous signal and fluid seen at the anteromedial bundle.
However the continuity of the ligament is preserved.
There is also positive Blumeensaat angle.
The posterior cruciate ligament (PCL) is intact and normal.
No apparent PCL buckling is seen.
Intra-operative findings:
Avulsed fracture at base of tibial eminence
ACL substance intact
Fibrous tissue surrounding the fracture fragment removed
Medial and lateral meniscus intact
Arthroscopic and pull through suture right tibial eminence done
Diagnosis: Avulsion fracture of ACL (anterior cruciate ligament)
Discussion:
ACL avulsion fracture or tibial eminence avulsion fracture
It is seen as separation of the tibial attachment of the ACL to variable degrees'
Separation at femoral attachment is rare
It is more common in children than adult
There may be anterior translation of the femur on the tibia on lateral views
Classification (Meyers and McKeevers system)

Type 1: minimally/non-displaced fragment
Type 2: anterior elevation of the fragment
Type 3: complete separation of the fragment

3a-involves small portion of the eminence
3b-involves the majority of the eminence

Type 4: comminuted avulsion or rotation of the fracture fragment